Find a Meditation Teacher in your area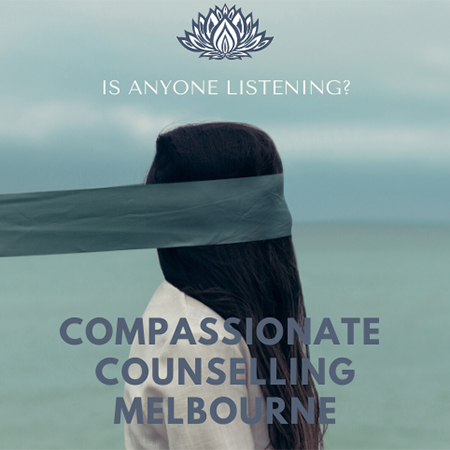 Member since 2020
Compassionate Counselling Melbourne
This account is currently inactive on Natural Therapy Pages, but you can browse from hundreds of other practitioners in your local area.
Why Counselling?
Counselling is based on scientific theory that the professional therapeutic relationship can be healing, as well as the proven benefits of simply talking things through with a compassionate trained listener.
Counselling can help with:
Stress Reduction
We live in a hectic world, juggling multiple responsibilities. Keeping on top of things can sometimes lead to uncomfortable physical, mental or emotional stress that is difficult to manage. Counselling can help you find your zen again.
Crisis & Overwhelm
When the Perfect Storm hits, even the most resilient person can cave in under pressure. When crisis or overwhelming circumstances make you feel as if you are about to snap, counselling can help you find a healthy path.
Depression, Grief & Loss
Sometimes depression is just a mood. Sometimes it's ongoing. Compassionate counselling can help you get back behind the steering wheel of your life again after loss and despair.
Decision-Making & Goal-Setting
Do you find big decisions really hard? Can't seem to stick with the plans you make? Solution-focussed counselling might be just what you need.
Anxiety & Trauma
Complex or long-term psychological and emotional pain can be debilitating. Every trauma is unique. The support of a compassionate counsellor might be just another tool in your own personal toolkit for recovery.
Divorce & Separation
Emotional rollercoaster is how most people describe divorce. Maybe your friends don't get it, your family don't get it. Why can't you just 'get over it'? I get it and I have a range of interventions to support your situation.
Mindfulness & Meditation
Are you a private kind of person who doesn't enjoy learning meditation in groups? I can teach you or refer you so you can find a teacher with whom you really resonate.
Mind Games & Manipulation
Workplaces, social groups and even families can hide toxic manipulators in plain sight. Lived experience professional support can help with Narcissistic Abuse Syndrome and other toxic relationship issues.