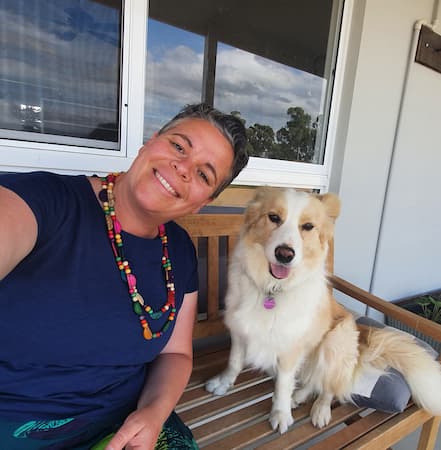 Alternative Pet Therapy-Online
Powerful therapy for animals that addresses emotional & behavioural health!Mention Natural Therapy Pages for 10% off first booking
Creature Speak
Servicing area
Bathurst NSW & Global
---
Focus areas
Infections
Anxiety
Fear
Postnatal support
Stress management
Digestive disorders
---
---
Whether you're a human or an animal, all body's have the ability to speak, heal & balance themselves. They are designed to mend, grow & balance– physically, emotionally, mentally & spiritually.
I focus my certification as a BodyTalk Practitioner, interspecies communication training & Natural Animal Health knowledge to address animals needs as a whole health care system.
Considering their whole life's health story & experiences:
mental, emotional, physical, environmental & spiritual.
Offering relief, solutions & healing for:
Emotional Stress
Memories of Trauma
Fears
Phobias
Behaviour
Anxiety / Separation Anxiety
Environmental Sensitivities or Disturbances
Family/Herd/Pack Complexities
Pre Surgery Balancing
Post Surgery Faster Healing
Pain

Bereavement

Aggression

Digestive Disorders
Endocrine Disorders
Viruses, Microbes & Toxins
Infections
Allergies
Domestic Pets, Performance Animals, Livestock or Zoo/Sanctuary animals
Sessions address everyday life stresses to more serious or mysterious conditions. Domestic animals absorb a lot of human stresses, belief systems & general energies or consciousness unnatural to them which often is the root casue behind ill health & behaviour.
Animals respond very quickly to this therapy & benefit greatly.

Sessions are completed either short & long distance – locally 'in-person' or entirely long distance via video, phone or photo.
You complete a Pet Profile to highlight the main points of concern regarding your animal & it's health or behaviour which we also discuss.
The animal receives distance pre balancing in the form of 5 powerful preset techniques usually the day prior to the full session taking place.
-In an in person session you the owner acts as a surrogate for myself to connect with & 'listen' to what the animal's body's priority is for assistance.
-A distance session will just require your presence if possible through video link.
Costs:
Consult, Prep & First session = $130
Single follow up session = $95

Packages: A package offers you a discount. Please contact me for a quote for multiple pets.
Recommended for sick, elderly & traumatized animals or if several sessions are highlighted as a priority

Package 1 =$300 (3 sessions)
Package 2 =$490 (5 sessions)





Creature Speak is based in Bathurst, NSW – servicing locals & on a global level.
Sessions are completed either in-clinic at Creature Speak, mobile at your residence or online via suitable video platform, phone or email so location is no barrier!
---
Sessions address everyday life stresses to more serious or mysterious conditions. Animals respond very quickly to energy therapy & benefit greatly. Results will be vast improvements with physical, emotional & behavioural issues. Animal sessions are availa
BodyTalk Session for People
1hr 10min
A consciousness based approach to health care. Sessions are non-invasive & designed to heal body's from the inside by addressing your body's priority for healing. Via gentle muscle messages a session identifies which aspects of your body are poorly linked
Qualifications
Certified Bodytalk Practitioner
Certified Bodytalk Access Technician For Animals
Certified Bodytalk Access Technician For People
Telepathic Communication
Professional Membership
IICT - International Institute For Complementary Therapists
---