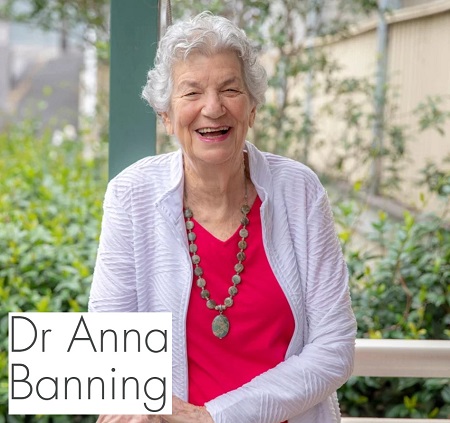 Dr Anna Banning
  I am a Psychiatrist who practises alternative therapies. Psychiatrists often get a bad press, but I offer a different approach to ilness and "disease" seeing it as dis-ease. Lack of ease.
Psychiatrist & Therapist
Servicing area
Balmain & Leichhardt NSW
---
Focus areas
Inner child work
Emotional wellbeing
Personal growth
Clinical supervision
Optimal health
Nervous system
---
Do you suffer from anxiety, depression, dissatisfaction with your life, emotional pain, not good enough? Do you act on automatic pilot and see any change as threatening?
I offer a new way of viewing life as an adventure, with huge possibilities. I am passionate about helping you transform old dysfunctional patterns from childhood which leave you stuck with old habits and feelings belonging to the past.
I use techniques of mindfulness, meditative approaches, breathwork, energy work and psychotherapy to help you heal unresolved issues which prevent you from having a meaningful life. I am passionate about facilitating your personal growth and transformational change.
I do offer medication when necessary, but I tend to be on the conservative side of its use. I'm a firm believer of the mind and body's ability to heal itself. Together, we can work out the underlying cause of your condition and uproot it.
My training and experience as a child and family psychiatrist gave me a deep understanding of inner child work. Chronic debiitating psychological illnesss usually has its roots in childhood resulting in maladaptive patterns of behaviour and thinking. These patterns are stored in the subconscious mind, and need to be identified and made conscious to restore optimal health.
The crippling effects of early childhood trauma are manifested through the mind, emotions and body. The best access is usually through the body which holds the memory of the trauma.
Recent advances in our knowledge of the brain and neuroscience have lead to explosion of research and interest showing how early childhood experiences and trauma are stored in the body.
I have kept abreast of new findings relevant to the brain and nervous system. Also I have been supervising registered clinicians, psychologists, general practitioners and social workers.
Book an appointment and let me release you from the situation that you're currently in.
---
---