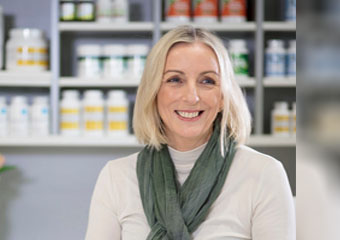 Optimal Health And Wellness
Clicking on the Send Me Details Now button opens an enquiry form where you can message Dr Shelley Cavezza (PhD) directly
Send Me Details Now
Each of us is unique. Our genetic makeup, medical history, and lifestyle are all different. Your health plan should reflect this as well! Shelley can help you take control of your health and gain the energy and vitality you once had! Request a free 15-minute consultation now to learn more!
Optimal Health And Wellness
Focus areas
Functional nutrition
Functional medicine
Personalised nutrition
Nutritional medicine
Autoimmune conditions
Psoriasis
---
---
In her long career as an academic and biomedical researcher, Shelley became slowly disenchanted with Western medicine. She noticed many of her family members and friends became sicker over time because of its focus on treating symptoms only. Taking a "pill for an ill" often comes with adverse side effects and more pills.
After attending a Functional Medicine Conference in the USA, she became passionate about natural lifestyle approaches to health, and a new chapter in her life began. She expanded her post-graduate training to include Human Nutrition, Functional Medicine, DNA profiling, and Nutrigenomics.
With her expertise in Immunology, Natural Therapies, Nutrition, and Genetics, evidenced by her authorship in over 100 peer-reviewed publications, she can work with you to identify the root cause of your autoimmune disease, allergies, chronic pain, fatigue, or digestive issues.
Shelley offers hourly consultations and wellness packages. Consultations can take place in person, or by Video, phone, or Skype if that is more convenient.
Services Offered
Functional Medicine Consultations
As part of your consultation, Shelley will use a personalised nutrition and functional medicine approach to help you improve your health and wellness. She will ask you about your health history and lifestyle and ask you about your health objectives. As part of the consultation, she may recommend further testing that can provide useful information about your health.
Testing options include:
Functional Medicine tests - hormonal and metabolic markers
blood biomarkers
gut microbiome
DNA profiling
She will use her strong scientific expertise to analyse the results and for targeting
After each consultation, you will receive a detailed health report including a health management plan to focus on during the next month. This may include recommendations for further testing relevant to your health issue.
Your comprehensive and personalised health management plan will include a clean diet, natural therapies, and lifestyle interventions to optimise your health.
A second consultation will be scheduled to review your progress, and/or Functional Medicine or genetic profile test results. Your personalised health management plan will be further optimised based on these results. Follow-up appointments will be scheduled as needed to monitor progress and challenges.
Shelley's areas of focus are:
Autoimmune disorders


Psoriasis
Arthritis
Thyroid disorders
Adrenal dysfunction

Allergy and food intolerance
Digestive disorders

Fatigue
Chronic pain
Mood and anxiety issues
Physical and mental performance
Longevity, anti-ageing and disease prevention
Weight and body fat reduction
Testimonials from Shelley's Previous Clients
"Finding Shelley online proved to be the turning point in my health. A comprehensive analysis, followed by systematic treatment over a year has resulted in a huge reduction in inflammation in my body, a marked increase in my energy levels and the return to normal of my sleep patterns. Following a healthy eating plan with supplements and exercise has vastly improved my overall feeling of well-being. I can now achieve so much more in a day, I no longer feel bloated and uncomfortable after meals, joint pains have vanished, I rarely feel fatigued, and sleepless nights are few and far between. I cannot thank Shelley enough for all the help, understanding and good practical advice that she has given me. Healing the gut is vital to healing the body. I highly recommend Shelley as an outstanding Functional Medicine Practitioner." - Megan Dodd
"Shelley helps you to understand your health issues, and provides a personalised plan leading to good health. She has a caring nature, and her background in immunology gives her the knowledge to provide professional advice." - Lisa Derwent
Schedule your appointment with Shelley today!
Functional Medicine and Nutrition Initial Consultation
1hr 30min
Nutrition
Allergy Testing / Treatments
Wellness Coaching
DNA Testing
I work with you directly to help determine ways to improve your health and wellness using a personalised nutrition and functional medicine approach. The appointment includes a comprehensive analysis of your current and past health, diet, and lifestyle.
Back to Wellness
less than 1min
Nutrition
Allergy Testing / Treatments
Weight Loss
Wellness Coaching
This includes the initial Functional Medicine and Nutrition health consultation and three review appointments. Benefits include a more accountable long-term relationship. The four consultation sessions are scheduled, and you pay an upfront fee.
We're open 3 days.
| | | | |
| --- | --- | --- | --- |
| Monday | 9:00 am | To | 5:00 pm |
| Tuesday | 9:00 am | To | 5:00 pm |
| Wednesday | 9:00 am | To | 6:00 pm |
Qualifications
Graduate Certificate In Human Nutrition
Doctor of Philosophy (PhD)
Bachelor of Applied Science In Biology
Certificate In Functional Medicine Clinical Approach
---