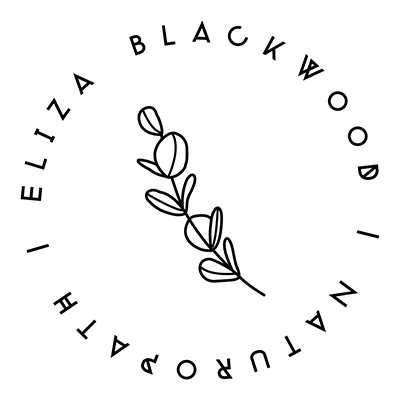 Clicking on the Send Me Details Now button opens an enquiry form where you can message Eliza Blackwood directly
Send Me Details Now
Eliza Blackwood Naturopath offers you a scientifically qualified and skilled team of Naturopaths and health professionals. Providing practical and effective solutions to your health problems. Let us help you experience vitality!
Eliza Blackwood Naturopath - Naturopathy
---
Focus areas
Wellbeing
Supplements
Vitamins
Cancer management
Reproduction
Work stress
---
---
What is Naturopathy?
Naturopathy is a medical system incorporating a natural philosophy and approach to health and healing. A naturopath uses natural methods and substances such as herbal medicine, foods and nutritional supplements to support and promote the body's own healing and regulating mechanisms.

Whilst symptoms reveal important information, a naturopathic treatment reaches beyond easing symptoms, seeking to discover their actual cause. Treating the source of imbalance produces the results.

A qualified naturopath has undertaken extensive studies in the sciences (chemistry, biochemistry, anatomy and physiology, pathology) as well as herbal medicine, nutrition, psychology, iridology, and much more. A naturopath studies for at least 4 years full time and may specialise in a particular area.
How Does Nutrition Help?
Nutrition has always been at the cornerstone of Naturopathic medicine and involves the use of foods and sometimes nutritional supplements to influence health and the disease process. We can only be truly healthy if we eat a nutrient rich diet, rather than the overly processed and nutrient poor diet alot of us can 'get by' on but will impact our health at some point. You also need to eat the right foods for you, which our Naturopaths are skilled in finding out!

Naturopathy can help a variety of conditions and disorders, including, but not limited to:
Skin problems
Digestive complaints such as IBS
Reproductive disorders like endometriosis and PCOS
Mood and concentration problems
Why We Use Herbal Medicine?
It works extremely well and often quickly for a variety of health conditions. We create individual formulations of botanical/plant extracts that influence particular body chemistry and systems that will make you healthier and stronger.
CONSULTATION & TREATMENT
At your first consultation, as much information as possible is gathered about your health, for a deeper, holistic picture of your health and wellbeing.

When you make your booking, you will be sent a confirmation email with all the details of your consultation, as well as a link to an easy-to-use, online health intake questionnaire to fill in before your appointment.
What To Expect?
During your visit, you can expect further questions to be asked, you can also expect to be carefully listened to. Some naturopathic diagnostics may also be used to gauge a more accurate status of your health such as Iridology.

At the end of your initial consultation, your Naturopath will map out a plan of action with you. Suggestions for treatment may include herbal medicines, specific nutritional supplements as well as diet and lifestyle advice. Further testing or referrals could aslo be recommended.
Whatever the case, you can be assured that you will receive a thorough assessment and the best advice and care available. You can then make an informed choice of how to proceed, and we work together to achieve your health goals.
For more information about the best services for your needs or to organise an appointment - just give us a call
Nutrition consultations
1hr
Nutritional consultations
Qualifications
Nutrition
Naturopathy
Natural Fertility
Nes Health
Professional Membership
Complementary Medicine Association
---