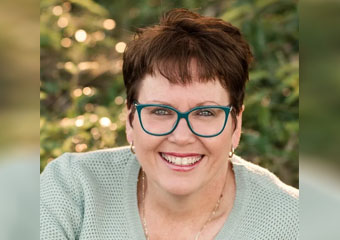 Clicking on the Send Me Details Now button opens an enquiry form where you can message Louise Macgregor directly
Send Me Details Now
If you've been putting up with pain for so long that you can't remember what life was like before that, Louise can help restore your quality of life with Physiokey Therapy so you can be active and vibrant again. To learn more, arrange a free 15-minute discovery call now!
Physiokey Pain Relief Therapist
Focus areas
Energy
Joy
Wellness
Reduce inflammation
Inflammation
Feet
---
---
About Louise
Louise founded Emmaus Health and Wellness to create a holistic healing experience that will allow you to be seen, heard, and understood.
Using a non-invasive, drug-free, pain-free method, Louise's Physiokey Therapy is tailored just for you and your specific needs to achieve optimal health.
Louise, a breast cancer survivor who underwent a bilateral mastectomy and reconstruction, understands the pain, rehab, and recovery associated with all of them.
After going through her own healing process in 2015, she realised how her life and everyone around her had been affected.
In every aspect of your life, pain pierces you, making you feel alone and lost. It may hamper your ability to earn a living, you may miss out on future opportunities, and affect your family and friends negatively.
Thus, Louise created Emmaus Health and Wellness to improve the quality of life of everyone with pain, so they can get their life back and be vibrant again.
Louise's highest priority is your health. She is passionate about supporting women physically and emotionally as they navigate their way through cancer.
From your very first appointment on, you will be heard, seen, and supported. You can rely on her to help you achieve all your health goals, to help you get the results you haven't been able to find anywhere else and to help you break free from pain.
Some of her specialties include:
Chronic and acute pain
Athletic recovery
Restoring function following surgery
Support for women with breast cancer
Epigenetic personal health coach
Testimonials from Louise's Previous Clients
"Thanks so much Lovely Louise Macgregor for your amazing Physiokey treatment on my shoulder. Went in with lots of pain and very limited movement came out pain free and the range of movement was much improved. Still that way almost a week later, so happy with the treatment, she is a miracle worker🙏🏼🥰" - Robyn Squarci
"A few months back I posted that I couldn't leave the house and that I needed medication to do so. And it had been like this for years despite regularly seeing psychiatrists and psychologists. It had gotten to the point of perhaps going to hospital it was that bad. I was recommended to go to Louise and to be honest I didn't hold out much hope. Boy was I wrong! As soon as I saw Louise I instantly relaxed, which was very unusual for me. Over the last few months we have been working together and I can honestly say that I have been able to leave the house and go out and enjoy myself. I can't thank Louise enough for how she has helped me and given my life back. I highly recommend Louise if you are facing difficulties in your life.. thankyou again Louise for giving my life back." - Meredith Challenor
Contact Louise for a free 15-minute discovery call to discuss your health concerns and how she can help.
Qualifications
Level 1 SCENAR Therapy
Physiokey Sports Injury Practitioner
Physiokey Women's Health Practitioner
Physiokey Fascial Manipulation Practitioner
Physiokey Masterclass Practitioner
Certificate In Anatomy & Physiology
Epigenetic Personal Health Coach
Level 2 Scenar Therapy
Basic Physiokey Practitioner
Advanced Physiokey Practitioner