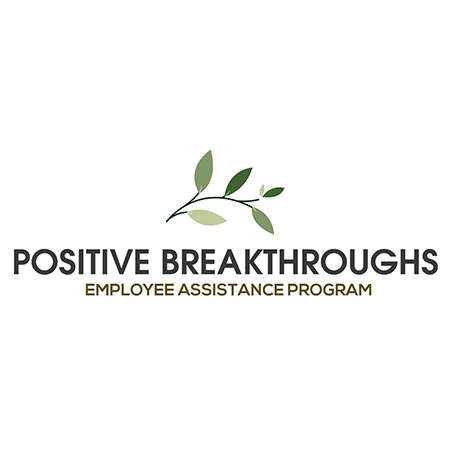 Positive Breakthroughs Employee Assistance Program
Lets start with the positive breakthough. Discover the overwhleming benefits.
Services
Focus areas
Finances
Social anxiety
Coaching
Chronic pain
Positivity
Life crisis
---
---
Counseling
Counseling services can help employees identify and understand what is causing personal distress in their lives, may it be problematic situations, feelings, or habits. The goal of counseling is to eventually improve a person's sense of well-being, alleviate feelings of distress, and resolve crises.
Counseling can help people address a wide range of problems such as the following:
Work issues
Career issues
Self-esteem and self-confidence
Mid-life crisis
Anger management
Trauma
Anxiety
Panic
Depression
Relationship problems
Stress at workplace
Bereavement
Family problems
Workplace Bullying
Psychotherapy
Also called talk therapy, Psychotherapy is an effective tool in helping employees with emotional difficulties and mental illnesses. It can help control or eliminate symptoms so that a team member can better manage difficult situations, create healthier relationships, and be able to drive one's life in the direction that will give the utmost personal fulfillment.
Psychotherapy can be done in a few sessions (short-term) if dealing with immediate issues, or long-term for more complex and long-lasting issues.
Your team can benefit from psychotherapy if they experience the following:
feels that your situation will never improve, even though you have been receiving help from friends and family
has experienced abuse
has a mental health condition such as PTSD
has overwhelming feelings of sadness or helplessness
feels anxious most of the time
has difficulty focusing on work or studies; or facing everyday challenges
is using drugs or alcohol that is deemed excessive
is at risk of harming themselves or others
Cognitive Behavioral Therapy
CBT is a goal-oriented treatment that takes a practical and hands-on approach to problem-solving. It is helpful in addressing issues such as depression, anxiety, and OCD, to name a few. Its primary goal is to change patterns of thinking and behavior that are behind a person's difficulties.
A combination of cognitive therapy and behavioural therapy, CBT can give you an understanding of how your thinking and behavior affect your current situation, and help you develop new and more adaptive thinking and behavioral patterns.
CBT has been shown to be effective in dealing with a vast range of mental health issues including:
Anxiety at the workplace
Panic Attacks
Phobias
Stress at home or work
Obsessive-compulsive disorder (OCD)
Depression
Anger management
Social Anxiety
Self Esteem
Cognitive Behavioral Therapy differs from any other types of psychotherapy as sessions have a structure, rather than a person talking freely about anything that comes to mind. It employs a range of different exercises, behavioural experiments, and a series of exploratory questions.
Mindfulness Based Cognitive Based Therapy
Combining two elements, cognitive therapy and mindfulness, MBCT incorporates mindfulness practices such as breathing exercises and meditation to help employees break away from negative thought patterns, and focus on thoughts and feelings that bring peace of mind and personal well-being.
What conditions can MBCT help with?
Stress
Insomnia
Chronic fatigue syndrome
Chronic pain or illness management
---
Testimonials
Liza's life experiences are a testament to transforming adversity into purpose. A strong connection is developed trough story sharing and genuine care. You leave feeling seen, strong and clear of... read more
SHIMONA FRAID
1/26/2021

Liza, you are an absolute star! Your journey has been so tough, yet here you are helping others navigate theirs. Empathy, knowledge and wisdom, Liza really cares, with an ethical... read more
LINDA WARD
3/01/2021
Liza is kind, understanding, accommodating and a great listener. She provides a lot of insight and has helped me resolve personal battles that had been hindering me in my work and personal life, within just a few sessions. She is my angel from heaven and I would highly recommend her to anybody who is looking for a light at the end of the tunnel.
ANNA NGUYEN
5/10/2021