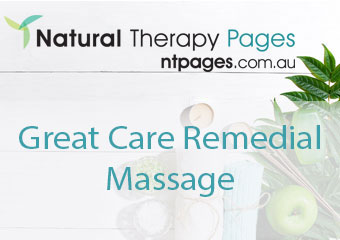 Great Care Remedial Massage
Relax.Realease.Refresh Great Care Remedial Massage is high quality and has a good technique for massage services. We use our heart to do the best massage for you.
Great Care Remedial Massage
Focus areas
Stiffness
Relaxation
Circulation
Tight muscles
Aches & pains
Stress management
---
---
ABOUT
100% normal massage !!!
Absolutely Not special service !!!
Completely Not Sexual !!!
​(please respect our professional)
Mobile Massage service area is centered on Dianella, if the distance is more than 12km from Dianella, it will be additional charged for petrol ($1.5/km)
Welcome couples, party & group booking (minimum 2/h start & 2 therapists), we can do chair massage, and we have one female & one male therapists.
Hotel services: female therapist only do female and male therapist only do male.
Mobile Massage service: client will need to be covered on any additional costs ie parking.
Mobile Massage service: we will supply massage table, towels and oil.
​Ladies and Gentleman are both welcome
Opening Hours:
​Monday - Saturday 9:00am - 9:00pm

We will do the best for you
Here is how you can get to know us
You can also find us on Gumtree: Mobile or Studio massage services
OUR STAFFS
Hi my name is Peggy, I'm a qualified remedial therapist who holds Diploma of Remedial Massage. I am specialized in Relaxation, Deep Tissue, Trigger Points and Lymphatic Draniage Massage. I have three years massage experience, so I can adjust the pressure to suit your body's symptoms.
Hello I'm Charlie, I am a friendly and experienced masseur. I can provide a firm and strong massage to whatever level you require. I also to provide relief too many types of aches, pains and stiffness. And I am professional at Chinese cupping, which is a famous and effective treatment method from China.
---
SERVICES
Our services have ​​​Mobile or Studio massage services.
Relaxation Massage
Pregnancy Massage
Massage can help relax tight and pain muscles, improve range of motion in the join, enhance circulation and lower stress levels.
Remedial Massage
​Sport Massage
Massage can help you improve circulation, which nourishes cells and improve waste elimination, relief tight muscles and other aches and pains, realease of nerve compression (carpel tunnel, sciatica).
---
Contact Us Today to Book a Time.
---