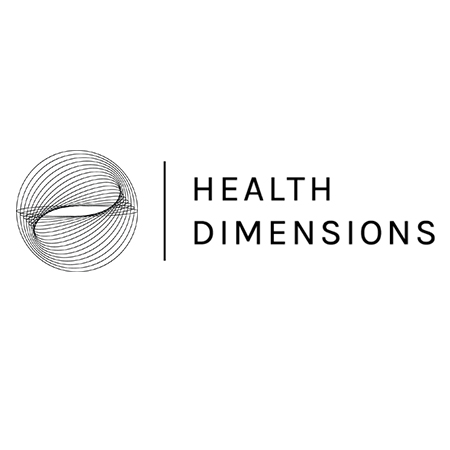 Health Dimensions
Want to find out my availability, pricing or opening hours? Click on Send Me Details Now to get started.
Send Me Details Now
Clicking on the Send Me Details Now button opens an enquiry form where you can message Health Dimensions directly
Achieve your ultimate wellness goals by addressing the cause of your symptoms with precise natural health solutions.
Osteopaths, Acupuncturists, Naturopaths, Nutritionists, Massage Therapists & Kinesiologists
Servicing area
Windsor, Richmond, Bella Vista, & Norwest NSW
---
Focus areas
Paediatrics
Arthritis
Osteoporosis
Reflux
Depression
Family therapy
---
---
Caring With Natural Healthcare Solutions
Health Dimensions offers natural approaches to good health and wellness.
Health Dimensions - Natural Health helps you discover and solve the personal and lifestyle issues you face. Our qualified therapists aim to provide you with convenient and quality natural healthcare solutions for your balanced mind, body and spirit. Our team combine their expertise to find the solution that suits you.
Studies have shown optimal health and vitality requires you to follow a program or lifestyle to encourage wellness. At Health Dimensions we tailor your treatment in a nurturing, professional environment. Our exceptional service and meaningful diagnosis gives you outstanding sustainable results.
We offer treatments for pregnancy and fertility, babies and children's health, teenagers, women's and men's health, seniors, sports people and corporate or work-related or everyday issues.
Our services include osteopathy, acupuncture, naturopathy, remedial massage, electrodermal screening, kinesiology, quit smoking, traditional Chinese medicine, tapping/eft and life coaching. These therapies are available in Western Sydney at our Windsor and Bella Vista clinics.
Our services include
Osteopathy
Acupuncture
Naturopathy
Remedial massage
Electrodermal screening
Kinesiology
Quit smoking
Traditional Chinese medicine
Tapping/eft and life coaching
These therapies are available in Western Sydney at our Windsor and Bella Vista clinics.
Using one or a combination of these modalities, we develop a treatment plan tailored to each person's specific needs, which we identify through a rigorous diagnostic procedure.
People of all ages entrust their health to us, knowing that they will leave the confines of our clinic feeling stronger, healthier and happier. This has been our ultimate goal since our inception.
Our vast natural healthcare solutions benefit adults, teenagers, children, senior citizens and babies, whose unique circumstances we always consider from diagnosis to treatment.
We treat an array of acute and chronic conditions, including:
Musculoskeletal problems due to injury or muscle impairment
Digestive issues like bloating, cramps, flatulence, etc.
Headache
Fertility and pregnancy
Emotional issues
Our clinic hours are as follows:
Monday: 9am – 6pm
Tuesday: 9am – 6pm
Wednesday: 9am – 6pm
Thursday: 9am – 6 pm
Friday: 9am – 6pm
Saturdays: 8am – 3pm
---
Practitioners
Osteopathy
Dr James Harrison
Osteopath
Dip.Osteopathy
Member OA
Director of Health Dimensions – Natural Health Pty Ltd
Dr James Harrison was initially qualified as an engineer until he had osteopathic treatment for his ill health.
'The principles behind osteopathy are engineering principles so I became fascinated with the workings of the body very quickly.'
As his health improved, the idea grew that James should change careers. Since then, he has studied osteopathy in the cranial field and paediatrics subjects to treat people of all ages.
Dr Kerry Harrison
Osteopath
Dip.Osteopathy
Member OA
Director of Health Dimensions – Natural Health Pty Ltd
Dr Kerry Harrison has been practicing natural health care treatments since 1983. She treats to find the underlying cause of repeat structural problems: the organs or the body's systems can be stressed and cause symptoms including spinal pain in response to the nerve input from that organ.
The father of osteopathy, Andrew Taylor Still, said in his teachings that there is a feedback mechanism between the spinal nerves and the organs of the body. An osteopath can affect the health of the body through correction of the spinal sections which normalises the nerve energy to the different organs of your body.
Kerry's training, initially as an osteopath, has led her to considering the importance of the body's organs and training in Phase Contrast Live Blood and Coagulated Blood Microscopy. 1995 she discovered the visceral affects on the structural body and started utilising electrodermal screening to treat her patients. With this complement of skills, Kerry develops a treatment plan to address otherwise hard to treat conditions.
Her passion in natural health care treatments is helping a patient find the cause of their health challenge, correcting it and watching them return to a state of health.
Kerry is married to James and has four children, two of whom followed in their natural health care footsteps as an Osteopath/Naturopath/Massage Therapist, and an Acupuncturist/Chinese Medicine practitioner, while the other two work in IT and Interior Design. Kerry also has three grandchildren with a fourth on the way. Downtime is spent with James and their children and in their home and garden.
'The body is a self-healing mechanism – you have just have to trace a condition back to when it started and correct it, be it emotional, physical or chemical – and healing occurs.'
Dr Owen Gray
Osteopath
B.Sc.M.H.Sc.Osteo
Member OA
Dr Owen Gray discovered osteopathy was the only treatment that provided him with complete and lasting pain relief from his back pain as a teenager.
"After deciding I wanted a career as a healthcare professional, it became obvious that osteopathy provided me with the strongest foundation to treat a broad range of people and conditions."
When Owen isn't working, he is a semi-professional bass guitar musician. His other interests are bushwalking and travelling.
Dr Shane Fewster
Osteopath
B.App.Sc(Ost), M.Osteopathy
Member OA
Dr Shane Fewster is familiar with musculoskeletal aches and pains, not only for himself but also the team of workers of his former landscaping company. His decision to become an osteopath came after witnessing the outcomes of the osteopathic treatment he and his team received compared to conventional approaches.
'I was attracted to this form of medicine as it encompassed body, mind and spirit within its treatment philosophy.'
Shane graduated with his Masters of Osteopathy from the University of Western Sydney. In his earlier practice years, Shane treated many patients suffering with chronic pain. His urge to help these people and his interest in pain neurophysiology and pain mechanisms inspired Shane to pursue further studies at Sydney University.
'I try to utilise this pain knowledge to prevent acute pain becoming chronic and to maximise a chronic pain patient's ability to best manage their unique situation.'
Shane increased his manual skill base, taking further studies in musculoskeletal acupuncture which he finds affective in providing pain relief along with gentle manipulation, mobilisation, specific massage and functional techniques.
Shane is passionate about wellbeing, strength training and pain management. He is qualified and experienced to provide pain relief and advice to people of all ages and walks of life who seek to live a healthy lifestyle.
Dr Sophie-Anne Bruce
Osteopath
B.Clin.Sc (Double Major Osteopathy and Human Structure and Function), M. Osteo.Med.
Member OA
Dr Sophie-Anne Bruce joined the team of practitioners at Health Dimensions at our Windsor and Bella Vista clinics after graduating from Southern Cross University in the Northern Rivers of NSW. She is passionate about evolving her clinical rationale, techniques, patient management and her osteopathic practice.
Sophie is especially interested in treating structural musculoskeletal issues and is knowledgeable on cranial and indirect approaches to healing. She is also educated in dietetics, psychological health and exercise psychology.
In recent years, Sophie was involved in a research project about the effects of manual therapy and exercise on age-dependent lung function in a randomised controlled trial.
At the age of 14, Sophie became interested in the human body and how it worked. It was a natural progression from curiosity to sorting through the different modalities of health therapies to find osteopathy suited her career vision.
Calm , friendly and engaging, Sophie comes from a family with six children. During her teenage years, she taught music to children. She values building strong team relationships with her patients, the other Health Dimensions therapists and staff, and in the wider community.
Dr Chelsea Luker
Osteopath
Clin. Sc (Double Major Osteopathic Studies and Human Structure and Function)
M.Osteo.Med.
Member OA
Dr Chelsea Luker graduated from Southern Cross University in Lismore as an osteopath and has joined the team at Health Dimensions in the Windsor and Bella Vista clinics. Chelsea's osteopathic philosophy is to treat people as a whole, not just a problem to fix, helping them achieve greater health and vitality.
As well as adults, Chelsea treats children and is interested in sports injuries, rehabilitation and is trained in dry needling as a treatment choice. Given the chance she'd like to treat animals with osteopathy techniques.
Initially studying to become a school teacher, Chelsea changed direction to pursue her interest in osteopathy.
Recently Chelsea was involved in a research project about the effects of manual therapy and exercise on age-dependent lung function in a randomised controlled trial.
Chelsea has travelled overseas and was fascinated by Austrian homes and their gardens. She loves Lebanese food, particularly from Abdul's restaurant in Surry Hills. Her least favourite food is celery.
Her fascination with the world is indulged by walking on a beach, hiking with her dogs and partner in the country, enjoying the variety of city activities, reading books and watching films.
Acupuncture and Traditional Chinese Medicine
Dr Herbert Huiskamp
Acupuncturist
B.Hlth.Sc (TCM)
Member ATMS
Dr Herbert Huiskamp graduated from UTS with a Bachelor of Health Science in Traditional Chinese Medicine in 2014. He gained extensive knowledge and experience in the treatment of a wide range of conditions during internships at UTS, and the Japan China Friendship Hospital in Beijing. Upon his graduation Herbert opened a private practice in the Blue Mountains and recently joined the team at our Bella Vista clinic.
Herbert has a specific clinical focus on IVF support and fertility treatments, women's health treatments, cancer care and chemotherapy support, as well as pain relief, sports injury medicine and musculoskeletal conditions. He treats for relief of stress and psychological and digestive support. Herbert provides high levels of care and an integrative approach for the care of his patients. A passionate interest in Chinese Medicine diagnostic methods enables him to diagnose and treat this range of conditions.
Dr Sacha Harrison
Acupuncturist
B.Health. Sc. TCM – Cert 4 Birth Doula Services
Member ATMS
Dr Ernestina Burchmore
Acupuncturist
B.Health.Sc.Acup./B.A.Int'l Studies
Member ATMS
Dr Neda Raked
Acupuncturist/Chinese Herbs
BHSC(TCM), Dip. Laser Therapy
Member ATMS
Naturopathy and Nutrition
Alison Mitchell
B.App.Sc. (Nat)
Post Grad. Dip. (Nat)
CIMI (Certified Infant Massage Instructor)
Member ATMS
NHAA
Alison Mitchell graduated from University of Western Sydney in 2007 after 4 years full time study. 'I was privileged to learn from some of the best naturopaths in NSW and to have the basis of my education from a scientific background. This allows me to give my patients a high standard of treatment based on quality research and diagnostic testing.'
Alison's passion for naturopathy comes from her determination to get to the cause of illness, not just treating the symptoms. She likens her naturopathic methods to a jigsaw puzzle, piecing together your symptoms and doing research to solve your health issues. Her treatment approach is to maintain simplicity and always work with your goals. She incorporates nutritional education into her appointments, aiming to empower you to take control of your health and make lasting changes.
'I provide clinical naturopathic services, infusing traditional knowledge and modern wisdom with care and passion.'
As a foodie, Alison loves cooking and eating fresh, delicious, nutritious, unprocessed food, discovering new foods and recipes. She's also an advocate of the 80/20 rule – 80% for your body and 20% for your soul. The philosophies of naturopathic nutrition is that eating isn't just about calorie counting but looking at the healing properties of foods (as medicine) and understanding how to achieve balance with food. She shares her nutrition knowledge to help educate others about the best choices of food for optimal health and well-being.
Alison is passionate about helping people reclaim their health and vitality by blending traditional healing methods with the latest research. She treats people of all ages, males and females and a wide variety of conditions. Women's health is a particular interest along with issues of digestive, urinary, and skin conditions. Alison is thorough and caring in her approach, and believes in an individualized approach to treatment and diet.
'I empower people to take control of their health through individualised treatment plans based around common sense, achievable diet and lifestyle advice and quality natural medicines.'
Alison Kandelas
Herbalist/Nutritionist/Remedial Massage/Naturopath
Adv. Dip. Herbal Medicine
Adv. Dip. Naturopathy
Adv. Dip. Nutrition
Dip. Remedial Massage
Member ATMS
Alison Kandelas' passion for natural healing methods means she can help people find healthier and happier lifestyles. When a person increases their knowledge of health, they find easier ways to achieve it.
Her interest in herbs started with a desire to stop using pharmaceuticals. The environment and people's bodies absorb hundreds of chemicals from products used regularly. Alison sought a gentler method of healing and herbs to provide an alternative to chemical medicines.
Another modern dilemma is how many people neglect the most important aspect of their daily lives: nutrition. Many people eat highly refined and pre-packaged foods, and often eat on the run. These foods are loaded with sugar, unhealthy fats, chemical preservatives, flavours and colours. Without a supply of healthy nutrients people suffer to maintain the best possible health.
Whether you suffer with a major illness or simply feel stressed and washed out, naturopathy can help you will feel better. Treatment sessions with Alison are relaxed and unhurried. Whether you're seeking a small change or a complete overhaul, she can help you find better health and you may not need to give up your treats.
As a remedial massage therapist, Alison has worked alongside James Harrison for many years. During this time, patients spoke about how they couldn't find natural treatments for pain management. With this in mind, Alison created her own brand, Alison's Herbal Remedies. Her first product, Cayenne Balm helps to relieve chronic pain.
This remedy came from Alison's mother, who successfully used a capsicum cream for her rheumatoid arthritis. Growing up, her family was involved in the local swimming squad and they used her mother's capsicum cream on their muscular aches and pains. It was the inspiration of her mother's treatment that created her natural Cayenne Balm.
After a few trials and errors, Alison knew her balm was ready when swelling in her right thumb of her over-worked massage hands decreased over a week. The pain also eased and her hands are again nimble and pain-free fingers. The stiffness and pain she had experienced for too long was gone.
After self-trialling her Cayenne Balm, she decided to share another All-purpose Balm. Aside from the responses from users saying it was effective in relieving the pain of stings, burns and cuts, they appreciated its all-natural ingredients. Alison continues to develop and supply other natural remedies for all ages.
Across the range, Alison's Herbal Remedies are created using organic and natural, quality ingredients.
Mary Collis
Nutritionist
Ad.Dip. (Nutr.Med.)
Member ATMS
Mary Collis' inspiration to study nutrition came after discovering a change in food and lifestyle creates significant differences for most diseases.
Growing up, Mary endured digestive issues for many years and suffered silently as she became increasingly isolated. Her grandmother, who died young, battled both rheumatoid arthritis and the side effects of her prescribed medication. When Mary's mother was diagnosed with breast cancer, Mary wondered whether the role of food could achieve a healthy outcome. When she wasn't able to find a practitioner to help her mother, Mary returned to college to learn about the impacts of food and lifestyle on the human body.
Mary develops a personalised plan for her clients whether they're enduring an autoimmune disease, mental illness, digestive issues or another of the many conditions she's qualified and experienced to treat.
She believes the effects of most diseases can be improved, particularly through eating better and making positive and healthy lifestyle changes.
Mary is married to Paul who is a finance and management expert in the building industry. They have five adult children and one grandchild.
Kinesiology and Quit Smoking
Teya Skae
Dip.Clin. Nutrition, Dip. Health Sc.(Kinesiology)
Quit Smoking in 1 – 2 sessions
Emotional Freedom Technique (EFT) Coach
Teya Skae is a nutritional strategist, clinical kinesiologist and Emotional Freedom Technique Coach who specialises in overcoming addictions to food, emotional eating, alcohol and nicotine. She is trained to help people recover from chronic stress and fatigue.
As a competitive athlete for many years, runner up Miss Australia in Figure and Fitness, Teya experienced burnout and the multiple symptoms that result from pushing oneself at the highest level of performance. She has overcome 12 years of bulimia and uses her experience to help others.
Teya has taught Fears, Phobias and Addictions at a Government accredited college in Australia and has over 40 health related articles published worldwide.
Teya offers her clients results-based outcomes to assist recovery from symptoms that have not responded to conventional treatments.
Life Coaching and EFT
Dr Kumari Hallwirth Pillay
EFT/Transformational Life Coach
BSC.(Honours – Molecular and Mibrobial Genetics), MMedSc., PhD (Neurogenetics)
Member Human Genetics Society of Australasia IITC
Dr Kumari Hallwirth Pillay is a former neurogenetics medical research scientist who now specialises in Emotional Freedom Technique (EFT) and Transformational Life Coaching. To help people suffering addictions, phobias and life's issues and dramas, Kumari incorporates clinical EFT, well-known coaching methods and her facilitative leadership skills to help her clients.
In her former research role Kumari became aware of her own stress and the depletion of her energy levels and that of her colleagues. At this time, she learned mindfulness meditation to help her relax. After moving into corporate environments, working in the technical and marketing of research biotechnology products, as well as managing and mentoring staff, Kumari then moved onto a commercial consulting and business development role.
What Kumari noticed in each of these healthcare industry areas was the level of stress in herself and her colleagues. For her own health she employed her extensive research skills and discovered that Emotional Freedom Technique (EFT ) relieved her fatigue and anxiety and enhanced her meditation practice. As a scientist she wanted to understand the mechanism behind the success of EFT and found the results were promising and reproducible, convincing her to study and become dual certified in EFT and life coaching methods.
Now as a Clinical EFT Therapist and Transformational Life Coach, Kumari treats people to reduce stress, develop skills for a calmer and relaxed state to deal with phobias, eating disorders, cravings, fertility issues, trauma, sports performance and injury recovery, business and sales performance, small business management success and entrepreneurship, overcoming money blocks, pain management, anxiety and career coaching.
A particular interest of Kumari's is assisting women overcome their blocks to achieving success in their business ventures. Her combined experience and knowledge of science and psychology benefits women who want to move in to a place of empowerment.
Massage Therapy
Rafat Azar
Massage Therapist
Therapeutic/Remedial Massage
Cert IV Massage
Member IICT
Rafat Azar has been an integral part of the Health Dimensions' team for 7 years. As a dedicated massage therapist, Rafat treats his own patients and assists James Harrison in his osteopathy appointments at our Windsor and Bella Vista clinics.
Rafat is married with three children and spends much of his spare time enjoying their company. He is a keen English-style football fan and is happy to talk about his favourite team.
---
Book an appointment to find the best natural healthcare solution that matches your needs.
Professional Membership
Osteopathy Australia (AOA)
ATMS - Australian Traditional Medicine Society
IICT - International Institute For Complementary Therapists
ANTA - Australian Natural Therapists Association
NHAA - Naturopaths & Herbalists Association Of Australia
---