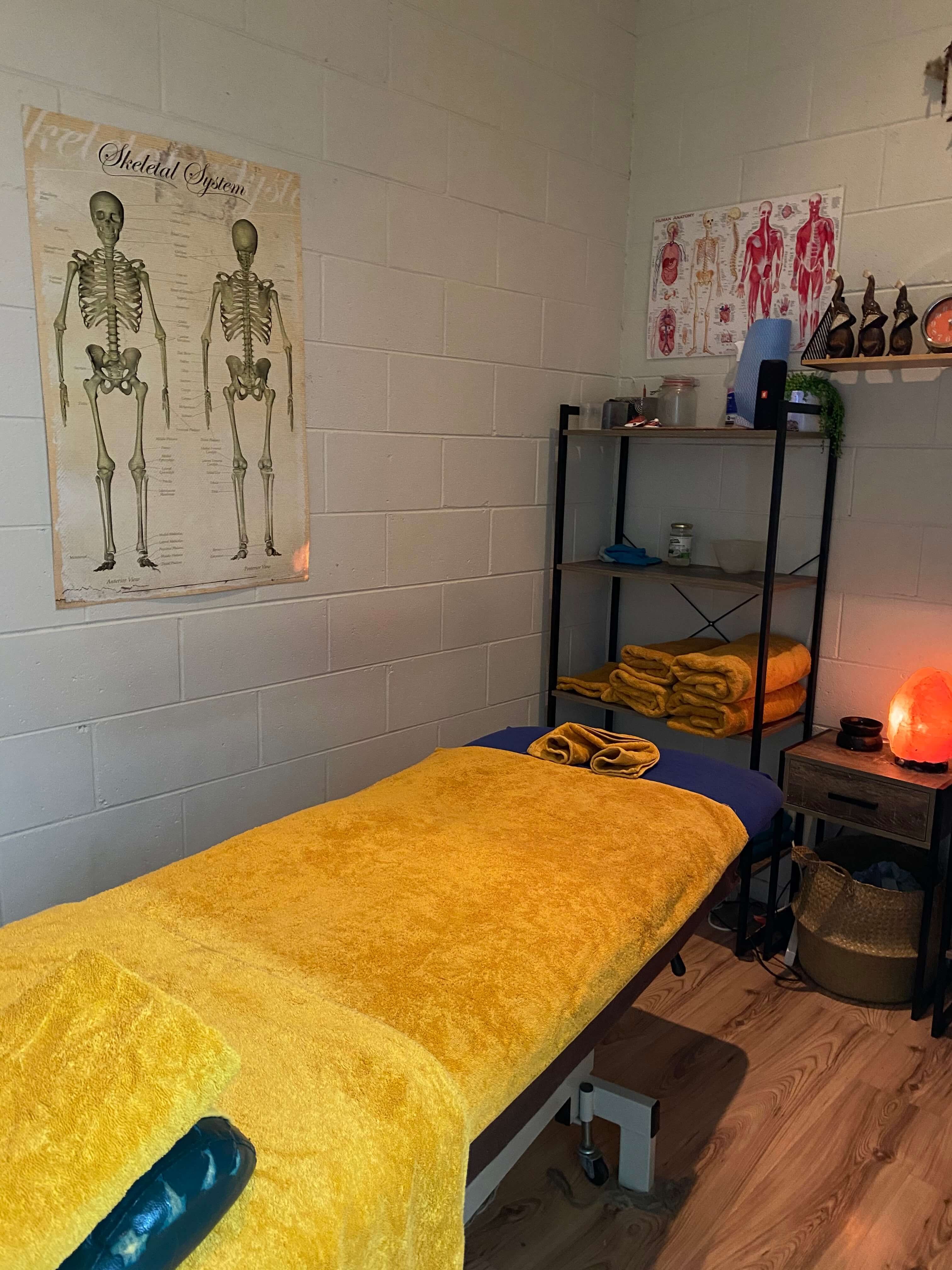 Health Concepts
Clicking on the Send Me Details Now button opens an enquiry form where you can message Health Concepts directly
Send Me Details Now
Our friendly team of fully qualified and experienced therapists are committed to providing quality holistic health care for all individuals including newborn babies, children and families, elderly and disabled.
HEALTH CONCEPTS 'for your total wellbeing'
Servicing area
Elimbah & Surrounding Suburbs
---
Focus areas
Tinnitus
Arthritis
Eczema
Feeding
Hypertension
Infertility
---
---
Our Therapies

KINESIOLOGY

Kinesiology can identify the cause of many problems by using muscle testing. This technique allows us to access and clear past & present stress, trauma or belief systems that may block our body's ability to heal therefore achieving optimum emotional, mental and physical health. Any issue can be addressed using this practical system including structural and muscular problems, learning difficulties, stress and anxiety, allergies, pain, sports performance, relationships and much more.

"Kinesiology encompasses holistic health disciplines which use the gentle art of muscle monitoring to access information about a person's well being. Originating in the 1970's, it combines Western techniques and Eastern wisdom to promote physical, emotional,mental and spiritual health. Kinesiology identifies the elements which inhibit the body's natural internal energies and accessing the life enhancing potential within the individual." (Definition approved by the Australian Kinesiology Association 1999.)

HOLOGRAPHIC KINETICS with Julie Stower

Holographic Kinetics is an advanced Indigenous healing modality. It is an understanding of Universal Lore and relates to how every action creates a counter-reaction. By clearing trauma locked in events, thoughts & emotions from the past that are continually affecting the present and impacting the possibilities for the future, HK looks at the body as a whole, accessing cellular memory passed down from generations causing us to continue repeating the cycles of life patterns within their own dimension of time, which we have become stuck in.
Any person can be helped with HK, particularly those suffering from: depression, fear or shame; pain, anguish or trauma; anger, guilt or violence issues; drug or alcohol dependency issues; PTSD; attempted suicide or self-harm; emotional or compulsive disorders; voices in the head; physical, emotional or sexual abuse.

MASSAGE

Massage creates a general feeling of wellbeing, eases stress, muscular pain and structural problems; stress related headaches, as well as stimulating the immune system and encouraging energy, blood and lymph flow throughout the body.
We provide a range of massage techniques including: Relaxation, Deep Tissue, Remedial, Lymphatic Drainage, Acupressure, Cupping, Pregnancy, Reflexology and Hot Stone. Our massage treatments are planned according to the individual needs of each client.
We offer seated 10 minute neck & shoulder massages, 1/2 hr, 1 hour and 1 ½ hour massages and health fund rebates.

SPORTS MASSAGE

Sports massage therapy typically utilises more vigorous forms of massage to facilitate muscle healing or relaxation. Sports massage therapy should be performed before and after a competition to prevent injuries and loss of mobility and maximize the life of your sporting career. Sports massage therapy helps relieve stress on your joints, ligaments, tendons and muscles.

PREGNANCY MASSAGE

A woman's body goes through many changes during the 40 weeks of pregnancy both physically and emotionally. Some of the most common discomforts are: backaches, stiff neck, leg cramps, headaches, lack of sleep and edema (or swelling). Pregnancy Massage reduces stress on weight-bearing joints, encourages blood and lymph circulation, helps to relax nervous tension -which aids in better sleep- and can help relieve depression or anxiety caused by hormonal changes. A Pregnancy Massage can be spiritually uplifting with studies indicating massage therapy performed during pregnancy may improve labour outcomes.

LYMPHATIC DRAINAGE

The Lymphatic system is our front line of defence in fighting bodily infections, detoxifying the body and transporting metabolic wastes, excess water, bacteria and toxins out of the body. The Lymph glands (at neck, armpits, groin, etc.) are connected by a broad network of vessels which transplant the fluid. Muscular movement is required to move it, as there is no "Heart" to pump it.
Lymphatic Drainage is a gentle whole body treatment that relaxes the nervous system and aids the body's immune system. It is highly recommended for those prone to and recovering from sore throats, colds, infections, on-going tiredness, excess fluids, low immunity, swollen node and also for the physically inactive.


HOMEOPATHY with Agi-Mary

Homeopathy uses ultra diluted medicinal substances to stimulate the body`s own healing mechanisms. Homeopathy is a 200-year-old form of alternative medicine that claims to stimulate a healing response and strengthen the body's ability to heal itself. It is a holistic system of medicine based on the theory of treating 'like with like' by stimulating the body's own healing response to disease, using specially prepared, highly diluted preparations.
Homeopaths treat the whole person, taking into account personality, lifestyle and hereditary factors, as well as the history of the disease.

CUPPING

Cupping is an ancient Chinese practice whereby a cup is applied to the skin and the pressure in the cup is reduced by heat or suctioning out air, so that the skin and superficial muscle layer are drawn into and held into the cup with the intention of breaking stagnation.

Cupping can be beneficial for:
? General Muscle Pain
? Nerve pain
? Common cold and cough
? Asthma
? Tonsillitis / Sore throat
? Hypertension (high blood pressure)
? Hypotension (low blood pressure)
? Stomach Aches
? Menstrual Pain
? Diarrhea / Constipation
? Heart Burn / Reflux
? Gout
? Diabetes
? Headaches & Migraines

JAW R.E.S.E.T

Jaw RESET is a gentle, deeply relaxing, effective technique for relaxing the muscles and ligaments relating to the jaw. Up to 90% of the bodies muscles can be affected by jaw tension or misalignment. R.E.S.E.T. can relieve headaches, migraines, jaw pain or clicking, teeth grinding, ear problems, tinnitus, back, hip and shoulder problems, neck problems and many more ailments.

FOOT JOINT MOBILISATION

The feet are a marvel of engineering efficiency that can take a lifetime of use but they are often overlooked. Poor fitting shoes, ankle and foot injuries can limit the ability of the feet to function as they should. Even though there may not be any pain in the feet there can still be subluxations that will disrupt the neurological information going to the brain and hence the smooth coordination of the rest of the body. Problems such as aching feet, burning feet, bunions, flat feet, claw and hammer toes, sprains, foot, leg, hip, back, neck pain, sciatica, shin splints and headaches may all be helped by this technique.

EAR CANDLING

Ear Candling is a safe gentle, effective treatment to clean the ears and relieve symptoms of sinus, glue ear, excessive ear wax, blocked ears, head colds and tinnitus. We include a gentle sinus and facial massage with this treatment which increases relaxation and assists in clearing the nasal passages and sinus cavities.



---
Clinic Hours
Monday to Friday
9am - Appointment
Saturday
By Appointment

PRIVATE HEALTH FUND REBATES
PENSION & CONCESSION DISCOUNTS AVAILABLE
GIFT VOUCHERS FOR EVERY OCCASION



---




Call us on (07) 5432 8812, or 'Send me details' below, to find out more about our services, or "Request an appointment".







Holographic Kinetics
1hr 30min
Spiritual Healing
Spiritual Healing
The success of HK is achieved by clearing trauma locked in events, thoughts & emotions from the past that are continually affecting the present and impacting the possibilities for the future.
Touch for Health
Kinesiology
Touch for Health
Kinesiology
Touch for Health
Through the use of muscle testing Kinesiology may assist with identifying the cause of many problems. This technique allows us to access and clear past and present stress, trauma or belief systems that may block the body's ability to heal.
We're open 6 days.
| | | | |
| --- | --- | --- | --- |
| Monday | 9:00 am | To | |
| Tuesday | 9:00 am | To | |
| Wednesday | 9:00 am | To | |
| Thursday | 9:00 am | To | |
| Friday | 9:00 am | To | |
| Saturday | 9:00 am | To | |
Qualifications
Remedial Massage
Cupping
Relaxation Massage
Kinesiology
Deep Tissue Massage
Holographic Kinetics Therapist
Sports and Sports Injury Massage
Rehabilitation Massage
Hot Stone Massage
Professional Membership
Massage & Myotherapy Australia
---