Find a Energy Healer in your area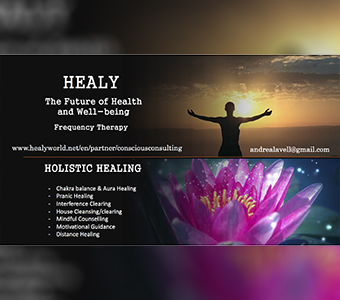 Member since 2020
Holistic Healing - Healy Device & Frequency Therapy
This account is currently inactive on Natural Therapy Pages, but you can browse from hundreds of other practitioners in your local area.
If you want to find the secret of the Universe, think about in terms of Energy, Frequency and Vibrations. Everything is Frequency including your Body. Every cell in your body has it's frequency. The lower the frequency is, the more we experience health issues. Take charge of your Health. Through the science of Quantum physics the new Medical Device 'HEALY' will talk to your cellular energy and than deliver the exact frequencies your cells are asking for. Additionally Holistic Healing offers many other modelities like Chakra balance & Aura healing to keep your main energy centers unblocked and balance to assist your body to heal itself on a physically, mentally and emotional level.
Holistic Healing - Healy Device & Frequency Therapy
Frequency Healing and 'Healy
Who doesn't enjoy feeling healthy and well?
After all, a healthy body and mind are probably
the most important ingredients for happiness
and quality of life!
Everything is Frequency! Our body exists of trillions of cells. Each cell has it's own specific frequency, responsible for our health & well-being. When the frequency in our cell is not to it's optimum level, we experience healh issues. We travel from a young healthy cell to an aging sick cell, to aches and pain, to inflammations, Edema, blood loss, Tumor cell, cell devision and cell death!
HOW CAN HEALY HELP YOU?
HEALY MOBILE SERVICE AVAILABLE - WE COME TO YOU!!!!
Healy with TimeWaver technology is
a medical device for the treatment of pain in
chronic pain, fibromyalgia, skeletal pain and
migraine, as well as for the supportive treatment
of mental illnesses such as depression,
anxiety and related sleep disorders, that can
be worn on the body. It is intended to stimulate
certain areas in your body with the help of
individually determined frequencies.
HIRE 'HEALY'
3 DAYS = $90
7 DAYS = $150
2 Weeks = $250
COMES WITH THE FOLLOWING PROGRAMS:
Local Stimulation: Bioenergetic support for unpleasent sensations in the body, in the back, in the mouth, in joints and head area.
Bioenergetic balancing of sleep issues; Bioenergetic support for mental balance and to relief mental-stress.
Gold Cycle programs: Pure, Care, Balance, Being, Energy, Relax, Release - For harmonization of your Bioenergetic Field, for recovery from negative experiences, emotional balance, wellbeing and relaxation.
Bioenergetic Balance 1: Immune system, Cold, Allergies, Eyes, Hormones, Intestine, Nerves, Flexibility, Circulatory system, Potency, Menopause, Menstruational local, Bioenergetic Balance 2: Gastrointestinal, Bacteria, Tonsils, Liver Function, Intolerances, Toxins, Head, Prostate, Lung Function, Thyroid Glands, Joints-Bones, Sciatica local, Mental Balance: Inner strength, Emotional Well-being, Feel Good, Contentment, Inner Unity, Well-being Soul, Mental balance acute, Meredians 1: Allergy Meredican, Connective Tissue, Bladder, Large Intestine, Small Intestine, Fatty Degeneration, Gall Bladder, Skin, Heart, Meredians 2: Hormonal balance, Circulation, Liver, Lungs, Lymphatic System, Stomach, Spleen-Pancrease, Nerv Meredian, Kidney, Organ Meredian, Sleep: Sleep, Bed Rest, Balanced Sleep, Fine Flow, Skin: Skin Elasticity, Support Wounds, Akne, Scars.
Healy is very easy to use. You can attach this compact and light device to your clothe using its clip. When you hire the Healy you will be given a manual to assist you step by step. We will also help you to download the Healy app to your smartphone and set it up for you, ready to go.
Click here to watch this video
( Healy - Systemic, Acute and Local Healy Programs )
This small but extremely versatile device delivers frequency programs for all important areas of life:
Pain/Psyche - Pain can be unbearable. Healy is designed to get you by on as little medication as possible
Learning - To help absorb knowlege faster and easier
Fitness - Suppoert out your top performance
Job/Sleep - Support of better and deeper sleep
Beauty/Skin - The Beauty comes from within! Healy Beauty programs are designed to bring it out
Mental Balance - Support to life balance and full confidence
Meridians - Stimulation of the flow of life and flow of energy that connects everything
Bioenergetic Balance - All-round Healthy
Chakras - Strengthen your seven etheral energy centers
To Protect against harmful environmental influences.
The applications of the Healy are designed to work in the
bioenergetic field of the body and are based on many years
of experience by Nuno Nina and a network of practitioners.
This small but extremely versatile device delivers
frequency programs for all important areas of life:
it promotes vitality, well-being and
balance! Healy provides applications that help
keep you in shape and reduce pain. It should
support you in stressful situations throughout
the day, help you to recover more easily and
find better rest at night.
Healy can scan and analyse your body.
With the analysis feature of the Healy Resonance module, doctors, practitioners and other health professionals can be supported to suggest suitable dietary supplements, foods, etc., for their patients or clients.
Not only professionals, but also individual users are
able to use this for performing analyses for themselves and for their families and friends. However, analyses
should be reviewed by a doctor if any signs of disease appear to be present.
HEA

LY'S

AU

RA

MO

D

U

LE
Another useful tool to Healy is the Healy's Aura
module. It lets you analyze the cenergy distribution of our chakras in the Information Field; after an analysis of the emotional background, we can point out suitable ways of optimization with the Aura module.
The resulting optimization patterns can be applied to different products with Healy in order to balance energetic blockages.
DEVELOPING OF HEALY
HEALY is a high quality medical technology product that was entirely developed in Germany. It was conceived and designed in cooperation with physicians and practitioners based on their practice and experience.
A seasoned team of developers and engineers, who had extensive previous experience working on the professional TimeWaver systems, faced the exciting challenge of bringing this complex technology into a compact and easy to-use form.
EASY TO USE!
Healy is very easy to use. You can attach this compact and light device to your clothes using its clip.
Healy is controlled by a smartphone app that you can download;it communicates with Healy via a Bluetooth.
Book your HEALY session today!
NEW - We now hire out the HEALY Device for 3, 5 OR 8 days so you can use it in your spare time from the comfort of your home! Contact us for more information!
TO ORDER YOUR HEALY CLICK THE LINK BELOW:
Click here to Order Your HEALY
To Become a Healy World Member click here:
Click here to become a Worldwide HEALY Member
For more information about HEALY, or to make a booking, click the green REQUEST A BOOKING button. Thank you.
HEALY MOBILE SERVICE AVAILABLE. WE COME TO YOU!!!!
OTHER SERVICES:
Mindful Counselling
Motivational Guidance
Pranic Healing
Chakra Balance & Aura Healing
Interfearance clearing
House clearing
Long Distance Healing
Qualification details
Certificate IV in Counselling and Communication - Certificate in Pranic healing - Certificate in NLP - Certificate in Feng Shui - Diploma in Angel healing - Diploma in Crystal healing - Certificate in Chakra balance and Aura healing - The Dermatini Method - Qualified Massage Therapist - Swedish Therapeutic Massage since 1998 EXECUTIVE MEMBER OF THE IPHM (International Practitioner of Holistic Medicine)
---
Service categories
This practitioner provides online consults