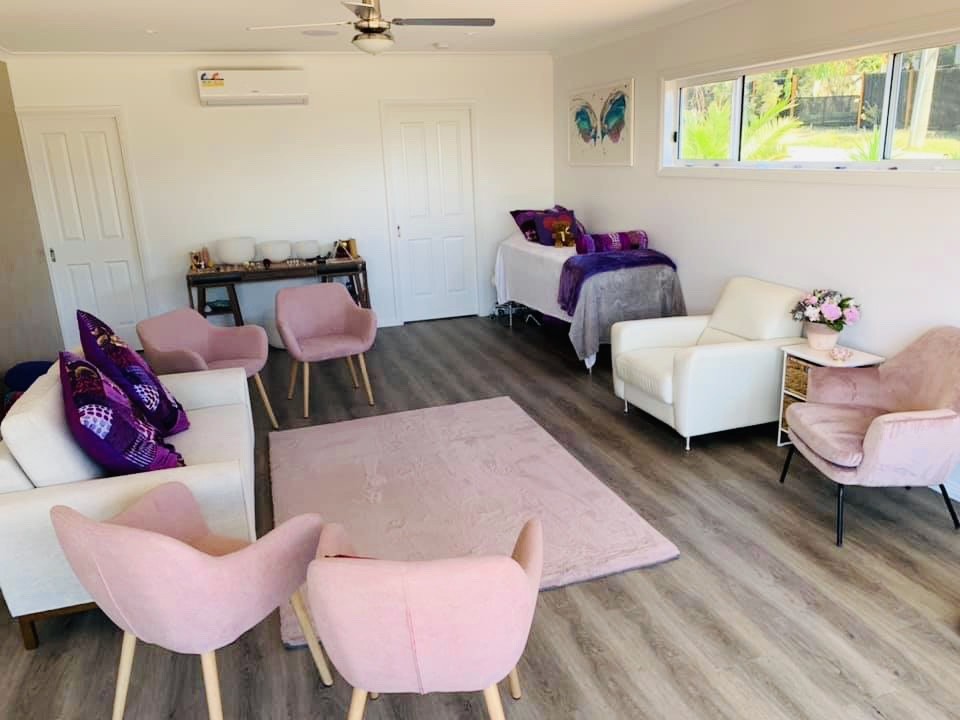 Holistic Essentials Therapy and Consulting
Want to find out my availability, pricing or opening hours? Click on Send Me Details Now to get started.
Send Me Details Now
Clicking on the Send Me Details Now button opens an enquiry form where you can message Holistic Essentials Therapy and Consulting directly
Feeling overwhelmed, becoming disconnected from ourselves, or questioning our own abilities is a natural response. Kerryn can guide you on the journey through self-discovery and transform your life using holistic therapies. Book your appointment online.
Self-Discovery Master Coach & Reiki Master
Focus areas
Mental health
Self discovery
Healing therapies
Stress management
Holistic wellbeing consultations
---
---
Kerryn is a certified Meditation Teacher, Self Discovery Master Coach, Reiki Master Teacher, Hypnosis Practitioner, Theta healer, Thrive Factor Profiler and Psychic Medium, full of wisdom and inspiration, and able to hold spaces for genuine transformation.
She works with people who are ready for change helping them reconnect with their Inner Being to create the life they always meant to have.
With a range of tools at her disposal, she can help you discover your true purpose, heal your body and mind, and re-ignite the joy in your life.
By nurturing your spiritual self, you will have a truly fulfilling human experience.
Services Offered
Ascension Reiki
In Ascension Reiki, your body is empowered to heal itself, you'll find self-realisation and lasting happiness.
Open eyes and a willingness to find the inner essence within are all you need.
Healing through Ascension Reiki is an incredibly powerful technique. It removes physical, mental, emotional, and spiritual blockages, rebalances the chakras.
Sound Healing
During your sound healing session, crystal singing bowls, Tibetan singing bowls and other instruments are used to produce soothing and healing tones.
The benefits of sound healing include:
Reduced stress and anxiety
Lower blood pressure
Improved circulation and increased blood flow
Deep relaxation
Balanced Chakras
Increased mental and emotional clarity
Improved well-being
Reiki and Sound Healing
This is a wonderful experience of the vibrational frequencies of instruments.
You will be treated to a relaxing Reiki session followed by the healing sounds of the following instruments:
Chakra Energy Bar Chimes
Crystal Singing Bowls and Pyramid
Tibetan Singing Bowl
Theta Healing
Theta healing is a powerful method for identifying limiting beliefs, dissolving deeply ingrained blocks, and reprogramming the unconscious mind.
Unlike other forms of spiritual and emotional healing, Theta healing enables you to directly teach your body new feelings through energy.
Self-discovery Coaching
With Self Discovery Coaching, you will gain a better understanding of what you really want from your relationships, work, and life in general.
You will gain the tools you need to understand yourself in the deepest sense.
Hypnosis
It is possible to free yourself from the chains of addiction, related to weight, food, substances and negative thinking, even if you have struggled with these issues your entire life.
Psychic Soul Connection Readings
Psychic Soul Connection readings access guidance and information beyond our physical senses from the angelic realm, the spirit world, your guides, universal energies, and messages from your Soul through Soul to Soul connections.
As you seek clarity and direction in all areas of your life at this time, Kerryn can assist you in making sense of those loving nudges.
Meditation
Meditation is a practice that helps you connect with the inner essence that resides within you.
Through it, you are able to connect with the Divine Source and bring yourself into the present moment.
Online Live Meditation Class
Tuesday evenings (fortnightly), 7:30 pm
In-person Meditation Class
Wednesday evenings (weekly in Sunset Strip, Phillip Island), 7:00 pm
Wednesday evenings (monthly in Churchill), 7:00 pm
In-person Psychic/Spiritual Development Class
Thursday evenings (monthly), 7:00 pm
Work with Kerryn to reconnect with your own inner wisdom and be supported by the universe's beautiful energy.
Book your appointment online today!
Self Discovery Coaching
1hr 30min
Life Coaching
Neuro Linguistic Programming (NLP)
Life Coaching Online
Neuro Linguistic Programming (NLP) Online
Whether it's Relationships, Career or Personal Self Discovery these coaching sessions will help you to unlock the blocks that are holding you back in your life. They will reveal any limiting beliefs or decisions that prevent you from achieving happiness,
Energy Healing
Theta Healing
Thetahealing is a powerful technique that will allow you to quickly identify limiting belief systems, dissolve deeply held blocks and reprogram the unconscious mind. Thetahealing can support you in ultimately experiencing a new and empowered way of livin
Qualifications
Reiki Master
Life Coach
Meditation Teacher
Psychic
Hypnosis Practitioner
Self Discovery Coach
Archetype Profiler
Theta Healing
Nlp Self Discovery Master Coach
International Psychic Medium
Certified Angel Guide (hay House Kyle Gary)
Certified Angel Card Mastery (kyle Gary)
Certified Angel Card Reader & Certified Angel Intuitive
Certified Flower Therapy Healer (robert Reeves)
Professional Membership
Australian Board Of NLP
Reiki Australia
Meditation Association Of Australia
---