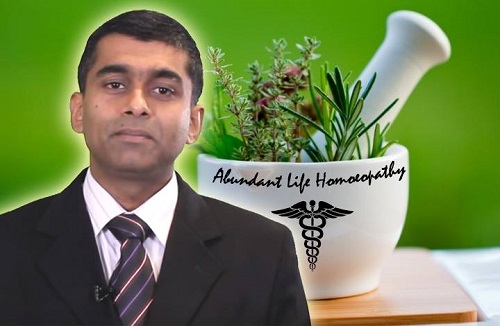 Abundant Life Homoeopathic Health & Medicine Centre
Want to find out my availability, pricing or opening hours? Click on Send Me Details Now to get started.
Send Me Details Now
Clicking on the Send Me Details Now button opens an enquiry form where you can message Punnoose Sam directly
WHOLISTIC HEALTH CARE at its best by Homoeopathic Consultant
Punnoose Sam, Qualified Homeopathic Consultant
Servicing area
Port Macquarie, Parramatta, Rockdale & Miranda NSW
---
Focus areas
Sneezing
Natural medicine
Lifestyle
Headaches
Circulation
Joy
---
---
The Philosophy
HOMOEOPATHIC MEDICINE (The Dynamic Medicine) treats the sick person suffering from a medical condition (disease) with a WHOLISTIC (GENETIC CONSTITUITIONAL) APPROACH. This Dynamic Medicine has its advantage of dealing with the disease state by probing into the root cause of it and removing the same completely from the body so that the tendency for recurrence is stopped permanently.
While a majority of medicines and foods that are prevalent in the market alter the immune system and suppress minor medical conditions into the body to later bring up Chronic incurable as well as terminal illnesses, Homoeopathic Medicine utilises minimal Natural substances that gently yet powerfully boost the immune system and thereby helps recovery.
Homoeopathic Practitioner
Punnoose Sam is a Homoeopathic Consultant who has completed his Bachelor Degree in Homoeopathic Medicine & Surgery - BHMS, from the esteemed Fr. Muller Homoeopathic Medical College & Hospital, Mangalore of India; affiliated to the renowned Rajiv Gandhi University of Health Sciences, approved by the WHO. This is a 5 1/2 years Degree equivalent to MB BS, which inculcates the knowledge of Modern Practice of Medicine & Surgery with Homoeopathic Medicine & Pharmacology.
He has also done Post Graduate Diploma in Hospital Administration- International Standard Course - PGDHA-ISC, from Indian Institute of Hospital Management, Kochi, Kerala of India which is of a 1year duration.
In his 10 years of vast clinical experience, he has successfully treated and dealt with numerous cases including:
Allergic complaints
Asthma
Hay fever
Chronic & Recurrent Sinusitis & other Respiratory ailments
Skin complaints like Eczema, Atopic Dermatitis, Acne, Warts, Taenia & other fungal infections
Vitilligo
Psoriasis
Viral & Bacterial Infectious diseases
Hepatitis B, Hepatitis A, Hepatitis C
Acute & Chronic Tonsillitis
Recurrent Aphthous (Mouth) ulcers
Ear infections & Chronic Suppurative Otitis Media
Diabetes ( Types 1 & 2 )
Hypertension
Migraine Headache
Infertility
Hyper/ Hypo Thyroidism
Menniere's Disease
Sjogrens Syndrome
Other Auto Immune Disorders
Osteoporosis
Rheumatoid Arthritis
Rheumatic fever
Palliative Care in Cancer
Depression
Renal calculi
Urinary tract infections (UTI) & other Renal complaints
PMS & all Menstrual Complaints
Menopausal Complaints
Uterine fibroids
Baby safe & Side effect free drug therapy for pregnant women with morning sickness, fever, heartburn, muscle cramps
ADHD, Adenoids and other Paediatric Complaints
IBS (irritable bowel syndrome)
Ulcerative collitis
Gastric ulcer
Hyperacidity
GORD & other Gastro intestinal complaints
Chronic Fatigue
Spondylosis & Cervical & Lumbar
Sciatica
LVDP
Arthritis
Hair complaints like Alopecia (hair loss), Dandruff
Obesity & other Chronic and Degenerative complaints
He is devoted to the cause of suffering mankind & also dedicated to his profession and patient welfare. He maintains a high level of Professional ethics and Privacy policy which was well acknowledged by patients and great crowd of his well-wishers and colleagues in the medical profession. He is also a keen Observer of preservation of health & well being and a Researcher, who has done Dissertation works on "Eczematous Dermatitis in Paediatric Age Group - A Homoeopathic Approach"; as well as done a project on" The Impact of Public Relations in Hospital Administration."
He is presently pursuing his studies in Master of Clinical Science (Life Style Medicine) offered by Southern Cross University.
More about Homoeopathic Consultant PUNNOOSE SAM
Punnoose Sam used to enjoy the support & co-operation of other Allopathic (Modern/ Western medicine), Homoeopathic & Naturopathic Doctor colleagues who used to feel confident to refer their patients to him for his expert advise as well as Homoeopathic treatment in certain cases of Allergic complaints, Warts, Female complaints, Hepatitis A, Hepatitis B, Eczema, Vitilligo (Leukoderma), Migraine headaches, where these patients were encouraged to see their family doctors (GPs) or the doctors who had referred them to Punnoose Sam; side-wise or later on once they had recovered from their complaints for which the Homoeopathic treatment was given. Punnoose Sam is interested in treating those cases not responding to regular conventional medicine and surgery and he believes that Medical Science is not the solution to the problems of mankind but just a tool to adjust certain physiological processes. We are triune beings composed of spirit, soul and we live in a body. A chronic disease will definitely have an emotional and spiritual issue. He believes that disease first gets conceived in the spirit and then it manifests in the body. So a patient with a chronic disease needs a total tuning of the spirit, soul and the body along with conventional treatment - a Wholistic Medical approach.
Punnoose Sam has conducted & participated in numerous Health Awareness Programmes as well as Free Medical Camps & Checkups along with Homoeopathic Treatment in India. He had attained "Homoeopathic Physician's Recognition Award for Continued medical education" from Homoeopathic Medical Association of America, HMAA. He also had attained the esteemed Certificate of Participation in the training of "the Art of Case-taking, Interpretation & Analysis, and Prescription & Follow up" conducted by the IHK Trust, Kerala, India.
Punnoose Sam was also in the Teaching Faculty of 1. St. Thomas Hospital & Institute of Paramedical Sciences, Punalur, Kerala, India in ANATOMY & PHYSIOLOGY, as well as that of 2. The Institution of Homoeopaths Kerala -UHTF, Kerala, India.
Punnoose Sam is still in the pursuit of continued medical education.
Book now to learn more about homeopathy and Punnoose Sam.

---