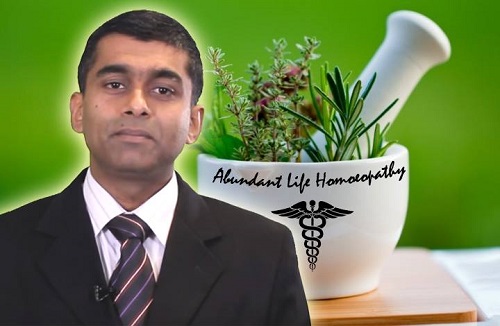 Abundant Life Homoeopathic Health & Medicine Centre
Want to find out my availability, pricing or opening hours? Click on Send Me Details Now to get started.
Send Me Details Now
Clicking on the Send Me Details Now button opens an enquiry form where you can message Punnoose Sam directly
Read what happy clients are saying about Punnoose Sam and Abundant Life Homoeopathic Health & Medicine Centre.
Client Testimonials
Servicing area
Port Macquarie, Parramatta, Rockdale & Miranda NSW
---
Focus areas
Sneezing
Natural medicine
Lifestyle
Headaches
Circulation
Joy
---
Testimonials of just a few satisfied patients who took Homoeopathic treatment in the last 10 years of practice."
"I believe that Dr. Sam Punnoose has a gifted skill and that he has enriched this further with his good mannerism and kind heartedness for his patients. I have had a very good experience with Dr. Sam's treatments. I have been seeing Dr Sam for multiple problems occurred in various phases of my life, and always ended up getting good results from his treatments. His medicine kicks in almost immediately and keeps providing good results, if followed as prescribed. I am not sure whether my physical problems contributed in my emotional problems, or the other way around. Either of the cases his medicine benefitted both of my states simultaneously, which I would like to think as getting a bonus. He takes time to listen to patients' problem and makes queries of various aspects of patient's life to provide the best medicine to fit the individual. This is very unlike to the Allopathic medicine, where one medicine is prescribed for every individual, without taking any account of the individuals' unique problem that could be stemming from completely different reasons. Furthermore, I have always found that his approach is professional, kind, and accommodative to patient's need. Every time I visited him his patience and commitment to help his patients have blown me. I referred him to a couple of my close personnel, who also were enormously benefitted by his treatments. People who are skeptical about homeopathic medicine or have had no good experience previously from this constitution, and/or seeking a release from their current physical issues should try Dr. Sam, if I may advice.

"Thank you Dr. Sam for helping me, my family and friends in the way that you are gifted for.

"May GOD Bless!"
- Mr. Shabana Canberra, AUSTRALIA, July 15, 2018

"1. This is my testimony of the healing that I have experienced in my body since commencing homoeopathic treatment with Punnoose Sam in April, 2008. When I had my first consultation with Punnoose Sam I really felt like this was my last resort, having tried many other types of treatments over the years and I admit, not terribly confident of ever being healed.

"For more than twenty years I have suffered with CHRONIC SINUSITIS and other ailments, which have caused constant pain throughout my body. I felt like my head was foggy all the time, my head and neck throbbed and concentrating at work was impossible without taking medication on a daily basis. I lived on sinus tablets, pain killers and anti-biotics for recurrent infection. Some of the other ailments I have suffered from included low energy levels, constipation, urinary tract infections, nausea and bloating.

"Some of the treatments I have tried include a very painful operation to have my sinuses scraped, many medically prescribed pathology tests, x-rays, scans, ultra sounds and medicines, as well as naturopathy, allergy tests and organic foods. None of these treatments worked to cure my body of the constant ailments, but offered only temporary relief.

"During the homoeopathic treatment I have undergone in the past few months, my energy levels have gradually returned, I no longer wake everyday with a debilitating sinus headache and my general health has greatly improved because I have not suffered with the WINTER AILMENTS that I usually get every year. Eg. Bronchitis, Pleurisy. Given that I work as a medical receptionist, this is quite remarkable.

"I have written this testimony because it is my belief that homoeopathic treatment should be made affordable to all Australians and not just those who are "better off" financially. Homoeopathic medicine should be included in our Medicare system, so that everyone then has a choice.

"Isn't it better to cure people if possible, rather than waste government money on temporary relief? Over the years I have wasted thousands of dollars of my own, as well as my time, Government money ( Medicare) and valuable resources to no avail.

"Who is to say that our traditional medicine is the only way? For too long now the pharmaceutical companies etc. have had a monopoly over our health system. Surely there is a place in the Medicare system for both Homoeopathic and traditional medicines to help alleviate the current overburdened health system in Australia.

"Thank you for taking the time to read this."
- Ms. K.S; Bonny Hills, NSW, AUSTRALIA, November 1, 2008

"Punnoose Sam is highly deserving of my recommendation. I have suffered a series of UNRESOLVED CASCADING HEALTH PROBLEMS stemming from a Fast Lifestyle in my late teens + a Chronic Unresolved Injury when I was 17 years old. Many years (and G.P's) later I made the decision to try Homoeopathy. Punnoose took the time to fully understand my Health History & Well-being, then he offered a series of remedies to unwind my health problems like a piece of string. I have had some astounding success with some of those problems, and am now finding myself able to exercise again. I intend to continue visiting Punnoose and building upon those successes."

Top qualities: Expert, Good Value, High Integrity
- Mr. M.B, Coffs Harbour, NSW, AUSTRALIA, September 17, 2008

"I sought help from Punnoose Sam after being told it would be five months before I would be able to see a specialist regarding my complaint of HYPERTHYROIDISM. The improvement in my health from using natural therapies, (Homoeopathic medicine), has been dramatic.

"While not discounting conventional medicine, I am happy with the treatments that Punnoose Sam has offered me and the results I have had. I would recommend him to my friends; as well I would like to request the Ministry of Health to include Homoeopathy into the Medicare system."

Top qualities: Expert, Good Value, High Integrity
- Mrs. D.C, Port Macquarie, NSW, AUSTRALIA, November 14, 2008

"I decided to try Homoeopathic Medicine after suffering years of serious HAY FEVER brought on by animal dander and dust. I did not want to take any more chemical tablets to supress the symptoms of my over active defence system. I chose Homoeopathic Medicine to treat the underlying cause not just the symptoms.

"My outcomes after 4-5 months of using Homoeopathic Medicines have been very successful. At times I found it hard to keep up with my regular doses of medicine twice a day however with persistence I am enjoying life without suffering hay fever where I would usually. After and during treatment I felt emotionally and physically attended and cared for. My energy levels increased and my sleeping patterns generally returned back to normal. Together with practising my Homoeopathic Physician's advise I would estimate my outcome to be at least a 90% success rate.

"I felt comfortable and excited about using Homoeopathic Medicine, due to its holistic approach that treats the body on all levels and therefore is more effective.

"I have already recommended my Homoeopathic Physician, PUNNOOSE SAM, BHMS, PGDHA-ISC, ANTA (Hom), IHK(Ind); to my friends and family with similar or other ailments. I have great faith in the principles and techniques used in Homoeopathic Medicine

Thanking you for your time."
- Miss. I . P, Telegraph Point, NSW, AUSTRALIA, December 2, 2008

"I had a STROKE at age of 31yrs which was brought on by severe MIGRAINE. I suffered from very bad headaches on a daily basis for over 4 years.

"GPs kept prescribing numerous Migraine medicines which did not alleviate the headaches, but I only suffered from more side effects like FATIGUE, NAUSEA, LOW ENERGY LEVELS & POOR CIRCULATION - particularly right sided.

"I was unable to work full time.

"After several years of taking prescription drugs I decided to stop. Headaches were still persistent so I decided to look for a more natural approach with Homoeopathic medicines.

"I found Punnoose Sam to be a professional, caring and honest person, who took the time to listen and knew what he was talking about.

"I was encouraged even at the first visit that there was something that could be done about my headaches and fatigue. I was given several natural medicines to take and followed up on a regular basis.

"It has been now over 6 months and the change I feel is enormous. My headaches have reduced greatly, and have not had one for about 2 months. I was able to go back to work part time and my energy levels have picked up greatly. My poor circulation is corrected and my blood pressure is within the normal range for the first time since having my stroke- over 7 years now!!!

"I would certainly recommend a Homoeopathic Physician to anyone- especially Punnoose Sam.

"I would also like to petition the Medicare & the Ministry of Health to include Homoeopathic Medicine Treatment into the subsidized group of health cares.

"Thank you for lending your time to read this."
- Mrs. M.M, Port Macquarie, NSW, AUSTRALIA, December 18, 2008

"I was suffering from Recurrent attacks of ALLERGIC COMPLAINTS of Sneezing, cough & fever which was troubling me for 5-6 years. I also had very annoying & embarrassing WARTS on my fingers and hands for both of which I tried various treatments. But it was only after consulting with Dr. Punnoose Sam that I could be fully recovered from my Allergic complaints with the Genetic Constitutional Treatment he had started for me. The recovery was Phenomenal and Dr. Sam had also assured me that the warts also would completely be shed off my body in the days to come. Just as he Assured me, the warts started falling off wonderfully with the same medicine he had prescribed at the beginning of my treatment. Now I am completely free from the Allergic complaints as well as all the warts which once used to be nagging me. I thank God for the recovery as well I am indebted to Dr. Sam for his Effective treatment, Counselling and support all through the treatment period as well as his educating & informing me about my health status as well as the treatment schedule."
- Miss. D.A, Punalur, KERALA, INDIA, July 20, 2002

"I used to get a back pain regularly which was diagnosed to be LVDP by an Orthopedic Specialist, and he had prescribed me with medicines as well as some mild exercises. The pain used to subside just when the Pain killers were taken but used to keep on recurring. That was when I approached Dr. Punnoose Sam for treatment of the same, as I had a good knowledge about him from other satisfied patients of his. In the outset itself he patiently heard all my complaints which usually were not my experience with other doctors whom I had consulted before. He then asked me some questions to clarify his doubt about the diagnosis and examined me thoroughly and he expressed his concern about his findings that he suspected me to have Renal Calculi and advised for further investigations of my urine and X-ray and Ultra sound scan of my Abdomen. All of them were done and the doubt was clarified and I was found to have 3 RENAL CALCULI (KIDNEY STONES) . Dr. Sam gave me Homoeopathic Medications for the same and had given me advices regarding my food habits and asked to continue with exercises. The kidney stones started coming off with the urine and my back feels better, and I am sure I am on the path of recovery. Dr. Sam has however advised me to have a regular Repeat Abdominal Ultra sound scan to ascertain the progress.

"I am thankful to him for his expert care and treatment he gave me. I wish him the best and am more than happy to recommend him to my friends who will be in need of his help."
- Mr. M.A, KERALA, INDIA, June 14, 2005
Book now and become one of these happy clients.