Judith Grieve - Inner Life Works - Counselling & Yoga Mackay
City And Mt Pleasant
Mt Pleasant, Mackay QLD 4740
Servicing area: Mackay, Queensland
Purpose
Love
Self awareness
...
Want to find out my availability, pricing or opening hours? Click on Send Me Details Now to get started.
Clicking on the Send Me Details Now button opens an enquiry form where you can message the practitioner directly.
Come and enjoy Yoga & Mindfulness classes and retreats ... cultivating the powers of awareness and kindness for living mindfully, at peace with self, others and all life. There's something for everyone whether you seek self awareness, wellbeing, a resilient heart, a strong and flexible body and mind, or recovery from illness.
Studio Mt Pleasant & Mackay City Heart.
Online access.
Details of yoga and mindfulness classes & retreats below.
Judith Grieve - Yoga
---
Yoga Works: for the over 50s & younger
An invitation to experience personal support. (Small groups 6-8)
(Currently not accepting new participants)
Yoga Works uniting body, heart & mind in serenity & strength
---
Guiding you to go within ... TO BE MINDFUL, breath by breath, PATIENTLY, exploring body, heart & mind ... DEEPENING ACEPTANCE, letting go force ... FOSTERING grace & balance, posture & poise ... MOVING ... gently unravelling stress & tension ... STRENGTHENING, building endurance & openness ... CALMING, relaxing revitalising ... OPENING THE HEART to self acceptance & compassion ... cultivating PEACE.
(2020 Timetable)
About the Classes

In all classes you are guided to practice with care and respect for your body, avoiding force, pacing yourself. All classes include a combination of:
Yoga Asanas

- for the body's strength & flexibility, internal systems and balance, restorative yoga for rest and rejuvenation

Pranayama / Breath practices

- for calming the mind and emotions

Mindfulness Meditation

- for cultivating deepen insight, wisdom and compassion

Yoga Nidra / Relaxation

- deep rest for the body

Yoga for daily life

- a dash of philosophy; exploring the heart of meaningful living

Health care

- self care wellness tips
Your Class, Your Way - in any class you are invited to practice as you feel the need , including attending to a restorative practice.
Session Times (Currently not available)
A warm invitation to you to come and share a yoga practice.
Please be in touch before attending.
Duration: Day: 70-75min. Evening: 60min. Candlelight Bliss: 2 hrs.
Recommendation:
Eating: Avoid eating 2 hours before a class. Ensure you are hydrated. If you must eat, please only have a very light snack.
Class Fees & More
Weekly Classes: 5 sessions $95; 10 sessions $180; Casual $20;
Bliss (3rd F/mth): 6-8pm $40.
Online Class Pass: 5 sessions M-F $95; Sat $90;
Bring: Yoga mat, towel, water, comfortable clothes.
In winter - warmer clothes, socks.
Locations: Indoors: Benson Ave, Mt Pleasant
Outdoors: Covered deck riverside end of Nelson St.
Retreats: Morning: 7-11am Early Bird: $85 incl vegan breakfast.
(Topics below) Day: 7am-3pm Early Bird: $175 incl vegan b'fast & lunch.
Yoga Classes
Hatha Yoga: A slow paced practice focusing on yoga breathing practices (Pranayama), clarity in yoga postures (Asanas) to stretch, strengthen the body, yoga philosophy and meditation to calm. You will be guided to position, align and move your body wisely, gently strengthen and unravel tension, develop good posture and graceful movement in your daily life and cultivate a deepening peace. Sessions will also support your understanding and practice of fundamental mindfulness meditation techniques.
Vinyasa Yoga: Building on Hathya Yoga the practice develops cultivating the flow of postures one to another in a variety of short sequences in harmony and rhythm with the breath. Suited to those who have a foundation in the basic postures and ease of movement. Benefits include feeling more supple, strong, clear and relaxed.
Gentle Hatha Yoga - 10.15am Monday: Suited to those with physical restrictions, recovering from injury or illness, needing a gentle practice as well as the over 60s. Similar to a beginners' practice, yet gentler.
Gentle Vinyasa Yoga - 10.15am Friday: Supporting you to building on the foundations of Hatha Yoga and enjoy the feeling in the body of cultivating fluidity and grace in movement.
Hatha Yoga & Meditation Basics (5 Week Intro) - 7am Tuesday: Enjoy learning and exploring the basic foundations of yoga and meditation practices. You will learn yoga's basic postures and breathing practices with a little guiding philosophy and meditation for heart and mind, receive individual guidance and the freedom to ask questions.
Vinyasa Yoga, Into the Flow & Meditation - 7am Thursday: Similar to Hathy Yoga and Meditation Basics supporting you to cultivating a flowing yoga practice and supporting you to find your own pace. A morning practice, flow sequences for you to enter the day energised.
Vinyasa, Align & Flow - 4 pm Tuesday: This afternoon session is an active yet a slow practice a slight step up from beginners. The slow pace supports you to refine the basics of alignment whilst enjoying various sequenced movements designed to release tension, strengthen and gently energise and relaxed.
Long, Slow, Deep Stretch - 4pm Thursday: If lunges or salutations after a busy day is the last thing you have energy for, you might like a LSD sequence focusing on floor postures designed to open the hips and shoulders and postures that create space and length for the spine. You will still get the mental and physical benefits without focusing on strength and endurance. Postures tend to be held for longer with mindful attention enabling an unraveling of body/mind tension and returning us to a felt sense of ease and peacefulness.
Vinyasa Yoga, Evening Flow & Meditation - 6pm Monday: Each class offers a different flow sequence designed to support you to unwind and unravel tension as the day draws to an end. Sessions end with 20 minutes mindfulness meditation.
Yoga Breathing, Meditation & Relaxation - 7pm Wednesday: Each session offers an harmonious integration of various yoga breath practices, mindful meditations and deep relaxation / restorative yoga. Ideal for anyone wanting to develop a meditation practice, experiencing stress, anxiety, fatigue, low mood, limits to movement or recouperating after illness.
Vinyasa, Go with the Flow - 7am Saturday: Enjoy a Saturday morning practice in nature, by the river. The practice varies, responsive to participants' needs on the day. Some sessions are slower, others more dynamic and everyone is encouraged to practice according to their needs on the day. Sessions end with relaxation and meditation.
Candlelight Yoga Bliss - 6-8pm 3rd Friday / month: We all deserve an interlude in life to rest, deeply rest. You are guided individually to utilise various yoga props to support your body to rest, soften and open. Enjoy the sanctuary of immersion in restorative yoga practices and cultivate the bliss of deep release and relaxation. Sessions include Pranayama - yoga breath practices for nourishing and calming body and mind; and a compassion meditation to cultivate increasing connectedness with self and this world, joy and happiness. Luxuriate, letting go "doing," surrendering into"being". The session ends with a quiet chat, chai tea and bliss balls.
Your Class, Your Way: In any class you are welcome to attend practice according to your body's needs and choose a restorative practice: You might like to attend to gentle floor based movements to unravel tension and unwind, yoga's breathing practices and meditative attention to calm the heart-mind, supported resting postures that are deeply relaxing. The aim is to support you to experience an abiding mindfulness and kindness to be with your experience as it is ... the waves of any body sensations, emotions and thoughts. A compassionate approach to self care if you are experiencing unease, stress, fatigue, anxiety, chronic fatigue, burnout, limits to movement or simply need to slow down.
Morning & Day Retreats - An invitation to sanctuary
Step out of your routine into a peaceful, quiet sanctuary to nurture yourself. You will be guided to go within to be with yourself, your body, your heart and mind ... with care and kindness. Enjoy the nourishment of gentle yoga practices, meditation and inspiration for bringing yoga into your life on and off the mat. Each retreat offers different mindful living topics with plenty of opportunity to ask questions. Breakfast and lunch are included (vegan & gluten free).
Retreat Themes
5.1.20 A Mindful Life
2.2.20 Radical Acceptance: loving ourselves
5.3.20 Mindful Relationships
5.4.20 Navigating conflict: with a wise heart
3.5.20 Radical Compassion
7.6.20 Freedom: from head to heart
5.7.20 Cultivating Joy
2.8.20 Equanimity: love of all things imperfect
6.9.20 Radical Forgiveness
4.10.20 Awakening: through adversity & trauma
1.11.20 The Heart's Refuge
6.12.20 Homecoming: connected & belonging
Retreat Details
Morning Retreats: 1st Sunday of the Month. 7am-11am.
Early Bird: $85 incl vegan breakfast. Enrol 1 wk prior.
Standard Fee: $100 incl vegan breakfast.
Day Retreats: 1st Sunday of the Month 7am-3pm
Early Bird: $175 incl vegan breakfast & lunch. Enrol 1 wk prior.
Standard Fee: $190 incl vegan breakfast.
Bring: Yoga mat, towel, water. Optional: journal & pen.
Location: Mt Pleasant, Mackay, Qld.
Bookings (6-8): Please email details of enrolment & payment.
Private Sessions: Individual, Small Groups
Sessions are available for those with difficulties or those who need or would like individualized care.
Private sessions are tailored to suit you if you:
* Have a specific health challenge, requiring individual support
* Need a remedial program before joining group classes
* Prefer to practice alone and want a home program
* Have a small group of people who want to explore yoga
* Have a small group wanting to practise regularly together
Groups: By arrangement.
Mindful Living Program
Cultivating life skills, mindful relationships, a wise mind, a content and happy heart. These sessions include a talk / discussion on a mindfulness theme, applying mindfulness practices in our everyday life, guided meditation practice, questions and answers over chai tea. There is the option of seated, resting and movement based meditation practices. Movement based practices are a great way to meditate if you feel restless or have difficulty in seated or lying meditation. (Please see more details under the Mindfulness tab.)
Uniting body, heart & mind
in serenity & strength.
---
For more information about what may best suit your needs or to enrol - just call or email!
---
Yoga Testimonials
"I come to this sanctuary each week and feel restored" Natalie
"Life is full and this is something I give to myself each week" Debi, Business Owner
"I like the small group classes and value the quality of teaching" Cheryl, retired
"The session eased tension I'd been carrying for some time and hadn't found a way to release."
"I remember what you say in class during the week, and it's been so helpful over the years in everyday life" Lynn, business owner
Others report: "I welcome the guidance in the class. I appreciate I can practice at my own pace. The practice and the talks help me deal with life's stressors with greater ease. I feel so much better coming twice a week."
May you enjoy deep peace and happiness.
Qualification details
---
Masters in Experiential & Creative Arts Therapy (Counselling) (MIECAT, Melbourne)
Post Grad Diploma in Experiential & Creative Arts Therapy (MIECAT)
Neurolinguistic Programming / Neuro Semantics (Petersen Events)
Diploma of Oriental Therapies (Shiatsu) (Nature Care College, Sydney)
Diploma of Remedial Massage (Nature Care College, Sydney)
Yoga Teaching (Oki Yoga Dojo, Japan)
Diploma of Teaching (QIT, Brisbane)
Cert IV in Workplace Assessment & Training (MADEC, Mackay)
---
See Also...
---
Service categories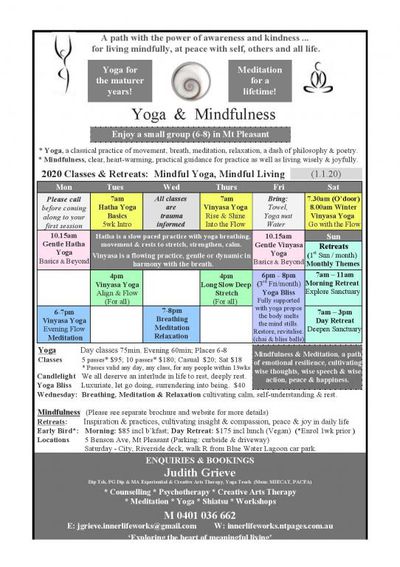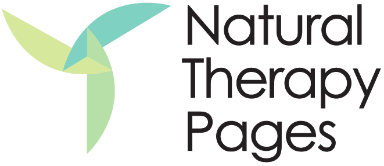 Judith Grieve - Inner Life Works - Counselling & Yoga Mackay