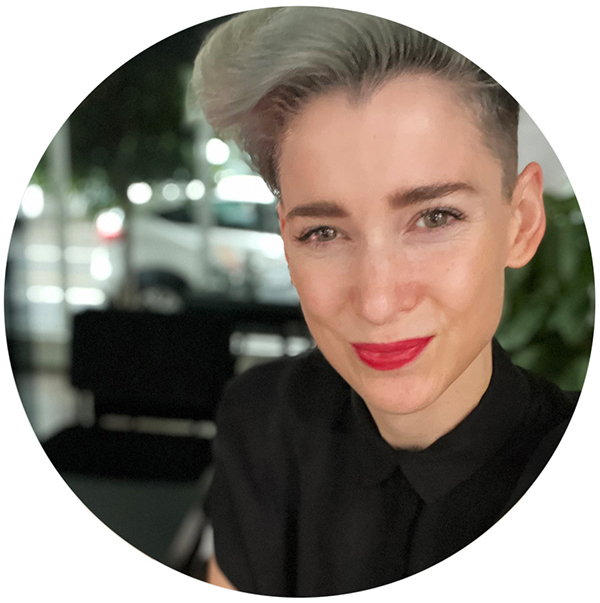 Rachel Berners
Want to find out my availability, pricing or opening hours? Click on Send Me Details Now to get started.
Send Me Details Now
Clicking on the Send Me Details Now button opens an enquiry form where you can message Rachel Berners directly
Acupuncturist & Registered Chinese Medicine Practitioner
Rachel Berners Acupuncturist
Focus areas
Emotional wellbeing
Transformation
Stress management
Pain management
Chronic pain
Mental health support
---
---
Registered Chinese Medicine Practitioner, Acupuncturist, Transformation Coach, Feminist & Cat Lover
My name is Rachel Berners and I am a 43 year young, Queer, Cat loving Feminist and Acupuncturist.
After almost 20 years of practicing Acupuncture in various locations and clinics across Melbourne I have finally found a space to call home at 363B Lygon St in Brunswick East. As a Brunswick East resident for over 10 years, I am inspired to connect with and serve my local community.
My inspired mission is to facilitate my clients innate capacity for healing and self regulation. The focus within Chinese Medicine is to achieve inner balance by bringing the Yin Yang polarities into synchronization. I help people to identify their unique patterns of disharmony and how these disharmonies are causing them to lose power. I coach my clients on how to build new patterns, implement positive change and set up self-care strategies that help them to regain confidence and resilience.
I have always been fascinated and intrigued by the body-mind connection. After completing my first Bachelor of Applied Science in Human Biology at RMIT University in Melbourne, I became interested in eastern healing methods and mysticism and went on to complete a second Bachelor degree in Chinese Medicine. I was lucky enough to intern at the JiangSu Provincial Hospital of Chinese Medicine in Nanjing, China for one year in 2002.
I have also had the honour of training under Dr Mikio Sankey (founder of Esoteric Acupuncture, Los Angeles, CA) for a number of years. Mikios work was a transformational turning point, personally and professionally, deepening my understanding of the energetics of healing and opening my heart more fully to life.
My interest in human transformation has led me to studying with Landmark Education, Dr Joe Dispenza (meditation teacher and author) and Dr John Demartini (human behaviour specialist). All of these journeys have provided me with a rich tapestry of wisdom and knowledge that I incorporate into my clinical practice. I am currently a trained Demartini Method facilitator, and provide private coaching alongside my clinical practice.
I am a deeply committed and intuitive practitioner. I provide a safe, non-judgemental space for my clients to feel fully seen and heard as who they really are. I sometimes swear, share A LOT of my own stories, laugh lots and keep it pretty real.
As an out and proud LGBTQ person, I am passionate in supporting my local LGBTQ family.
I am a CMBA registered practitioner of Chinese Medicine. I hold current registration with the Australian Acupuncture and Chinese Medicine Association. I am currently registered with the Australian Health Practitioner Regulation Agency.
BOOKING ENQUIRIES: 0417 325 393 or rberners@hotmail.com
CLINIC LOCATION: 363B Lygon St, Brunswick East, Vic.
---
Acupuncture
Please see my rates below and I look forward to welcoming you into my new clinic space.
INITIAL CONSULTATION: $220
FOLLOW UP CONSULTATION: $140
(Private health rebates available)
BOOKING ENQUIRIES: 0417 325 393 or rberners@hotmail.com
CLINIC LOCATION: 363B Lygon St, Brunswick East, Vic.
---
Emergence Coaching
This program was inspired by my own personal development journey, the healing and transcendence of my own childhood grief as well as the deep wisdom that I have gained over the last 13 years from spending time with some of the worlds greatest spiritual teachers and philosophers.
This program is designed to allow space for the real YOU to emerge.
This program will assist you in dissolving conscious and unconscious limited emotions and beliefs that are blocking you from achieving what's truly possible for your life.
I will assist you in letting go of the outdated stories and distorted perceptions that are keeping you stuck (in that "round and round" nightmare that you can't seem to break free from no matter how hard you try!).
You will gain insight, clarity, awareness, freedom, power, wisdom and the courage to make inspiring choices.
And the best part? ….. I will HAVE YOUR BACK (this is my super power).
If you are not willing to take a look inside and "do the work", this program is NOT for you.
6 COACHING SESSIONS ($450 per session).
– 1 SESSION PER MONTH.
– UPFRONT PAYMENT OF $2700
For those that ARE READY, book your complimentary
"Discovery Conversation" with me today:
BOOKING ENQUIRIES: 0417 325 393 or rberners@hotmail.com
CLINIC LOCATION: 363B Lygon St, Brunswick East, Vic.
---