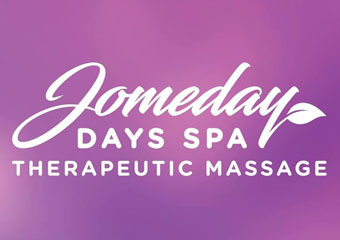 Jomeday Days Spa
Alert Practitioner
By clicking on the Alert Practitioner button, we send the practitioner a message on your behalf that you would like to get intouch with them.
Jomeday Spa is an oasis that integrates modern chic with relaxation and comfort.
Jomeday Days Spa
Focus areas
Lomi lomi massage
Manual lymphatic drainage
Stroke
Stress management
Muscle relaxation
Circulation
---
---
ABOUT US
Jomeday Spa
We offer a wide-ranging therapeutic massage services including remedial, reflexology, deep tissue, Swedish, aromatherapy, trigger points, crossfibres mobilization, lomi lomi, body scrub and many more.
Jomesday's aesthetic group of massage therapists and professionals remains up to date with the latest drifts, techniques and technologies through continuing education, ensuring the best services for our guests. We want to integrate the concept of traditional methods and enhance it with modern approaches.
Core Purpose and Value
We exist to graciously serve the necessities of our clients by providing massage services of excellent quality at a reasonable cost.
Customers First
We take pride in our commitment, receptiveness and delivery of excellent service experience. We are straightforward and we seek to build connections based on trust and confidence. We listen and meet our customer needs in order to ensure every experience creates a soothing experience.
Pursuit of Excellence
We are dedicated to the utmost possible levels of achievement and service. We go all-out to constantly improve our spa, our connections with our customers and community, and our own personal and professional development. We innovate to be more productive and better serve our customers' needs and achieve our goal of excellence.
---
SERVICES
Remedial Massage
A holistic treatment of main causes of pain and discomfort you are experiencing due to poor posture or lack of muscle and relieves pain.


Therapeutic Massage
The most relaxing massage you will ever get in your life which is a combination of different techniques


Sports or tissue massage
Relieves tension. Stress provides muscle relaxation for those on the go loosen up muscle tissue and release toxin from muscle improve circulation and blood flow helps loosen up scar tissue.


Lymphatic Drainage
Manual lymphatic drainage of the vessels to access overall circulation and determine the best alternate pathways for draining body fluid stagnation.


Swedish Massage
Organ stimulation blood flow it promotes your bodies self healing process and increase the production of your natural pain endorphins, it also promotes mental relaxation, proven to reduce headache, improve your skin tone.


Aromatherapy
Holistic art experience the unique aroma treatment approach as a technique of massage is the beneficial to nourish and balance the life forces and vital energy.


Trigger Points
Increases circulation on ground substance in floral areas and releases the loosen adhesions between connective tissues.


Reflexology Massage
Encourages the body to regain and maintain harmony an balance. Homeostasis in a very safe natural way. Relieves abonormal stress and tension in the body. Improves blood supply to nerves and encourage elimination of wastes.


Crossfibres Mobilisation
The systems uses a series of gentle connecting issues manipulation to realign the body balance and stimulate energy flows. It stimulates the bodies natural energy recuparation. Eliminating fatigue producing elements and there by promoting general good health.


Lomi Lomi Massage
Flowing with total energy using long continues flowing strokes combined with a very loving touch relaxes the entire being assisting in a lettering to go old beliefs patterns and behaviours that causes limitation and which are stored in the cells of our body.


Body Scrub
Say so long to dead skin and unveil a smooth more rejuvenated skin these divinely aromatic skin feels fresh.


---
Contact us today for more information.
---