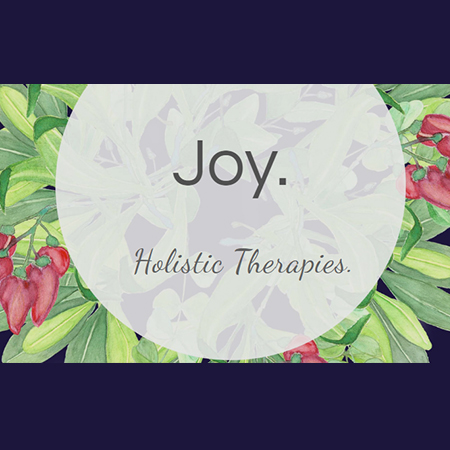 Joy Holistic Therapies
Want to find out my availability, pricing or opening hours? Click on Send Me Details Now to get started.
Send Me Details Now
Clicking on the Send Me Details Now button opens an enquiry form where you can message Katrina McKillop directly
Energy Healings - in person & distant | YIN Relaxation Massage | Manual Lymphatic Drainage Massage | Australian Bush Flower Essences |
Joy Holistic Therapies
Servicing area
Blue Mountains, Springwood, Glenbrook, Faulconbridge, Hazelbrook, Lawson, Woodford, Linden, Valley Heights, Leura, Katoomba, Wentworth Falls, Winmalee, Sydney, Melbourne, Brisbane, Adelaide, Perth, Cairns, Canberra, Darwin.
---
Focus areas
Facial
Infections
Manual lymphatic drainage
Anxiety
Emotions
Stroke
---
Energy Healings - in-person & distant | YIN Relaxation Massages | Australian Bush Flower Essences |
ENERGY HEALINGS.
We are all emotional beings. Our emotions often rule our everyday lives. We can find ourselves in the most beautiful place, surrounded by kind people, but if we feel angry or frustrated, the beauty and kindness means nothing.
Often, the emotions we are feeling at that time are not even connected to that situation. We don't know why we are feeling frustrated or angry, so we attach the emotions to the people closest to us, and lash out at them, causing many more problems!
An Energy Healing can go deeper than our current life situations and find the true cause of our troubles.
Together, we can work through patterns, explore the meaning & lessons in our relationships, explore your souls learning, and bring you peace in the here & now.
DURING THE SESSION;
During the healing session I work within your energy field (above your physical body), where all our thoughts, feelings and emotions reside from this life time and past life-times.

I have a unique ability to be able to sense stuck emotions within your energy field, and can shift and clear these in a kind and heartfelt way. I use my skills as a counsellor to 'talk through' the information with you as it arises. We explore these issues together, and how they have been impacting your emotions, your energy, your body and your mind. I then work on clearing these, so you can create new and improved pathways.
Other energy that can arise is information on your past lives, and the path of your soul & spirit; where it has been and where it is heading.

The experience may be one that is deeply restful, or you may literally feel shifts occurring within you. Many clients experience seeing colours or feeling emotions & energy move within themselves. It all depends on what your body & emotions that need to be released, and what is going on for you in your life.
But whatever happens, be assured that you WILL RELEASE what you need to and what you are ready to.

AFTER THE SESSION; After the session we will have a cup of tea and talk about your experience. This is your time to process whatever you need to and ask any more questions.
Sessions are held in Springwood (in the Blue Mountains)- Monday through to Sunday.

Sessions are also available via Skype/Facetime.
Springwood Location.
First Session; ​1.5hr session - $120 (includes essence)
​2hr session - $150 (includes essence)
1hr session (only available after the 1st session)​ - $90 (includes essence)
------------------------------------
Yin Relaxation Massage
In these sessions, we nourish, honour and embrace the incredible Yin energy that runs through our system.
Through these Relaxation Massages, your body is given a chance to 'reconnect' to your strength within, as well as remove the past and what is no longer serving you.
My intention is to 'hold the space' for this process, as well as help to clear away hidden energy that may be holding you back, so that you can come away feeling refreshed and 'whole' once more.
Sessions are available from Katrina's home in Springwood.
Available Monday - Sunday; 9.45am-6.30pm
Sunday Afternoons at Glenbrook Yoga Space Therapy Room, 1-4.30pm.
https://glenbrookyoga.com.au/therapy-room/
Choose from 1hr ($70) or 1.5hr ($100) sessions.
Add a 30min Energy Clearing $50.
Add a 30min Facial Lymphatic Drainage $45.
______________________________________
Manual Lymphatic Drainage Massage.
Manual Lymphatic Drainage Massage (MLD) is a gentle technique, that stimulates the lymphatic system to promote the flow of lymph fluid around the body.
The massage encourages the natural drainage of the lymph out of the affected areas, helping to eliminate your body's waste, reducing swelling, as well as boosting your body's immune system.
The Lymphatic System works as a second circulatory system that store and carry white blood cells. These blood cells help our body to fight infection, disease, fungi, and kill cancerous cells.

In the sessions, I also work on shock stored within the body (from surgery, sickness, trauma), allowing the parasympathetic nervous system to rebalance, bringing overall wellbeing.
This type of massage can benefit just about everyone, including if you are;
- suffer from headaches
- in swelling reduction
- experiencing anxiety and/or depression
- suffering from Chronic Fatigue Syndrome
- experiencing hormonal imbalances
- wanting to balance your emotions
- wanting to detox
- through breastfeeding
- suffering from colds, flu, tonsillitis, sinus & yeast infections.
Sessions are available from Katrina's home in Springwood.
​1hr upper body, including facial rejuvenation ; $80
1hr body sequence targeting problem areas (doesn't include the face); $80
1.5hr; $120
add 30min energy rebalancing; $50
Available Monday - Sunday; 12-7pm
Sunday Afternoons at Glenbrook Yoga Space Therapy Room, 1-4.30pm.
https://glenbrookyoga.com.au/therapy-room/


Manual Lymphatic Drainage Massage
1hr
Manual Lymphatic Drainage Massage (MLD) is a gentle technique, that stimulates the lymphatic system to promote the flow of lymph fluid around the body. The massage encourages the natural drainage of the lymph out of the affected areas, helping to eliminat
Manual Lymphatic Drainage Massage
1hr 30min
Manual Lymphatic Drainage Massage (MLD) is a gentle technique, that stimulates the lymphatic system to promote the flow of lymph fluid around the body. The massage encourages the natural drainage of the lymph out of the affected areas, helping to eliminat
---