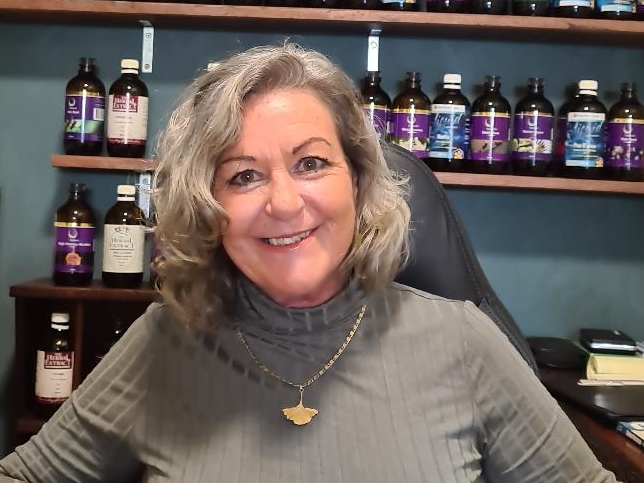 June Gobbos ND Family and Friends Health Clinic Whitsundays
Clicking on the Send Me Details Now button opens an enquiry form where you can message June Gobbos directly
Send Me Details Now
Practicing since 1988, I combine classic Naturopathic knowledge with the latest scientific findings to provide the individual with the best personal constitutional diet, individually compounded herbal remedies and treatment plan. NO "Off the shelf" treatments here, just unique treatment plan for the unique individual YOU. I try to source the best quality supplements with low excipients. Appointments available in clinic or online.
June Gobbos ND Natural Health Professional
Servicing area
Proserpine, Whitsundays, Coalfields, Bowen Queensland
---
Focus areas
Autism spectrum disorders
Fitness
Herbalist
Food intolerance
Pets
Lifestyle
---
---
My Belief
For over 33 years my practice belief is that each person is like a jigsaw puzzle. The pieces of the puzzles are accidents, operations, injuries, what you eat, drink, think, feel, love and now you move. Now add to the mix any problems or concerns at the present and we have the holistic picture of you and what you need to help your body regain homeostasis (or balance). I'm not happy with treating the symptoms but strive to treat the whole person in the most cost effective way available. This way invovle me prescribing a herbal medicine formula that has been compounded especially for you or quality practitioner only products.
I believe that good health should be available to all, not just for the wealthy.
About Me.
I have always been fascinated how foods affect our bodies and was studying to be a dietary aide after I left school. Then I was run over by a car and thankfully, to the doctors who performed the microsurgery, they sewed my foot back on. Unfortunately for me, I was also told that I could never work in my chosen career, have children, dance etc. This through me into depression where I was treated with Valium and M ogadon to help with sleep. They voice inside me said "there must be other things I can be doing to help my body". So not even knowing what a Naturopath did, all I knew I wanted to learn what herbal medicine plants could do for the body, off I went to study Naturopathy. Years later after becoming a Mum (and now a grandmother), dancing etc, I can acknowledge the healing power of the body and the mind, once they are given the correct ingredients and guidance.
I have given various lectures, performed radio interviews and have been quoted in the paper.
Conditions I have treated over the 33 years.
I have treated many different conditions over the years the ones listed below are the conditions that most prominent in my clinic practice.
Allergies/ Food Intolerance. Don't let allergies affect your quality of life. There are ways we can support and allow the body to heal. Cutting out the triggers whilst we attune the immune system and heal the digestive system through liquid herbal medicine is a great way to ease this suffering.
Animals (our companion pets). Cats and dogs are prone to the conditions that also affect their owners, such as digestive disorders ie constipation or diaorhoea, eczema/ skin rashes, obesity, arthritis, thyroid issues, and depression. Please see page three for a more comprehesive information.
Autistic Spectrum Disorder. Unfortunately, this condition is on the rise. And whilst this condition is multi-faceted and varying in degrees, it fits into Naturopath Philosophy perfectly as we have to treat the individual. Having a grandchild on the spectrum, I do understand the complexieties they may face.
Bladder Infections. The elderly, pregnant ladies and certain other people can be more prone to bladder infections. This condition is mostly treated with ural but sometimes antibiotics are needed. There are wonderful herbal medicines and dietary changes that can help Bladder Infections and also increase the suffers immune sysem so that they are not as prone to this condition.
Children's health. Children are our future and I love to be able to encourage them to heal but also to learn good nutritional habits that will last a life time.
Chronic fatigue. This condition is often overlooked or misdiagnosed. I have observed how this condition comes about and beliee that we have to restore the mitochrondrial function whilst allowing the body to detox and relax and heal.
Depression and anxiety. Depression, being concerned over the past or anxiety, concern for the future, is on the rise in this general day climate. Supporting the body, by aiding GI function, ( remember the "gut"is our second brain), helping rebalance the neurotransmitters that are made in the gut, giving your brain the best herbal or nutritional supplements that are applicable, adrenal and nervous sysrem support if needed. I believe that each of us suffers some anxiety and depression from time to time but when prolonged these conditions can be debilitating and need support.
Detoxification. I have treated client's that have followed some "amazing detox" that they found on line. Unfortunately, they were left with health issues, as some "amazing detox's" only address one or two of our major detoxification pathways and unfortunately, this may over burden the other detoxification pathways leading to an imbalance and disease.
Digestive disorders. Constipation, diaorrhoea, I.B.S., reflux, parasitic / yeast infections, SIBO, Chrohn's disease are all conditions that I have treated. Our digestive system is very important as if it is not functioning well it can cause concerns all over the body as it is our interface and how we take in our nourishment. I can organise a GI Map test, which is a comprehesive stool analysis for GI pathogens, opportunistic organisms, normal flora, and makers of GI health including bacteria, viruses, parasites, fungi, inflammation, immune function, pancreatic function and occult blood.
Eczema/skin disorders. I have come across alot of eczema and skin disorders. As our skin is one of our major detoxification systems, we have to look at how we can support that function whilst trying to work out what is causes the inflammation and agravation. I have treated eczema, acne, rosacea and dermatitis.
Insulin resistance/ hypoglycaemia. These conditions are very prevalent in our society today. And if addressed earlier enough can help to avoid heart disease, type 2 diabetes, cardiovascular disease, fertitlity issues and various other conditions. Not only that when this condition is corrected your quality of life and energy levels improve greatly.
Libido. Whether it's loss of interest in the female department or erectile dysfunction in the male department, if you wish to get your "mojo"back I have helped people enjoy a better quality of sexual life.
Menopause/Andropause. I could never understand why women chose to go on HRT, as I believe that it is prolonging the inevitable. There are many ways to support our hormonal system during this time to allow for a easy transistion during this period of your life. There are wonderful herbs that support this period, for both men and women, and once again treatment depends on the individual.
Natural Fertility. This is one of my passion areas, as I love helping healthy, happy babies. But as it takes two to tango, I believe that the couple must both be looked at to insure the best future for them and their newborn. IVF (from what I have seen) can be very devasting on the body, on the mind and on the budget. I believe that each couple trying to fall pregnant should try Natural Fertility before IVF because even if for some reason that doesn't work, at least you have laid a great foundation for IVF.
Neurological Issues. I believe that this is another area that is often misdiagnosed, as a lot of these conditions are issues that we have never seen alot of before, treatment sometimes can be very hit and miss. As I live with Cervical Dystonia, I understand about the management of these conditions and the treatment of them.
Pain Management. Living with a neurological issue, I live with pain. I personally tried many different products and have been able to work out what works and what doesn't work that well. Struggling with pain has many impacts on our quality of life, so please struggle no more I can help.
Weight Management. Whether you wish to gain weight or lose weight, I have strategies to assist with both.
Inital consultation fee is $100
Pensioners $80
Qualifications
Bachelor of Health Science In Naturopathy (ANTA)
---