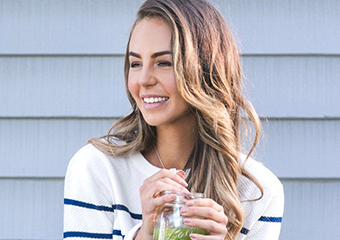 Keiarna Kerr
Clicking on the Send Me Details Now button opens an enquiry form where you can message Keiarna Kerr directly
Send Me Details Now
Your mind, your body.
Keiarna Kerr
Focus areas
Fitness
Care plans
Pregnancy support
Meal plans
Digestive system
Nervous system
---
---
About
Keiarna is an Australian nutritionist based in Brisbane, QLD. With an emphasis on building healthy relationships with food, she combines science with holistic nutritional medicine to promote both physical and mental well-being.
As a holistic nutritionist, she advocates that there is no one diet that fits all and tailors her health care plans according to a client's health state and personal preferences. She also believes in integrative health support and will harmoniously work with her client's medical practitioners to develop an ideal health solution.
Services
Individual Nutritional Consultations
Keiarna works with her clients in a way that allows them to feel empowered and in control of their health. She will discuss her client's symptoms and dietary behaviours. Additionally she will investigate other body processes such as the thyroid, adrenals, nervous system, digestive system, immune system, endocrine system and reproductive system. She will then assess how these body processes may relate to a client's health concerns and develop personalised nutrition, lifestyle and supplement protocols to assist in improving health. Referrals will be made to medical practitioners and other health specialists where necessary to support best practice for her client's ongoing health care.
Functional Pathology & Allergy Testing
Many clients who come to see a Nutritionist have had symptoms for years and haven't had success in resolving them in the past. These issues often include hormone imbalance, poor weight management, pain, fatigue, muscle weakness, altered mood and many more. If you feel as though you fall in this category, it may be worthwhile investigating how your body functions and reacts to the foods that you eat. Functional pathology testing offers a range of hormone, metabolic, nutritional and gastrointestinal function profiles to ensure the cause of your health problems is accurately identified and managed.
Personalised Meal Plans
There is no one diet that is suitable for everybody. Keiarna can design a personalised meal plan based on your working conditions, your budget, your lifestyle and current eating habits. Whether it be for weight management, sporting commitments, pain reduction, pregnancy, allergies or intolerances, beauty and much more - a specific dietary meal plan can be tailored to suit. Healthy eating should be enjoyable and fit in with your life, not restrict it.
Bioimpedance Analysis
Bioimpedance Analysis (BIA) is a method of assessing your body composition, the measurement of body fat in relation to lean body mass. It is an integral part of a health and nutrition assessment. A normal balance of body fat is associated with good health and longevity, and excess fat in relation to lean body mass is well known to increase your risks for cardiovascular disease diabetes, and more. BIA allows for early detection of an improper balance in your body composition, which fosters earlier intervention and prevention. BIA also provides a measurement of fluid and body mass that can be a critical assessment tool for your current state of health.
Shopping Consultations
Personalised shopping consultations are really useful to follow either individually, or to compliment your clinic based consultation. These types of consultations are most valuable after an initial nutritional consultation has been completed and you are ready to turn your plan in to an action. A shopping consultation can be between 30 - 60 minutes where Keiarna will accompany you to the local supermarket and guide you through an easy shopping process and further discuss the your new dietary ideas and food choices.
Group Workshops & Events
Nutrition seminars are an essential part of any wellness program, be it corporate, a fitness studio, school or sporting team - or even for those who would like to learn how to entertain in a more healthy way. There's a growing awareness of the importance of eating healthy meals, however a large slice (pardon the pun) of the population is still unaware or ill-informed about nutrition. Keiarna can tailor a range of practical and interactive workshops depending on the nutritional needs of any group.
---