Member since 2012
Leschenault Wellness
69 Pickworth ret
Bunbury WA 6230
Servicing area: Bunbury and the southwest
Want to find out my availability, pricing or opening hours? Click on Send Me Details Now to get started.
Clicking on the Send Me Details Now button opens an enquiry form where you can message Monique Sambros-Garvey directly.
Health and Wellness through Balance
Leschenault Wellness
---
What is Kinesiology?

Kinesiology is a holistic, mind-body therapy. It can be applied to all areas of your life. Whether you are suffering from physical pain, mental or spiritual issues, learning problems, grief, disease or disorder, or are struggling to achieve your goals or would like to improve your life, kinesiology could help you.


.......................................................................

About Leschenault Kinesiology

Monique Sambros-Garvey established Leschenault Kinesiology in 2011. Her qualification from Nicolie ONeill College of Kinesiology has equipped her with skills in various modes of kinesiology. Monique is particularly focused on:


Musculoskeletal, Vibrational, Physiological, Neurological, Brain Integration, Nutritional and Hormonal
.......................................................................

How do these modes relate to you? Do you experience any of the following?




Any physical, hormonal, nutritional, emotional, mental or spiritual energetic imbalance can be detected by a Kinesiologist. Through correcting these imbalances, the body is brought back to a balanced state of health.


.......................................................................

About Monique

Monique is becoming widely known in Bunbury for her gentle, loving approach to Kinesiology. A session with Monique takes place in her treatment room at her own home. This makes her clients feel welcome and at ease during their consultations.

Monique is also continuing her studies at Nicolie ONeill College to ensure she has even more knowledge and skills to provide for her clients. She will have completed her Advanced Diploma in Kinesiology by November 2014.


.......................................................................

Word from Monique

I love being a Kinesiologist and seeing my clients improve and prosper in their lives. I am inspired to keep learning, and am currently furthering my studies in Kinesiology.

I strive to have a lot of fun and retain my sense of humour while learning new things, I love travelling and experiencing new cultures, having a good laugh with people and discovering new things in life.

I look forward to meeting you on your healing journey.


.......................................................................

What can you expect?

During a kinesiology consultation, called a balance, Monique looks for blockages and imbalances in your body systems. She does this through gentle muscle monitoring and biofeedback. Kinesiology draws on a blend of eastern healing systems, such as the Chinese meridian acupoint system, and western knowledge of anatomy and physiology.

Kinesiology stimulates your body's ability to heal itself and thus get to the true cause of your problem rather than treating symptoms. Each balance is tuned to your needs and therefore highly individual.

Kinesiology will empower you and will make you the best you can be.


.......................................................................

Testimonials

I cannot speak highly enough of Monique's Kinesiology. The sessions I've had with her for the past 2 years have turned my life around. Her welcoming smile, gentle tone and warm hands always put me at ease. She has given me an understanding of my mind and body as well as helped me clear my limited beliefs and negative patterns. I cannot believe how quickly the results have come about. I now am living my life to my full potential feeling happier and healthier
Seana Maguire, Bunbury


Monique, thank you for introducing me to the most comprehensive and effective form of Kinesiology I have experienced to date. I come away from every session feeling very relaxed and refreshed which is wonderful.

When I first saw you almost a year ago I had been experiencing knee pain for 3 months and developed a slight limp which was odd as there was no physical injury. I stopped pilates and walking regularly due to the pain. I feel various treatments including massage, physio, chiropractic and podiatry were helping however remembered I had the same knee pain almost 13 years previous (also with no physical injury). I began questioning what was going on in my life at that time compared to now and if there could be a mental connection. In both instances I was contemplating a major residential relocation and through subsequent consultations we uncovered a lot of emotional blockages from my past that when released and balanced resolved the knee pain.

We have also addressed other areas such as my nutritional, hormonal, spiritual and neurological status which is exciting for me as these are all areas that significantly affect the way people function.

I highly recommend Leschenault Kinesiology and have personally found you offer a very professional, caring and supportive environment with undeniable results.
Tania Taylor, Bunbury


"Dear Monique

As a result of kinesiology sessions with you the quality and duration of my sleeping is vastly improved:

I can have up to 6 hours uninterrupted sleep;

In the event that I do wake up I can usually quickly and effortlessly go back to sleep;

If the mind attempts to engage me in unnecessary thoughts I am usually able to quickly identify and dismiss the thoughts, and go back to sleep.

My consults with you have been life changing. I am truly grateful to you.

Many, many thanks and warm regards"
Valerie



---
For more information or to organise an appointment - just give us a call or click on the 'Make An Enquiry' button below.
---
This practitioner provides online consults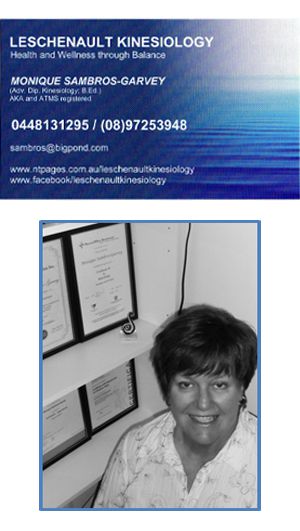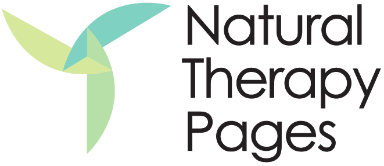 Leschenault Wellness