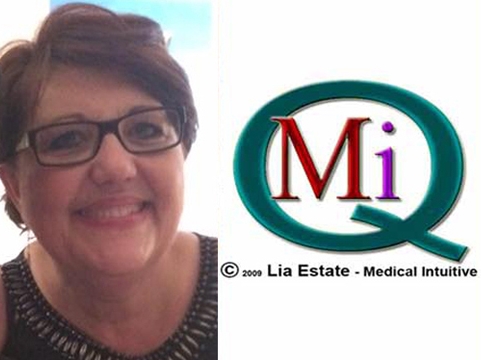 Energy Healing/Medical Intuitive Lia Estate
Clicking on the Send Me Details Now button opens an enquiry form where you can message Lia Estate` Energy Healing Qua directly
Send Me Details Now
Lia Estate` Energy Healing Medical Intuitive Reiki Lia Estate – Using the benefits of creativity to be present With the help of a Quantum Medical Intuitive and other modalities, you will begin to uncover and unblock the cause of your dysfunction, dis-ease, and move toward happiness & well-being. Lia Estate` offers Quantum Medical Intuitive services in the Eltham, greater Melbourne areas, and throughout Australia. On-Line & One-on-One Sessions are available info@liaestate.com.au https://www.liaestate.com.au/ Lia Estate – Using the benefits of creativity to be present (video) Lia Estate - Facebook Lia Estate - LinkedIn https://www.estatedesigngroup.com.au/ Session Rooms at :- 109 Sherbourne Rd, Montmorency VIC 3094 Online-Zoom/Remote Sessions Available
Lia Estate` Quantum Medical Intuitive Energy Healing
Servicing area
Eltham & View Bank & Montmorency & Melbourne all suburbs & Australia wide
---
Focus areas
Cancer management
Academic performance
Depression
Panic attacks
Breast cancer
Sound healing
---
---
Can't cope on your own?
Are you at your last ebb?
Need help? ...

Improve your life before things get worse.
Tired of the emotional roller coaster?
Tired of being sick even though you have tried everything?
Searching for the answer to better health, well-being, an easier life?
Unblock life patterns that keep you stuck in the past and drain your energy.
Gain new insights into your life.
Keep yourself focused and present.
Maximize your energy to work for you not against you.
Get assistance to manage and stop serious illness.
Control panic attacks, fears and everyday emotional upsets.
Depression, serious illness or just simply to get your life back on track from day-to-day stresses.
---
Quantum Medical Intuition can help you to find the answers
---
Quantum Medical Intuition is a unique and specialised modality that can help you uncover and unblock the root cause of your dysfunction and dis-ease.

Using 'Quantum Medical Intuition' and high-frequency energy, Lia will compassionately assist you and lend a guiding hand, finding energetic blockages that manifest as dis-ease.

The is a very powerful form of energy work and sometimes results are immediate - the point of a consultation is to start the healing process with powerful energy work as well as empowering the client with simple tools and techniques to maintain this level of wellness for themselves after the sessions.

Applications for this powerful energy work:
Intuitive Energy Medicine

Healing - Quantum Medical Intuitive

Emotional Health & Wellbeing

Quantum Matrix Energetics

Frequency Vibrational Healing

Natural Medicine & Healing
General Well Being

~ Illness - Physical - Mental - Emotional

Energetic Self Defence ~ Personal Protection
Animal Therapy and Wellbeing
Space Clearing & Protection

~ Homes/Buildings ~ Vehicles ~ Objects
Also available to assist in your well-being & environment:
​

Art Therapy / Artist / Graphic Design / Photographer

Interior Architect / Designer - Furniture / Product Designer

Colour Consultant to enrich and energise your environment
What happens during a consultation?

The session has a duration of approximately 50 - 60 minutes and encompasses energy work that pin-points, isolates and changes the energy blockages into free-flowing energy that is beneficial for your well being.

Sometimes changes happen immediately and you may experience immediate and lasting relief.
You do not disrobe for the session.
The session is conducted in a seated, comfortable position.
You will learn simple, easy to use techniques that are powerful and effective.
You will leave feeling refreshed, calm, relaxed and ready to begin your life from a different perception that will assist you to keep wellness as a standard part of your everyday life.

Of course, sometime you may experience different feelings after a session but this is normal as your energy system and body are expelling toxins that have caused disruption and dis-ease.

Testimonials . . .
---
I went to Lia on my quest to overcome my health issues. I was diagnosed with breast cancer in 2001 and as a result have seen many practitioners. Lia has stood out as being the one that has helped me the most, her professionalism, attention to detail, and the way she conducted herself made me feel so comfortable and safe during the process.

The results were amazing, the technique used by Lia is a very powerful one and one that has helped me to this point - I feel fantastic. Lia you are one fantastic and talented lady, I wouldn't miss doing the technique you showed me - I do it every day. Thank you from the bottom of my heart for being there.
P.D. – Lower Plenty, Melbourne

I was truly taken by surprise when Lia told me of all the disharmony within my body. I had many complaints which the doctors would just disregard and put it down to manifestation.

Lia accurately identified problems within my physical body and also my emotional demons and began correcting this disharmony. Only after two sessions, I have seen dramatic results on a physical and emotional level. I will be returning on a regular basis to ensure optimum health and well being.
K.L. –Montmerency, Melbourne

I know Lia personally and professionally and have found Lia to be a woman of exceptional standards both ethically and in her work as a Medical Intuitive / Medical Clairvoyant practitioner.

Lia helped me to unlock deep emotional blockages using her Medical Intuitive skills, this helped me to improve my health and my life on both a physical, emotional, and spiritual level resulting in life-changing transformations. Lia's Medical Intuitive work utilized my body's own powerful healing potential which helped dissolve limitations, allowing me to experience new feelings of joy and contentment with optimum health.
N.S. – Eltham, Melbourne

For more information about this powerful healing modality, or to make a booking, call or click on one of the buttons below.
On-Line & One-on-One Sessions are available.
Session Rooms at :-
109 Sherbourne Rd, Montmorency VIC 3094
Online-Zoom/Remote Sessions Available
Services
Intuitive Energy Medicine & Healing - Quantum Medical Intuitive
1hr
Intuitive Energy Medicine/Healing-Quantum Medical Intuitive-Emotional Health/Wellbeing-Quantum Matrix Energetics-EFT-​Reiki-Frequency Vibrational/Hands on Healing-Art Therapy-Artist-Graphics-Photography-Interior Architect/Design-Furniture/Product Design
We're open 6 days.
| | | | |
| --- | --- | --- | --- |
| Monday | 10:00 am | To | 5:30 pm |
| Tuesday | 10:00 am | To | 5:30 pm |
| Wednesday | 10:00 am | To | 5:30 pm |
| Thursday | 10:00 am | To | 5:30 pm |
| Friday | 10:00 am | To | 5:30 pm |
| Saturday | 9:30 am | To | 12:00 pm |
Qualifications
Lemurian Healing Practitioner
Multidimensional Quantum Healing Certification
Pellowah Healing Technique Level 1 and 2
Tuning Fork Therapy Practitioner (Brooklyn Healing Arts, Brooklyn NY, USA)
Energy Healer (Peter Hess and Reiki)
Beyond Quantum Healing (BQH) Practitioner
Energetic Healer Heart Flow 2
Angelic Reiki Master Practitioner
Seichim Reiki Master
Distant Healing Practitioner
Spiritual Coach
Reconnective Healing Practitioner
Health and Wellness Coach
Pellowah Healing Practitioner
Self Directed Healing Practitioner
Certificate In Healing
Therapeutic Arts Practitioner
Reiki Level 2 Magnified Healing
Sound Frequency Healer
Heart Flow Healing Practitioner
Animals Communication Practitioner
Quantum Medical Intuitive Practitioner
Energy Healing Medicine
Graphic Designer
Interior Designer
Interior Architect
Furniture Designer
Certificate In Reiki
Certificate In Energy Healing
Earth Healing
Reiki Practitioner
Energy Healing Practitioner
Quantum Reiki Healing Practitioner (Antojai Ascension Academy)
Diploma of Energy Healing (Ashati Institute)
Quantum Healing Practitioner (Ascended Master, Antojai Academy)
Archetype Profiler
Expressive Arts Therapist
Certificate In Sound Healing Therapy
Art Therapist
Angelic Reiki Practitioner
Matrix
Bachelor of Arts
Empowerment Coach
Spirit Healing Practitioner
Reiki Healer
Bachelor In Visual Arts
Archetypal Coach
Matrix Therapist
Intuitive Life Coach
Spiritual Artist
Visual Artist
Animal Reiki Practitioner (2018)
Energetic Healer
Professional Membership
IICT - International Institute For Complementary Therapists
Energetic Healing Association
AMT - Association of Massage Therapists
---