Find a Hypnotherapist in your area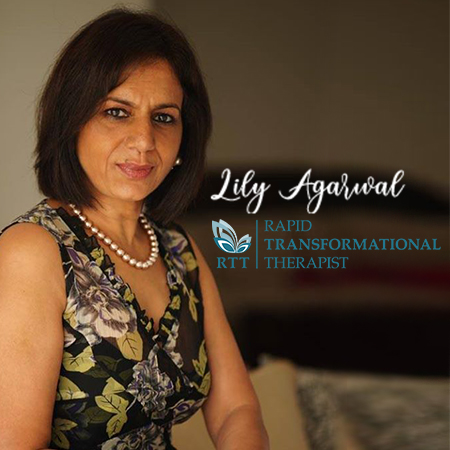 Member since 2020
Lily Agarwal - Rapid Transformational Therapy
Lily Agarwal
Want to find out my availability, pricing or opening hours? Click on Send Me Details Now to get started.
This practitioner is currently unavailable.
Testimonials

I had the good fortune of being treated by Lily Agarwal for a very troubling physical condition. In July for over a week I experienced heavy rectal bleeding. This had never happened to me and as you might imagine, it was very troubling. I have consistently had a history of polyps--every time a colonoscopy was done there were polyps that were, luckily, harmless. This scenario with the bleeding was frightening. I consulted my physician who referred me to a specialist who could not perform a procedure until two months in the future.
I decided to seek assistance from Lily Agarwal. Lily worked with me using Rapid Transformational Therapy (RTT). Not only was Lily extraordinarily thorough in researching the medical implications of my condition, she determined the subconscious root cause of the issue and crafted a holistic treatment that incorporated using Apple Cider Vinegar as well as knowledge from Louise Hay. Lily invested a lot of time and energy in my treatment and it made me feel very secure. She really knows what she is doing. I followed her advice and listened to the sound file she created for me to listen to for 21 days.
When the day came for the colonoscopy I was both curious and a little apprehensive to learn what the results might be. The news was quite shocking. There was not a single polyp to be seen! For all the past three or four colonoscopies there were always polyps. Needless to say, I am very grateful to Lily for providing me with her excellent treatment and caring manner. If you have any situation you would like to change, I highly recommend Lily because she gets results.
- Anne M. Wrinn
USA

I know Lily Agarwal personally. She realised that I was suffering with severe tooth ache which was going right up, my left side of face to my head. A tooth on the left side was black with cavity. I had been to a Dentist who had prescribed, root canal treatment with crown implant. I was resisting doing that. I am 27 and had already lost another tooth before to cavities. Lily offered to do RTT. I knew nothing about the therapy. But I trust Lily so I went along. I just couldn't see how all this was going to help my tooth and the pain, which was really upsetting me and making me feel unwell.
I came out of therapy feeling exhausted and just wanted to sleep. Next morning, I had no pain. What I have experienced is a miracle or magic-like. I noticed in a few days that my tooth was getting whiter. Since I had no pain I decided not to go to the dentist. The tooth kept getting whiter. In about 2 weeks I realised that my tooth cavity disappeared.
I don't understand how this has happened. I am so happy that my tooth is saved. No one believes me how this has happened.
I am so grateful and thank Lily for this miracle.
- Bodhi
India

Lily Agarwal helped me overcome a very hurtful pattern in my romantic relationships. I just couldn't understand why I faced rejection from my partners every time. This was causing me so much sadness. I had tried positive affirmations and several other things. Lily taught me to believe 'I am Enough'. The therapy has just changed my feelings and I understand why I had the issues. I cried a lot in the session. I can't even believe that I did that. I know that I am feeling so much happier and loveable. I have stopped obsessing over the past and finding a life partner. I know I am worth it. I don't do the things that I did before. I highly recommend Lily Agarwal, if you are struggling with your love life. She can help you.'
- Anonymous
Goa

Lily Agarwal is a brilliant Therapist with a beautiful compassionate heart. She is excellent in her craft and also thoroughly professional. She has the necessary qualifications as well as the art to heal in the most organic manner. it is a very holistic approach and one feels healed and balanced under her guidance. I have taken sessions under her guidance and recommend her from the bottom of my heart.'
- Dr Praveena Shetty
Mumbai

I asked for Lily's help with a complex emotional challenge in my life. She was very thorough in understanding the problem and helped me discover the root cause of my issue while giving me a clear understanding of my position. I felt so much better afterwards! I highly recommend Lily's work to whoever wants to improve te quality of their life.'
- Ilaria Ricci
Italy

I had a session with Lily over a zoom call regarding my internal understanding of my childhood and upbringing as a young adult. She really took her time with me and helped me understand my own life story and the way I react to certain situations to be more ME from now on.
This Lady has a 6th sense and she uses it! :) Thank you for helping me realize and grow from within!'
- Igor Vilusic
Germany

I have to share the wonderful experience I had working with Lily Agarwal. A while back I asked for her contact number to have her work on my teeth. Wow! The pain on a scale 1-10 was 30. 😬 I couldn't sleep , went to the dentist and they offered a whole array of procedures.
But my intuition said go for this you will receive more than you can imagine. And I did, working with Lili was a beautiful experience. I felt so good at her care, sweet, sweet lady and honestly, I am still stunned at the results.
Pain level on a scale 1-10 is 0
Marisa's method works and I am so glad to be part of this family. And be able to have the opportunity to work with a Therapist that is willing to do what she can to help others.
Thank you. Lily Agarwal.
You are amazing!
- SILY
Alabama USA

I want to thank Lily for her immense patience, tenacity, compassion and dedication to her work. My life has completely transformed into a life that I could have only dreamed of. I have recommended Lily to other family members who have also had fantastic results. So take your power back and experience what I have.
- Hayley
Australia
---
Service categories
This practitioner provides online consults