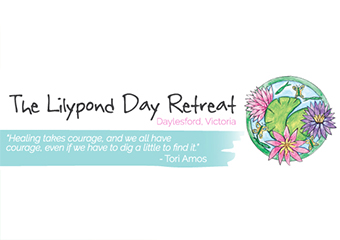 Want to find out my availability, pricing or opening hours? Click on Send Me Details Now to get started.
Send Me Details Now
Clicking on the Send Me Details Now button opens an enquiry form where you can message Annabel Holder-Brown directly
Check out our new website www.thelilypond.com.au  We offer a number of treatments and services including Kinesiology, Bio Scan, Bio Magnetic Pairs Therapy plus much more.
Annabel Holder - The Lily Pond Day Retreat
Servicing area
Daylesford, Ballarat, Ballan
---
Focus areas
Chronic pain
Coordination
Memory
Emotional wellbeing
Joy
Lifestyle
---
---
Come visit us at our property in central Daylesford with stunning views over trees, lakes and of course the lily pond.

Come and visit and enjoy some of our new therapies including massage, life coaching, aroma touch and of course kinesiology - increase your energy & reduce stress - overcome learning difficulties - reduce stress and tension - improve your health - achieve your goals

ABOUT ANNABEL

Annabel is an accomplished and compassionate Kinesiologist. Her qualifications include a Diploma in Health Sciences/Holistic Kinesiology and , as an Educational Kinesiologist Instructor, her expertise includes Studying at Kinesiology House, Carlton saw her receive an Academic Excellence Award for her work. A wonderful communicator and listener, her work across Victoria brings a high degree of professionalism to her craft. Annabel uses a variety of techniques and healing approaches and her ability to connect intuitively with patients' concerns complement her greatest strengths; considerable personal life skills and experience and a heartfelt empathy with her clients.

WHAT IS KINESIOLOGY?

Kinesiology is gentle, non invansive and suitable for people of all ages. it is a system that links traditional Oriental (Chinese) ideas of energy flow found in acupuncture with Western-style muscle testing. The idea is to bring about balance within the body by removing stress that blocks the system.

The beauty of kinesiology is that it works with the body's ability to self heal. A Kinesiologist will look at your whole system and identify blocks.

Due to personal stress and confusion many people are unable to identify the source of their distress. It is at times like these that people literally feel 'blocked'. This 'blocked' feeling sometimes coincides with fatigue, migraines, sleep disturbances. anxiety, learning difficulties and numerous other symptoms.

With the help of kinesiology a person is able to access their body's own innate wisdom, thereby opening their heart/mind to the healing process.


Kinesiology has the ability to unlock our true potential.


KINESIOLOGY CAN BENEFIT A WIDE VARIETY OF PROBLEMS AND SYMPTOMS:

If you want to take the best possible care of yourself you will enjoy kinesiology. Just as it is important to exercise, eat well and rest so to, is to pay attention to the day to day wear and tear that stress and our modern lifestyle can cause on our body/mind. Physical/Mental and Emotional wellbeing is all part of staying well and making the most of your life.

Through kinesiology you can experience less tension and pain in your body. Enjoy greater energy, coordination and mobility. It will help you think more clearly, aid in concentration and help you cope with stress and change. Leading to greater enjoyment and quality of life.

Learning Difficulties including spelling, memory, concentration, reading, maths etc
Behavioural Issues and Co ordination
Chronic Pain and Back problems
Emotional eating and weight problems
Just feeling stressed and overwhelmed by life
Achieving your goals and living your full potential
TESTIMONIALS

"This was the first time I had experienced kinesiology. I wasn't sure what it was or what I was in for. What I discovered was there are many dimensions to me and when I was with Annabel she created a world in which everything and anything was possible. Kinesiology and Annabel empowered me to see myself, and my life clearer and to overcome my fears and past events that had been holding me back. After each session I felt closer to being the absolute best person I could be.
I would and have recommended it to anyone who believes they are worth it. I now have a better understanding of what kinesiology is but I am more grateful to have met Annabel who has shone that extra bit of light on my life. Thank you." E.N Hadden, Victoria

"I find Annabel's kinesiology the best therapy for strengthening, grounding, eliminating stress and envigorating the body, mind and spirit."
Paige H, Moama, NSW

"Annabel showed me that issues I thought I'd dealt with and moved on from, where still exerting a huge influence physically on my body. I'm liberated emotionally, and am physically well on my way to good health after ten years of chronic fatigue. Thank you Annabel."
Dorothy G, Numurkah, Victoria

"This difficult to describe system, has been very benefiicial for both myself and my ten year old son, especially for spelling, writing and self confidence.
Annabel is very instinctive, caring and respectful of her clients.
It is one of those things you need to experience to truly understand."
K. Piercy, Ballarat, Victoria


---
For more information about the best services for your needs or to organise an appointment
- just give us a call!
---
---