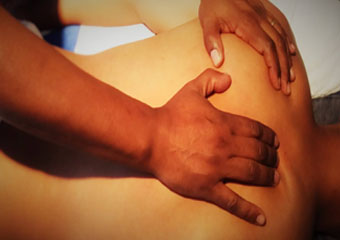 Melbourne Clinical Masseurs
Clicking on the Send Me Details Now button opens an enquiry form where you can message Melbourne Clinical Masseurs directly
Send Me Details Now
A headache bothering you? Do you have movement restrictions? Stressed out? Melbourne Clinical Masseurs in Carlton offers a variety of comprehensive treatment options to help relieve your pain naturally and improve your quality of life. Book online today.
Melbourne Clinical Masseurs
Focus areas
Muscle injury
Acute sports injuries
Injury recovery
Tennis elbow
Whiplash
Strains (soft tissue injuries)
---
---
With a variety of comprehensive treatment options available to heal your pain, Melbourne Clinical Masseurs can help you improve your quality of life and health.
Eshetu uses several techniques to ease your pain, reduce stress, improve and maintain your general well-being.
Services Offered
Remedial Massage Therapy
Strains, sprains, broken bones, bruises, and any other type of injury can be treated with remedial massage.
Using remedial massage is effective when treating back, and compound injuries that have been resistant to other treatments.
The following conditions can be relieved through remedial massage:
Achilles and hamstring injuries
Shin splints
Groin strain
Cartlidge damage
Tennis elbow
Frozen shoulder
Plantar fasciitis
Scar tissue and adhesions
Whiplash
Tendinitis
Carpal tunnel syndrome
Repetitive strain injury
Trigger Point Therapy
Trigger points are localised, palpable structures within soft tissues that cause symptoms usually involving pain, however, other symptoms are possible in this area.
Most often, these trigger points occur near the origins or insertions of muscles.
A trigger point therapy technique employed by physical therapists is spraying and stretching, while trigger point therapy employed by massage therapists involves applying pressure using thumbs, elbows and fingers.
Lymphatic Drainage
Lymphatic drainage stimulates and reactivates the functions of the lymphatic system. As a result, immune cells are produced and transported, and excess fluid is absorbed by the venous system.
Overall, lymphatic drainage is rejuvenating and energising as it cleanses the lymphatic pathways.
Cupping
In Traditional Chinese Medicine, cupping balances Yin and Yang stimulates blood flow, enhances organ function, draws pathogenic factors to the surface of the skin, eliminates dampness, regulates body temperature, and stops pain.
Dry Needling
Effective treatment for chronic musculoskeletal pain syndromes is dry needling.
The patient will experience acute pain of varying intensity at the injection site, in the area of pain referral, or both when the needle comes in contact with the trigger point.
It is normal to feel some local tenderness and pain after dry needling. When the needling results in pain, a heat pack is applied to the region after 10 to 15 minutes.
A dry needling procedure is both effective and safe. This treatment is used for treating both acute and chronic musculoskeletal and orthopaedic conditions.
After just one treatment, patients often report reduced pain and improved flexibility.
Testimonials from previous clients of Melbourne Clinical Masseurs:
"I have been seeing Eshetu for many years, I try and go for a "3 monthly-service" on my back, shoulders and neck, since I am an office worker. He has the ability to always hit the right spot, and remove the tightness within minutes. He will always listen to my requirements for the session, and readily spends extra time on any area I highlight to him. I always walk out feeling better than when I walk in...." - Ian R
"I've been seeing Eshetu on and off for a few years now, initially for therapy in response to an injury and now just for addressing the everyday strains from work, gym etc. He is fantastic. Strong massages are my preference, but he is also very attentive to getting the pressure right and has a wonderful technique. Highly recommended." - Rod Goodbun
For more information about Melbourne Clinical Masseurs or to enquire about any of the treatments, contact the clinic online.
---