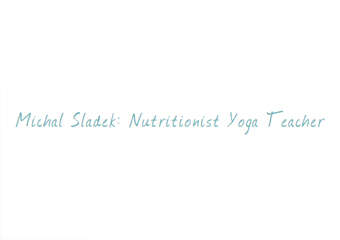 Michal Sladek Nutritionist Yoga Teacher
Nutritional Consultations,Yoga Meditation Classes Blue Mountains Healthy Eating is more than Munching Carrots:
Michal Sladek Nutritionist Yoga Teacher
Servicing area
Leura & Faulconbridge
---
Focus areas
Vision
Posture
Relaxation
Wellness
Lifestyle
---
---
Nutritional Consultations in Relaxed Atmoshphere
If you think veggies only don't fill you up, I agree with you.
If you are following healthy diet advice and your health doesn't get better, I might be able to help.


Real food is more than just munching raw veggies - cooking is an art.


In my consultations I go a bit deeper: I like biochemistry as well as traditions and good food. I promise, I won't put you on starvation rations, I would not like that either. I look at your story and at the right food for you, its preparation and combination. I do work with supplements as well, and, in some cases the right supplement can work wonders. Read more in my blog or book an appointment.
If you wish, I can give you some yoga exercises to do at home, tailored to your condition.
---
A bit about me:
I am a yoga teacher since 30 years and was actively involved in a Yoga group in back then communist Czechoslovakia. I even used to be a swami for a while (if you follow my blog, I might tell the story one day).
​Herbcraft was very common in Czech Republic and I grew up wildcrafting and using herbs.
I live with my wife and two stepdaughters in a big garden in the Blue Mountains and we grow all our vegetables and have chooks and ducks. The main part of the garden is mountainherbs - a plant nursery my wife runs. We grow 200+ medicinal and other herbs in our garden which is open to the public on occasions.
I am practising meditation ever since I started with yoga, tried different styles and settled for the Clairvision school since some years.
Life is a journey. Look at what drives you and follow that calling.
​Things that held you back will then become insignificant. Once you embrace your life, things will start happening.
---
NUTRITION
For me, it's about the connection of body, mind and soul. Nutrition is only a part of it, but an important one. Sometimes, long lasting health problems can be healed by changing the diet only.
We get so much information about nutrition that we should all be super healthy, yet we aren't. There is a lot of contradictory information, including diets which can be unhealthy or not realistic.
My approach towards nutrition is gentle and doable.
I also work with high-quality supplements. It is important to choose them well because sometimes they can cause more harm than good!
I will help you to source the right food as well, but in most cases you won't need anything 'exotic'.
And yes, I do eat cake every now and then, especially if it's torta cabrese (gluten free) with butter cream!
---
Yoga Classes for Everybody
I teach a classical Yoga style. My emphasis is to include all of it: postures, breathing exercises, long deep relaxation and meditation.
Yoga is not a contortionist competition. I teach everyone, not matter how inflexible or fit you are!
The focus is on what the postures do to your body rather than achieving the perfect posture.
It is also important that you practise at home to get the full benefit. It doesn't have to be much: how about starting with 15 minutes three times a week?
Current classes:
Nepean Community College, Katoomba, 8 week course, Thu nights 7 - 9 pm. To see more information and to enrol click here.

Before you come:
Don't eat before the class, your stomach should be fairly empty.


Make sure you are well hydrated. Especially if you are not used to exercise, your body may start to detox and water will help you to flush the toxins out of your system.


Wear lose, comfortable clothes.


During relaxation your body temperature will drop, so bring some warm socks, a blanket or a jumper.


Bring a yoga mat, I recommend at least 6 mm thickness or two thinner ones.


---
APPOINTMENTS & PRICING
Location:
Blue Mountains Wellness Centre, 455 Great Western Highway, Faulconbridge:
Mondays 9:30 am to 7pm.
Leura Health Foods, 155 Leura Mall, Leura:
Tuesday, Wednesday, Thursday 9 am - 12 noon.
Please book on the contact page!
What to bring to your first nutritional consultation:
A filled out "Food Survey Questionnaire". Please email the questionnaire beforehand to: Michal Sladek msladek108@gmail.com.
Copies of any pathology reports or medical diagnoses you have (either scan and send or bring them with you). Sometimes doctors don't give you your test results automatically, but you can always ask for them.


​This will save both your and my time. If you can't email these, please bring them to your appointment or mail to:
Michal Sladek, 51 Mort Street, Katoomba, NSW 2780.
What can you expect from your consultation?
I will have a good look at your situation and assess your health first to explore which areas need support and where your strengths are. I will look carefully at various diet and lifestyle factors, your posture, breathing and clinical tests as well as how you feel. Sometimes there is a direct link between a health problem and food we eat, sometimes it is not as simple as multiple causes are involved.
Next, I will outline the options of treatment or changes in your life that are available to you and explain how you got into this situation and, in reverse, what can you do to improve it and how you can get from imbalance back to harmony.
I will prescribe high quality practitioner only supplements if required, refer you for further testing if applicable, suggest changes in your diet and your lifestyle and give you information handouts.
Then you will have the information you need, you will have the tools for change, you will have my support, but: it is you who will need to make the change and it will be you who will reap the benefits. It is a very satisfying process because you are steering it and create the improvement, but at the beginning it may seem a bit difficult. This is where my support comes handy.
There is no magic pill that would conveniently do everything for you. Pharmaceuticals do not restore the balance, they cover up the symptoms. They are necessary in advanced stages of disease, but they always come with some side effects. So, try to focus on prevention while you still can.
Pricing for Nutritional Consultation:
Initial consultation: (60 min) $ 95.-
Follow up consultation: (over 30 min) $ 65.-
Follow up consultation: (up to 30 min) $ 30.-
Supermarket tour: (individual, 30 min) $ 60.-
---