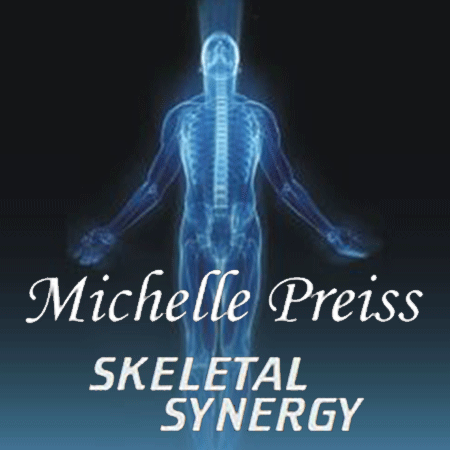 Clicking on the Send Me Details Now button opens an enquiry form where you can message Michele Preiss directly
Send Me Details Now
Used by Physical Therapist to combat pain and associated conditions in the Musculoskeletal System, Skeletal Spinal Alignments are now here in Goodwood!
Michele Preiss - Skeletal Spinal Alignment
Servicing area
Goodwood, South Australia
---
Focus areas
Rehabilitation
Disc related pain
Complementary
Stress Management
Health outcomes
Lifestyle
---
---

What Is Skeletal Synergy

Skeletal Synergy considers, the whole body becomes effected one way or another from chronic painful conditions, injury trauma and lifestyle.

The principle behind the system of Skeletal Synergy is to use physical therapies that are non-intrusive, on-manipulative, complementary and safe for all ages and conditions. This system comprises a variety of modalities:
Skeletal Synergy Technique
Spinal Reflex Analysis (SRA) and Attachment Point Therapy (APT)
Massage
Whole Body Vibration Therapy
100% of clients surveyed sited results as their reason for choosing Skeletal Synergy

Key factors of successful outcomes are Education & Self-Empowerment


How Does Skeletal Synergy Work?

A very gentle application that has proven time and time again to succeed where other treatments may fail or not be enough. Gentle finger point touch over certain points over the body and skeletal structure creates a measurable electrical reaction, resulting in movement of bones by the surrounding muscles.

The basic principle of skeletal synergy is to activate a self-aligning / self-healing process with as little external force or impact as possible.


Techniques Used

SRA and APT - Spinal reflexes are activated whenever something unexpected happens and we immediately react. If they activate because we are injured or perform repetitive activities for too long, they often do not switch off as they normally would. This over-active reflex will create a pattern of muscular dysfunction through the entire body, which over time will create many other problems including misalignment of the spine and other skeletal structures. SRA is a system of working out where in the spine reflex is overactive, and APT progressively switches them off. Once the spinal reflex is deactivated, muscle function can return to normal without the subtle underlying constant reflex innovations.

Massage - Has been used for centuries as a health benefit. At times our muscles need assistance with circulation, toxin removal and destressing. Many people find massage a primary tool for healing the body and gaining some down time and is used to assist the body through its process of self-correction.

Whole Body Vibration - Is the mechanical stimulation of muscles and forms the exercise and strengthening component of Skeletal Synergy. This training has no impact on joints but serves to reactivate sleeping muscles, nerves and other systems in the body.


What To Expect

A complete detailed assessment is provided for every new client. The assessment includes:
Posture Analysis
Shoe Analysis
X-Ray Analysis
Client Questionaire
Discussion Time

Case Studies - Previous Clients

Client 1

Retired woman, late 50s suffered for many years with the inability to even bend over to wash her feet in the shower. After only a few sessions, her mobility improved as did her awareness of her own movement habits that had developed and contributed to her symptoms.

Client 2

Male, mid 50s suffered many neck and spinal injuries from surfing. Once retired, pain set in caused by a bulging disc in his severely misaligned neck. After 6 weeks of intensive treatment (no manipulation) the disc returned to normal position and he successfully avoided surgery.



For more information about the best services for your needs or to organise an appointment - just give us a call!
---
Qualifications
Bachelors Degree of Complimentary Medicine
Diploma of Remedial Massage Therapies
Certificate of Distinction On Fynergetix (neuro-skeletal Alignment)
---