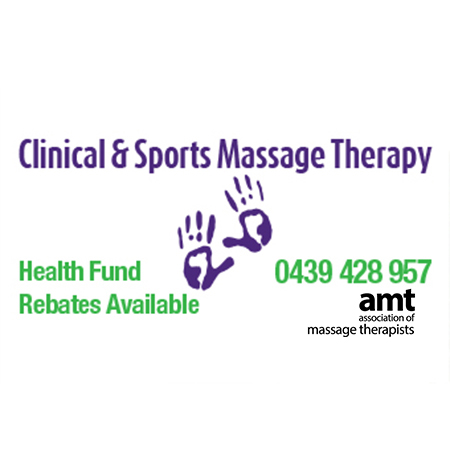 Nicki O'Neill - Remedial / Sports Massage Therapist
Want to find out my availability, pricing or opening hours? Click on Send Me Details Now to get started.
Send Me Details Now
Clicking on the Send Me Details Now button opens an enquiry form where you can message Nicki O'Neill directly
Remedial Massage - Injury Rehabilitation - Sports Massage - Deep Tissue - Manipulative Muscle Therapy - Kinesiology Taping - Traditional Cupping Therapies - Cranial Sacral Integration - Dorn Spinal - Member Association of Massage Therapist (AMT) - Approved for Health Fund Rebates
Nicki O'Neill - Remedial / Sports Massage Therapist
Servicing area
Yangebup, Western Australia
---
Focus areas
Pain management
Circulation
Headaches
Lower back pain
Frozen shoulder
Pain relief
---
Nicki O'Neill

Your practitioner:
Nicki is a graduate of the Atlanta School of Massage, Atlanta, Georgia, USA. Has been in fulltime practice since 1999
Member Association of Massage Therapist (AMT)
Certified in Clinical/Remedial Massage, NeuroMuscular Therapy & Manipulative Muscle Therapy
Experienced in working with athletes at all levels, from novice/recreational to world class
I am looking forward to seeing you soon
What else is on offer at Clinical Sports Massage Therapy?
Remedial Massage
Manipulative Muscle Therapy
NeuroMuscular Therapy
Kinesiology Taping
Dorn Spinal Therapy
Cranial Integration
Thai Massage
Testimonial
"After being involved in 2 Motor Vehicle Accidents and trying many forms of treatment I found Nicki. The cupping combined with the massage has brought me great pain relief and helps increase my mobility. The cupping works like a dream at releasing trigger points and I look forward to my fortnightly massage/cupping sessions."
Nickki B. Atwell WA
---
Cupping Therapies

What is cupping?

Cupping has been practised for over 3000years for the treatment of disease & pain.

It is a form of acupuncture that focuses on the movement of blood, energy Qi - & body fluids, such as lymph which circulates around the bodys tissues.

Oriental medicine states pain is due to stagnation of these systems. This stagnation can be a result of injury or stress.

Cupping is believed to stimulate the flow of blood, lymph and Qi. It influences the composition of blood: increasing both Red & White blood cells & changing acid blood into alkaline or neutral. This leads to the purification of blood.

How its done
The therapist takes a number of glass cups. Each is heated with a naked flame. The cup is then quickly applied to the skin, creating a vacuum. The suction anchors the cup to the body & the area of skin covered is drawn up a few millimetres into the cup. The cups are then left on the body whilst the area beneath is treated & the Qi is moved.

Marks left after cupping:
Round marks are sometimes left afterwards. These usually fade & disappear after 3-7 days. The discolouration reflects the condition of the problem being treated & also the suction strength & time the cup stays in position. According to Traditional Chinese Medicine:
Dark purple; black marks indicate a deep seated blood stagnation eg the colour will be darker the longer an injury remains
Pink; which disappears quickly, indicates a Qi deficiency
When the two signs are combined, with the dark colour mottled & reddish colour underneath indicates a Qi & Blood stasis.
When there is an abundance of strong cold Qi in the body, the colour will be very dark purple. If the cold Qi minimal the colour is a regular pink (or original skin colour).
If cupping is performed on or close to a joint, i.e. where there is not much flesh, marking tends to be dark.

Benefits / Effects of cupping

According to Traditional Chinese Medicine (TCM), cupping:
Balances the Yin and Yang
Promotes the circulation of Qi and blood
Adjusts and enhances organ functions
Draws to the surface and expels pathogenic factors eg wind-cold and wind-heat
Dispels dampness
Warms and stops pain in the muscles, especially back pain from stiffness or injury, & clearing congestion in the chest, which can occur with colds & flu
From a modern physiological perspective, cupping may improve metabolic rate & nutritional uptake in muscles, thus reducing inflammation, poor functional order and assist in lymphatic circulation & the removal of fatigue toxins etc.

By the ability of cupping to relax muscles & releasing trigger points, not only can pain be removed, but people remark how they sleep better and no longer suffer headaches.

Cupping draws toxins such as stings, to the surface for removal and, is very effective in drawing out the core of boils.
Qualifications
Remedial Massage
Sports Massage
Clinical Massage
Manipulative Muscle Therapy
Cupping Therapies
Cranial Sacral Intergration
Kinesiology Taping
Chapman's Reflex Therapist
Professional Membership
AMT - Association Of Massage Therapists
---