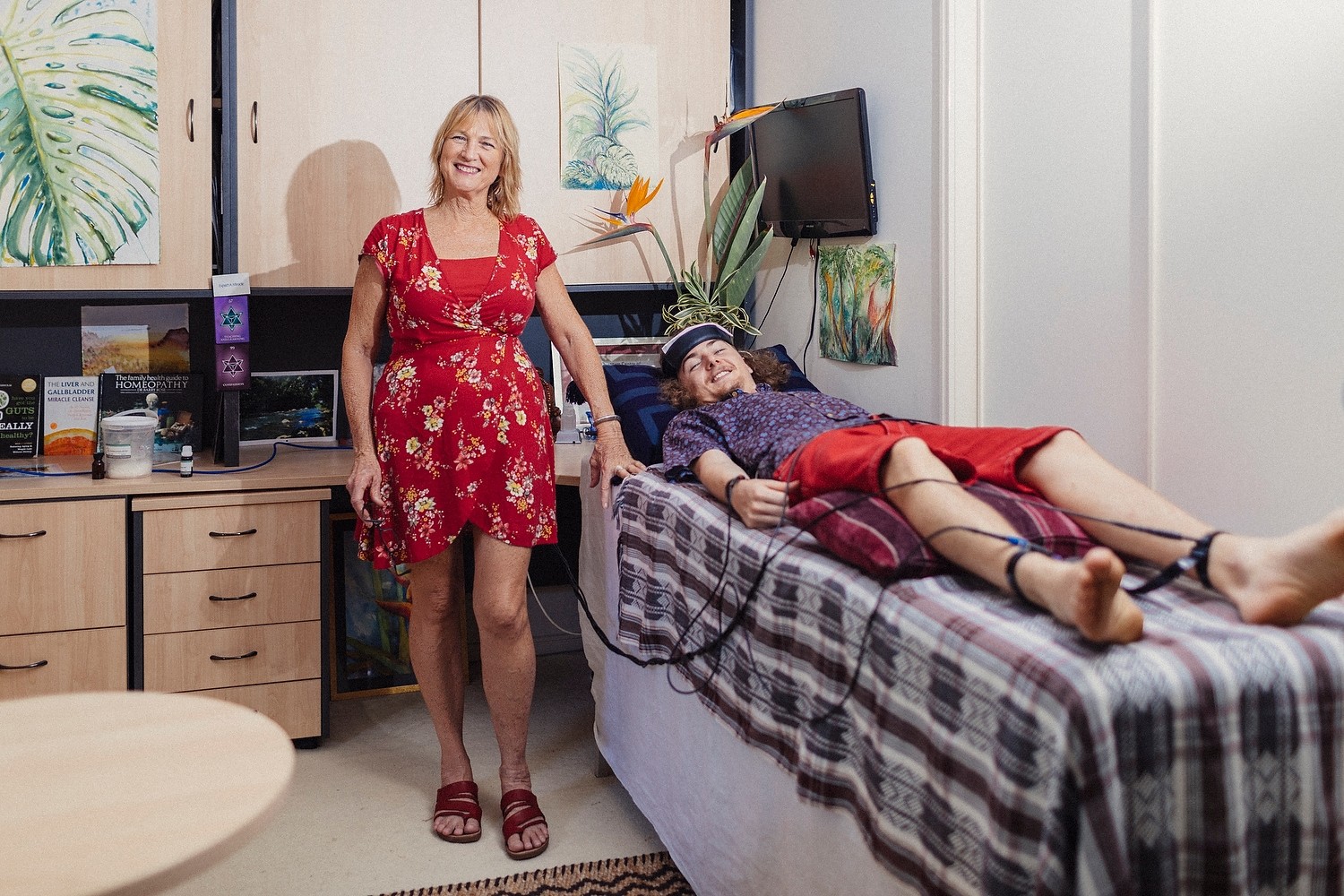 Emotional Stress Relief - Quantum Biofeedback & Hair Analysis
Clicking on the Send Me Details Now button opens an enquiry form where you can message BIOFEEDBACK ENERGY FREQUENCY directly
Send Me Details Now
SCIO Quantum Bio-Feedback Energy therapy uses Harmonic frequency & Vibration on a quantum level to Calm and Clear the Subconscious mind, body, and Auras. leaving clients Cleansed, Regenvenated, and Reset through a Non-Invasive treatment Protocol. The SCIO Device is Unique in the way it can Interface directly with the Clients Consciousness to Produce Insite on Root Causes of Dis-ease and provide Healing frequencies to counteract and relieve Symptoms of stress
QUANTUM BIOFEEDBACK - SCIO THERAPY
Servicing area
Online/Mobile service for people and animals in the Sunshine Coast, Australia & Worldwide, distance healing and skype
---
Focus areas
Stress
Depression
Anxiety
Energy
Chronic fatigue syndrome (CFS)
Parasites
---
QUANTUM HEALTH HEALING
0431 965 898
---
STRESS REDUCTION
BIOFEEDBACK RESONANCE FREQUENCY ENERGY THERAPY .. IS A NON-INVASIVE ADVANCED TECHNOLOGY DEVELOPED TO ANALYSE, TEST, and RECTIFY any past trauma from STRESS, INSOMNIA, CONCENTRATION, HEADACHES, BODY PAIN; INFLAMMATION, TRAUMA TO MIND AND BODY, etc BY transmitting Energy Frequency through the body and subconscious mind to relax and bring the body back to BALANCE.
---
QUANTUM BIO-FEEDBACK
---
HEALING ENERGY FOR EMOTIONAL & PHYSICAL STRESS
Therapy for PEOPLE AND PETS
This noninvasive stress therapy uses advanced technology for your mind and body
---
REST and REPAIR
EMOTIONS making you feel SICK ?
imagine feeling EMOTIONALLY revitalized ?
SCIO is a computer program designed to reset your energy and body using energy frequency to correct emotional stress in our electrical energy field emotional, mental, physical and spiritual well being
RELAXING
relieving symptoms of
Stress,
imbalances in the mind, body and spirit
environmental toxins
neurological,
Addictions,
emotional stress
Toxins,
Learning Difficulties,
Etc.
BIOFEEDBACK MEASURES
Gut Bacteria,
Heavy Metals,
Toxins,
Allergies, Parasites, Food Intolerance,
Emotional Issues,
E.M.F and Radiation Levels
DETOX STRESS
BIOFEEDBACK is Recognized as medicine of the future
---
NATURAL ANIMAL THERAPY
SCIO therapy for Emotional and Stress healing for your pets, when your pets can't tell you what is wrong.
The High-Tech Quantum SCIO Biofeedback Technology can translate their emotions, feelings, ailments and traumas and then soothe and balance them by screening their hair utilising the hair analysis program.
The SCIO program scans the pets sub-conscious mind to find exactly what is stressing them emotionally, mentally, physically and energetically, utilising the stress reduction program to revitalize and to relax.
The SCIO can help your pet if it is suffering from:
Allergies
Trauma
Fear
Old age
Stress
Shock
Phobias
Emotions
Arthritis
---
HAIR ANALYSIS
Hair analysis is used for all Humans and any Animals. This screening registers any environmental toxins that can be affecting the health and well being of each individual, like a virus scan on your computer.
The Quantum SCIO Biofeedback device simply detects stress in the energetic frequencies of the person or animal and supplies a balancing or neutralizing frequency for the allergen or pollutant, such as some of the following.
Heavy metal
Insecticides
Food Poisoning
Amino Acids
Toxins
Microbiology
Parasites
Radiation
Chemicals
Food interactions
Digestion
Other factors like mold, yeast or too much exposure to EMF and radiation. Any of these can be preventing you and your pet to obtain good health or weight loss.
Collectively they can put the immune system under stress, having to work overtime to keep you free from disease.
---
Tracey's Qualifications
Diploma in Quantum Bio-Feedback Therapy - 2012
Certificate IV Aged care
Certificate Advanced ENAR Therapy
First Aid Homeopathy
Certificate in Bush Flower Essence
Initial Consultation - 2 hours - $150
Follow up - 90 minutes - $120
---
Services
SCIO BioFeedback energy medicine therapy
2hr
Homoeopathy
Iridology
Biofeedback
Bioresonance Therapy
2hr Therapy. Using frequency to balance and release stress from the body and mind. revitalising your energy using an Advanced bio resonance energies Interface system.
Qualifications
Certificate IV In Aged Care
Diploma In Quantum Biofeedback
Certified Advanced ENAR Therapist
Homeopathic First-aid Practitioner
Certificate In Bush Flower Essence
---