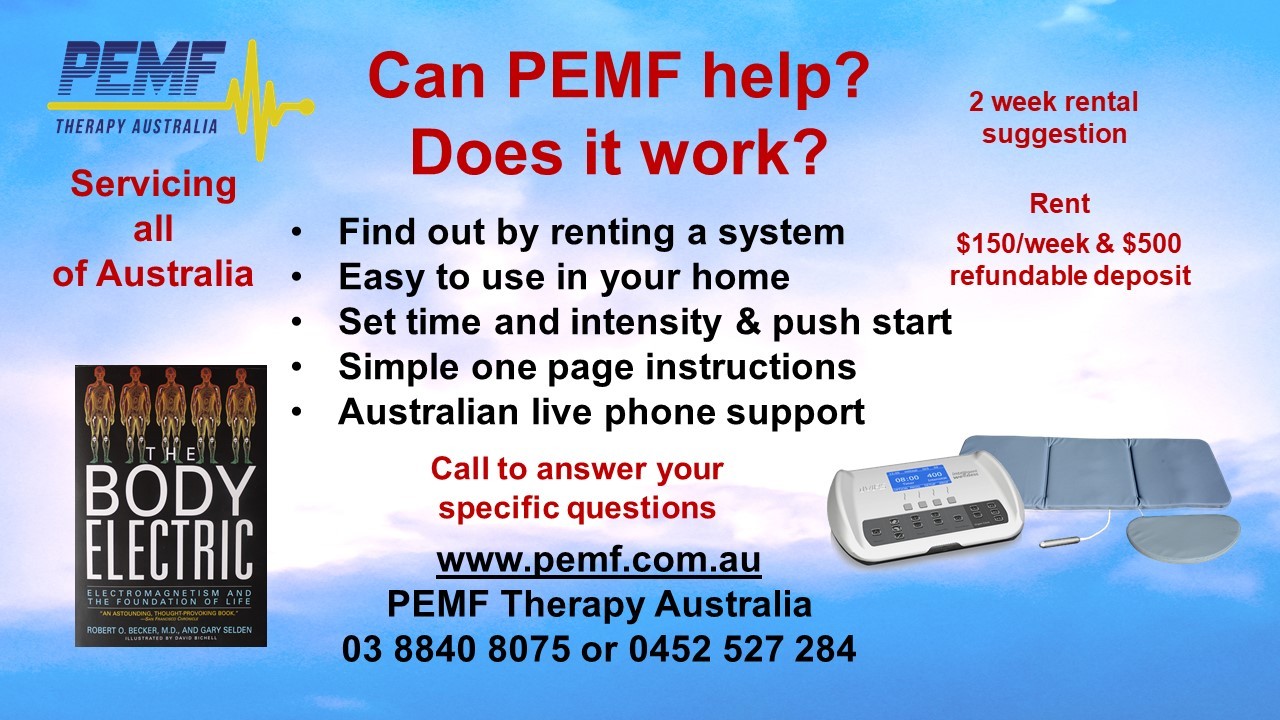 PEMF Therapy Australia
Clicking on the Send Me Details Now button opens an enquiry form where you can message Gary Woolums directly
Send Me Details Now
Healing Your Body Faster: Discover how pulsed electromagnetic field (PEMF) therapy helps accelerate your body's natural capabilities
PEMF Therapy Australia
Servicing area
PEMF system rentals & sales for all of Australia
---
Focus areas
Telehealth
Energy
Inflammation
Detoxification
Circulation
Lifestyle
---
---
What is PEMF Therapy?
Scientific research has shown that remarkably positive changes in the human body have been found to occur through low-energy pulsating fields in the frequency range of "the biological window" (1-50 Hz) as well as the inner and outer wave patterns of the Earth's magnetic field (7.83 -11.79 Hz).
Nearly all the 75 trillion cells of the human body can be stimulated into harmonic resonance through magnetic resonance stimulation (iMRS)which simply means the application of a pulsating electromagnetic field that matches the Earth's magnetic field. Thus, all the cells in your body are able to produce more energy as the capacity of cell membranes to hold power increases. Your body's self-healing powers come from this energy.
In addition, the iMRS provides an "organ clock" where certain frequencies are excluded, while other frequencies are delivered according to the biorhythm of the human body. Blending natural frequencies with the body's rhythms ensures that all organs receive the most beneficial stimulation no matter what time an iMRS session is applied.
Scientific research shows that the cells in the human body respond positively to particular pulsating electromagnetic frequencies. Here are a few:
2 Hz - nerve regeneration
7 Hz - bone growth
10 Hz - ligament healing
15- 20 Hz - capillary (small blood vessel) repair and formation
What are the benefits of PEMF therapy?
Pulsed electromagnetic therapy or PEMF therapy works to improve: energy circulation, blood and tissue oxygenation, sleep quality, blood pressure and cholesterol levels, the uptake of nutrients, cellular detoxification, and the ability to regenerate healthy cells much quicker.
PEMF therapy also works to:
Balance and stimulate the immune system
Increase RNA and DNA production
Reduce pain & inflammation
Decrease the effects of stress on the body
Relax muscles
Accelerate the repair of bone and soft tissue
What are the contraindications of PEMF therapy?
Please do not undergo PEMF therapy if you:
Are pregnant
Have any implanted devices
Request your booking now so you can start healing your body faster.
Services
PEMF Therapy Session, Rental or PEMF System Sales
1hr
Energy Healing
Magnetic Field Therapy
Bioresonance Therapy
Pulsed Electromagnetic Field (PEMF) Therapy
Energy Healing
Magnetic Field Therapy
Bioresonance Therapy
Pulsed Electromagnetic Field (PEMF) Therapy
PEMF therapy sessions take approximately an hour.
Qualifications
Certificate In General Pemf (association of Pemf Professionals)
Certificate In Human Pemf (association of Pemf Professionals)
---