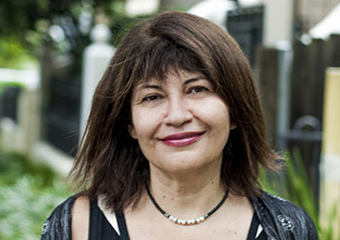 Eleonor Berezovsky Psychotherapist & Counsellor
Want to find out my availability, pricing or opening hours? Click on Send Me Details Now to get started.
Send Me Details Now
Clicking on the Send Me Details Now button opens an enquiry form where you can message Eleonor Berezovsky Psychotherapist & Counsellor directly
Specialising in treatment of psychological trauma, anxiety, depression, personality disorders.
Eleonor Berezovsky Psychotherapist & Counsellor
Focus areas
Flexibility
Growth
Anxiety
Self-esteem
Personal growth
Memory
---
---
About me
I am a highly qualified, association-registered psychotherapist with over 20 years of experience in helping people to reduce psychological suffering by improving their mental health and implementing change in their lives.
I became attracted to psychotherapy (literally "healing of the soul") because of its potential to transform a person's life which I have experienced though 10 years of training in different psychotherapeutic approaches and my own on-going personal work. My professional and personal experience has convinced me that careful tending to people in a therapeutic environment and on-going commitment to their well-being enable people not just to recover from disruptions in their psychological development or from the impact of adverse experiences but to live up to their human potential. I find it extraordinary rewarding to be there in therapy, both as a process and a relationship that enables healing and vital living.
My approach
I am committed to providing a safe and respectful therapeutic environment where I can join with you in working out your personal answers to life difficulties. Our engagement will occur in deeply personal conversations that engage all aspects of your being through which we will aim to piece together and to make sense of your various experiences so that we can identify and work through the sources of your difficulties.
I firmly believe that a therapeutic process, when allowed to unfold at your unique pace, has a potential to transform your painful experiences into an embodied sense of a full, rich life with deepened capacities for accessing a wide range of experiences, for emotional regulation, self-reflection and responsible action.
Frequently Asked Questions:
Why would I see a psychotherapist?
You may want to address a mental health issue, such as anxiety or depression. Research into mental illness has consistently found that psychotherapy, in some cases in combination with medication, is the most effective approach to its treatment;
You may have experienced an overwhelming life event, adversity or suffered psychological trauma, such as emotional, physical or sexual abuse. You are aware that it has had a negative impact on your life and you are seeking healing;
Your experience of growing up left you struggling with various aspects of your life, such as low self-esteem, inner emptiness or difficulties in relating to others. Or, you may feel that things just happen to you and that you are helpless to influence the course of your life;
You may have difficulties in living, such as experiencing unbearable feelings, so you use food, alcohol or other substances or engage in risky or compulsive activities as a way to manage mental states;
You may want to pursue personal growth so that you can make a more effective use of your psychological capacities and live a more fulfilling life. You may find psychotherapy helpful if you want to live from choice, rather than in reaction to your past, with a greater freedom and flexibility in expressing your unique human potential.
Psychotherapists do not offer Medicare rebates. Why would I see a psychotherapist when I can have up to 10 free sessions on a mental health plan?
If you have a diagnosed mental illness, your GP can refer you to a mental health practitioner who will charge Medicare for up to 10 sessions for you per calendar year. Depending on the nature of your issues, you may find that 10 sessions is not enough to bring about a lasting change or healing. This is because we tend to organise our lives from our responses to life experiences. Many of such responses, particularly to early childhood and adverse experiences, are encoded in the emotional brain and memory systems that are beyond the reach of the cognitive brain and so cannot be modified by challenging irrational cognitions. A lasting change requires an incremental therapeutic experience that involves working through our ideas, feelings and bodily sensations within the holding frame of a therapeutic relationship. Trust that such work requires takes time to build. While it is likely to take longer than 10 sessions, such therapy is an investment into your emotional well-being that tends to have a flow-on positive effect on all areas of your life.
My rates are competitive so you may find them to be considerably lower than what you would be expected to pay after the initial 10 sessions funded by Medicare.
Confidentiality is another factor to consider. Visits to a psychotherapist are not part of your health records and would suit those who need total confidentiality. Please note that my practice is managed according to the Code of Ethics of the Psychotherapy and Counselling Federation of Australia (PACFA). I am committed to protecting your privacy in accordance with the national privacy principles of the Amendment Act of 2014 of the Privacy Act of 1998.
How do I know if you are the right therapist for me?
Just like any new relationship, the therapy process involves a "getting to know you" period. I normally suggest that we meet for three initial sessions before you decide if I a, the right therapist for you. This will also allow me to form a tentative understanding of your challenges that I will share with you in the third session when I will be in a position to let you know if I can be of assistance to you. If you choose me as your therapist, we will make an agreement about frequency, time and location for our meetings, as well as your fees.
Do you prescribe medication?
No, I am a non-medicating therapist. If necessary, I can refer you to a medicating clinician. If you wish, you may continue in therapy with me while seeing a medicating clinician.
Do you work on weekends?
Yes, I work on Saturdays by appointment
Qualifications
Master of Applied Psychotherapy (University of Technology, Sydney)
Graduate of Psychodynamic Psychotherapy Training (Australia New Zealand Association of Psychotherapy)
Graduate Diploma in Gestalt Therapy (Illawarra Gestalt Centre)
Graduate Diploma in Individual Psychotherapy & Relational Therapy (Jansen Newman Institute of Psychotherapy & Counselling)
Professional Affiliations
Clinical Registrant of Psychotherapy & Counselling Federation of Australia (PACFA) Reg. No.22195;
International Association of Relational Psychoanalytic Psychothrapy (IARPP);
The College of Psychotherapy, Clinical Member
Services
Psychotherapy & Counselling
55min
Counselling
Psychotherapy
Gestalt Therapy
Psychological support and healing, personal growth
Qualifications
Graduate Diploma In Gestalt Therapy
Master of Applied Psychology (UTS)
Graduate of Psychodynamic Psychotherapy Training (ANZAP)
Graduate Diploma In Individual Psychotherapy ((jansen Newman Institute)
Graduate Diploma In Relationship Therapy (jansen Newman Institute)
Professional Membership
PACFA - Psychotherapy & Counselling Federation of Australia
---