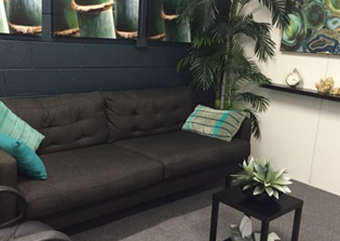 Liz Miller Psychotherapy & Counselling Services
Alert Practitioner
By clicking on the Alert Practitioner button, we send the practitioner a message on your behalf that you would like to get intouch with them.
Over 30 yrs experience in Mental Health
Liz Miller Psychotherapy & Counselling Services
Focus areas
Habits
Growth
Anxiety
Emotions
Changing habits
Stress management
---
---
Liz Miller
Psychotherapist, Infant Mental Health Specialist, Credentialed Mental Health Nurse.


Adults


Adolescent,


Child, Youth and Infant Mental Health.


Services


Individual Psychotherapy & Counselling


Couple Counselling


Group Therapy


Clinical Supervison


Psychotherapy & Counselling
Psychotherapy
Essentially psychotherapy is a 'talking therapy' which involves seeing a trained professional usually once a week to discuss and explore problems you may be having in your life. Psychotherapy focuses on both change and understanding. It can help to change unhelpful behaviours in our lives as well as helping to understand where these problems originate. Psychoanalytic psychotherapy offers individuals an opportunity to gain deeper understanding of themself and their unique experiences. The development of greater insight & self awareness offers the opportunity for long standing change and symptom relief.
People come to see a psychotherapist for many reasons these commonly include:


Depression and /or anxiety


Concerns about drug/ alcohol use


Relationship difficulties


Feelings of discontent


Early disruptive home life or divorce


Childhood trauma or sexual abuse


Difficulties managing emotions or distress


Self improvement by seeking self understanding


Counselling
Counselling is usually short term up to 10 weeks and focuses on solving specific problems. Counselling involves learning specific skills or strategies to assist with problems such as: communication, managing emotions & changing habits. Goals are identified and worked toward with a strength based and solution focussed approach toward goal outcomes. This approach is highly supportive of the individuals own strengths and internal resources as well as exploring external supports, resources and guidance with the aim of meeting identified desired outcomes.
Addictions Treatment
This is counselling that is specifically focused on helping people change how they use alcohol, drugs or other addictive behaviours. It is often focused on learning new skills and techniques to change habits, and may be either short term counselling, or longer term psychotherapy depending on the individual. Education is a core component of treatment assisting the individual and families to explore best approaches to individualised treatment plans.
Treatment is based on a Transtheoretical model that assesses an individual's readiness to act on a new healthier behavior, and provides strategies, or processes of change to guide the individual through the stages of change to Action and Maintenance.It is based on analysis and use of different theories of psychotherapy, hence the name "transtheoretical."


Precontemplation (Not Ready)-"People are not intending to take action in the foreseeable future, and can be unaware that their behaviour is problematic"


Contemplation (Getting Ready)-"People are beginning to recognize that their behaviour is problematic, and start to look at the pros and cons of their continued actions"


Preparation (Ready)-"People are intending to take action in the immediate future, and may begin taking small steps toward behaviour change"


Action – "People have made specific overt modifications in modifying their problem behaviour or in acquiring new healthy behaviours"


Maintenance – "People have been able to sustain action for at least six months and are working to prevent relapse"


Termination – "Individuals have zero temptation and they are sure they will not return to their old unhealthy habit as a way of coping"


Relapse/Recycling:In addition, the researchers conceptualized "relapse" (recycling) which is not a stage in itself but rather the "return from Action or Maintenance to an earlier stage."
Group Therapy
Group Therapy provides psychotherapy treatment in a format where there is one therapist and up to six individuals with related problems.
Group therapy offers participants the opportunity to interact with others with similar issues in a safe supportive environment. Participants can try out new behaviours, role play and engage with others in not only receiving valuable feedback and insight from other group members, but also in giving it. In group you will probably be most helped and satisfied if you talk about your feelings. It is important to keep in mind you are the one who determines how much you disclose in group. You will not be forced to tell your deepest and inner most thoughts.
As group members begin to feel more comfortable, you will be able to speak freely. The psychological safety of the group will allow the expression of those feelings which are often difficult to express outside of group. You will begin
to ask for the support you need and be encouraged to tell people what you expect from them.
Group Therapy Advantages:


Increased feedback - getting different feedback is often helpful in promoting growth & change


Modelling - seeing how others handle similar problems, can give the individual a variety of perspectives on what seems to work and when.


Less expensive- In most cases the cost of group therapy is about one third that of individual therapy.


Clinical Supervision
Clinical supervision is a formal professional relationship between two or more people in designated roles, which facilitates reflective practice, explores ethical issues and develops skills.
This simple definition ensures that the practice of clinical supervision does not become overly prescriptive. The intention is to allow room for various styles and theoretical orientations within clinical supervision practice, while at the same time safeguard a common core understanding for all professional groups.
Clinical supervision is about the clinician, their work and learning needs. It is always clinician-focussed and led, according to individual goals, and not managerially led according to organisational goals. The relationship is one of equals, rather than hierarchical in nature. Clinical supervision highlights the clinician's individuality by focussing on their developmental priorities. The benefits to any organisation are that clinicians are more likely to feel professionally supported, personally understood and emotionally contained in a safe relationship where they can talk freely about their clinical work concerns.
---