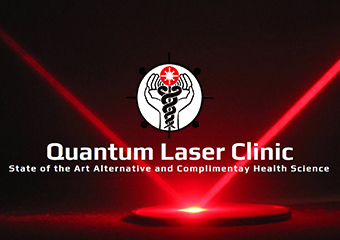 Quantum Health Clinic
Alert Practitioner
By clicking on the Alert Practitioner button, we send the practitioner a message on your behalf that you would like to get intouch with them.
We understand that each client is unique. We believe our personalized approach is what makes the difference between a satisfactory outcome and an exceptional relationship and results. Just ask the loyal clients who keep coming back to us.
Quantum Health Clinic
Focus areas
Circulation
Osteoarthritis
Energy
Pigmentation
Manipulation
Inflammation
---
---
About
Many years of research & development in sound science have led us here. We believe that our clients needs are of the utmost importance and we are fully committed to meeting those needs. As a result, a high percentage of our business is from repeat customers, word of mouth and referrals.
Quantum Laser Clinic is focused on providing and utilising the 21st century's latest Medical Technology, delivering high-quality therapies that are superior in comparison to the more common equipment and the results they deliver. Subsequently Quantum Laser Clinic refuses to operate or endorse the use of IPL.
Implementing sound Anatomical & Physiological science to achieve good health and wellbeing.
We utilise therapies in Neuro-Musculo-Skeletal, Remedial Massage Therapies, Low Level Laser for Neuro-Musculo-Skeletal, Dermatology Pain and Wound Healing and High Intensity Laser for Anti Ageing and Dermatological
We all humans made up of Energy.
Conditions
Information about common conditions we treat.
Arthritis
Laser Therapy for Arthritis
Arthritis can develop due to several reasons, which include excessive use of an articulation, a misalignment of articular surfaces following bone fracture, increased weight bearing (e.g. obesity), possible genetic and endocrine factors and a reduction in blood flow.
Osteoarthritis
Osteoarthritis is an arthropathy with altered hyaline cartilage. Cartilage health and function depend on the compression and release of weight bearing and use, and the fluid that lubricates articulating surfaces of the joint. Laser therapy helps this by:


Address pain and strengthen cartilage due to increased blood flow to the site


Enhance collagen synthesis and connective tissue repair


Improve mobility


Improve posture


Assist with weight reduction


Assist with the release of contracted muscle acting on the joint and articulating surfaces


Rheumatoid Arthritis
Rheumatoid Arthritis destroys articular cartilage, leading to pain and joint deformities commonly in the fingers, knees and wrists. It is considered to be a disease of the connective tissue cause by autoimmune reactions. Laser therapy can help this by:


A decrease in the number of leucocytes has indicated humeral (systemic) effects following LLLT


An increase in macrophage cells could assist in removing antigen-antibody complexes


Improved arterial circulation could also assist in preventing muscular atrophy due to anoxia


Studies have indicated that the destruction of articular structures is significantly reduced, which assists in delaying or preventing the third stage of the disease, which involves bone.


Post Operative
Low Level Laser Therapy (LLLT) has proven to be highly beneficial when introduced soon after surgery or injury to nerves, connective tissue, tendons, ligaments, muscles bones and skin. Continued treatment will effectively minimise the appearance of scars, reduce the formation of unnecessary scar tissue and assist in reducing tissue adhesion that can sometimes occur within the body. Post operative treatment will accelerate recovery processes and time and allow a faster return to normal life and activities.


Laser application is highly recommended after:


Reconstructive / plastic surgery


Orthopaedic surgery


Dental and oral surgery


Plastic and cosmetic surgery


Liposuction


Fat transplantation


Any burn injury


Any injury from Erbium and CO2 laser skin resurfacing, dermabrasion and skin peels


Bone and skin grafts and flaps (improved success rate)


Peripheral nerve injury and microsurgery
Non-healing wounds, ulcers and burn injuries will also benefit from an improved immune response and increased microcirculation.
​Fibromyalgia is a chronic illness characterised by a combination of chronic, widespread Neuro-MusculoSkeletal pain and tenderness, accompanied by varying degrees of other symptoms, including fatigue, sleep disturbance, musculoskeletal pain and stiffness, cognitive dysfunction and high levels of distress. There are often associated conditions such as headache, irritable bowel syndrome, anxiety and depression.
​Fibromyalgia
The criteria for Fibromyalgia demonstrates a significant crossover with Chronic Fatigue Syndrome, but does have some differences. With Fibromyalgia, pain is the primary symptom and with Chronic Fatigue Syndrome, fatigue is obviously the primary symptom.
In many patients, the two conditions may be coexisting, and it may be difficult and perhaps unnecessary to apply the "correct" label, as treatment approaches are similar and individualisation can be made based on symptom presentation, rather than label.
Dermatology
Inflamed skin, sensitive skin, acne and allergic reactions can improve dramatically following the very first treatment. People who suffer from eczema and psoriasis will also experience a decrease in skin reactions and sensitivity. Acne infection rapidly reduces and collagen production is increased to begin repairing the scarred tissue simultaneously.
Extensive Laboratory and Clinical Research into non thermal Low Level Laser Therapy (LLLT) has shown that:


Fibroblast cells increase natural collagen production


Microcirculation and lymphatic drainage is increased


Free radical damage is reduced by increased anti-oxidant (SOD)


Cell renewal is increased


Natural immune responses reduce skin infection and inflammation


Skin and collagen regeneration is increased


81 Atopic Dermatitis patients had a 79% reduction in pruritis (itching) and a 71% decrease in skin reaction. (Morita, H. et al dermatology department, Hyogo College, Japan)
Pain
Pain is not a disease, nor is it in most cases symptomatic of a single diagnostic condition. Pain usually comes as a response to some abnormal physical or mental stimulus and the mechanisms are to clearly understood.
LLLT will rapidly reduce pain and anxiety by photochemical responses. LLLT is a biomodulating phototherapy that has a diversity in clinical application worldwide and has been scientifically proven to be capable of supporting an organism's ability to:


Accelerate regeneration of soft tissue, bone and neural tissue


Regenerate nerve tissue and preserve nerve conductivity


Modulate and mediate inflammation and pain pathways


Stimulates ATP production resulting in more available energy for anabolic processes


Instigates cell proliferation and regeneration, which could have previously been inhibited by low ATP levels


Decrease pain levels in minutes


As a result of the above, by either accelerated healing / recovery of an injured or damaged site, or just through the desensitising of the neural pathways, or both, the pain that is being experienced is diminished in a matter of minutes to hours. Increased "Enkephalins" can depress neutrons throughout the central nervous system and inhibit near transmitter pathways. This is achieved by the blocking of transfer sites at the spinal dorsal roots and pain receptor sites.
Very importantly, Low Level Laser Therapy is safe, has no side effects, requires no drugs and is non invasive.
Treatments
Anti-Ageing
Many people begin to show sign of premature ageing as early as their thirties. Quantum Laser Clinic uses Y-Lite (High Intensity Laser) and Photonic Laser (Low Level Laser) for Anti-Ageing treatment. The Laser equipment is specialised to enable perfect penetration depth and the perfect power density without creating collateral damage to surrounding areas.
Treatment is safe, accurate and highly effective with minimal or no pain / discomfort.
​This advanced Anti Ageing treatment is excellent for:


Photo Rejuvenation


Wrinkle Reduction


Spots / Sun Damage


Scars / Stretch Marks


Dermatological
Many people suffer with dermatological conditions, and many of those have trouble finding effective treatment. Quantum Laser Clinic uses YLite (High Intensity Laser) and Photonic Laser (Low Level Laser) for Dermatological treatment. The Laser equipment is specialised to enable perfect penetration depth and the perfect power density without creating collateral damage to surrounding areas.
Treatment is safe, accurate and very effective with minimal or no pain/discomfort.
These advanced Dermatological treatments are excellent for:


Acne / Scars / Stretch Marks


Melasma / Pigmentation / Dischromia (Colour Variation)


Brown Spots / Bulky Lesions


Cherry Angiomas (Cherry Spots)


Spider Veins / Port Wine Stains (Birthmarks)


Venous Lakes / Poikloderma of Civatte


Remedial Massage
Massage is a simple, yet powerful healing art that has been practised in many cultures and in most parts of the world for thousands of years.
Massage is the systematic manipulation of the soft tissues of the body to promote health and healing, and is used for relaxation and/or therapeutic purposes.
Massage has many benefits, including:


Promoting circulation of the blood and lymph systems


Relaxing and lengthening of muscle and related tissues


Improvement of Joint Mobility


Calming of the Peripheral Nervous System


Relief from pain


Restoration of Metabolic balance​


Low Level Laser Therapy
All molecules and cells within living systems resonate at specific frequencies to maintain Quantum Coherence. LLLT promotes structural order which results in highly ordered coherent electromagnetic fields. Laser Light has both Electrical and Magnetic properties.
LLLT affects certain tissues throughout the body. The pulsing laser light influences cellular and tissue responses. The alteration to one cellular homeostasis parameter will consequently lead to a parallel shift in other cellular homeostasis parameters. Bio-modulation and Bio stimulation changes the natural biochemical response of a cell or tissue to within the vibrational range of its normal functional range when healthy, enhancing the cell's innate metabolism, a process that occurs when cellular function is stimulated as a result of the energy transfer from Photons (light), thereby allowing the cell to heal itself. Treatment is safe, effective with no pain.
---