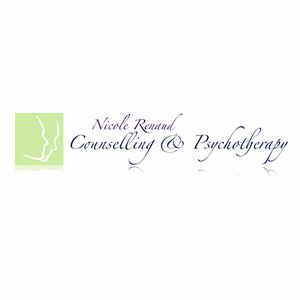 Member since 2015
Nicole Renaud Gestalt Psychotherapist and Supervisor
Servicing area: Brighton East
Gestalt therapy
Counselling
Love
...
Want to find out my availability, pricing or opening hours? Click on Send Me Details Now to get started.
Take control of your emotional state and circumstance. Therapy with a skilled and compassionate therapist can help you unload your burden. Call or email Nicole to set an appointment.
Gestalt Psychotherapist & Supervisor
---
Based in Melbourne, Nicole has extensive experience handling a broad range of mental health concerns.
She completed her Masters of Counselling and Human Services at La Trobe University in Melbourne and has been in private practice since 2002 specialising in:
Individual and family relationships
Anxiety and phobias
Personality disorders
Post traumatic stress disorder
Depression
Grief and loss
Life transition and adjustment issues
Stress management
Sexual abuse
Sexual difficulties
Terminal illness
Communication and relaxation
Her openness, flexibility and willingness as a counsellor and psychotherapist provides a supportive and friendly space for her clients.
Nicole also contributes her skills in university settings where she supervises psychotherapists, trainee Gestalt therapists and counselling training.
What is Gestalt Therapy?
Gestalt therapy is a client-centered approach integrating the person and his/her environment.
This kind of psychotherapy helps clients focus and acknowledge what's going on in the now and help them resolve past issues.
Gestalt is a highly therapeutic and holistic approach that creates and broadens awareness.
Nicole's role is to help you develop this awareness towards your relationships with yourself or others. Help you articulate these emotions, needs and beliefs.
Then work with you to begin building trust, securing safe attachments and increasing your ability to give and receive love.
What happens in Gestalt therapy?
You are free to explore your experiences without any judgment. You are encouraged to talk about how you feel about everything--life, experiences, emotions, conflicts, perceptions, etc.
Your therapist will use techniques to help you gain greater self-awareness so you can overcome these roadblocks.
Common Gestalt Therapy Techniques Used
Words and Language - your therapist will bring attention to the language you use.
Empty chair - your therapist will ask you to sit on one chair and role play half of your problem then switch, to understand the struggle of both sides.
Role play - similar to empty chair, you and your therapist will engage in a dialogue where each of you will represent either a difficult or passive side.
Body language - when a person has outstanding issues, physical manifestations like fidgeting, tapping, biting fingernails, etc occur.
Exaggeration - your therapist will observe any behavior, movement, tone or expression that you may do or use. Your therapist will ask you to exaggerate these actions to bring awareness to it.
Locating emotion - therapists encourage their clients to talk about their emotions and ask which part in the body those emotions are felt.
Creative arts - you'll engage in writing, painting, drawing and other creative processes to express emotions, thoughts and desires.
What benefits does Gestalt therapy have?
As you become more connected with yourself and your emotions, you'll be able to:
Improve your sense of self-control
Monitor and regulate your mental states better
Become more aware of your needs
Better tolerance for negative emotions
Improve your communication skills
Become mindful and increase your emotional understanding
Your actions and behaviours may be symptoms of something deeper, Nicole can help you attain a more profound understanding of what you're going through.
Give Nicole a call to schedule an appointment.
---
Service categories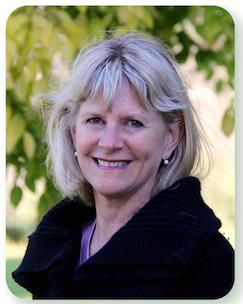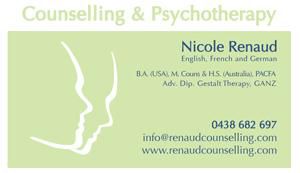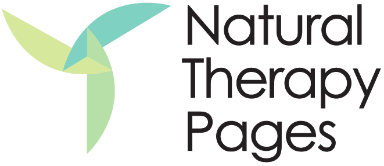 Nicole Renaud Gestalt Psychotherapist and Supervisor