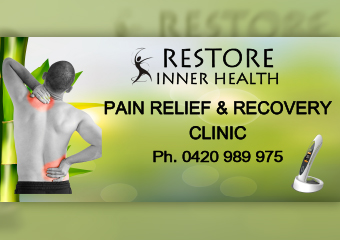 Restore Inner Health
Clicking on the Send Me Details Now button opens an enquiry form where you can message Sharon Mitchell directly
Send Me Details Now
Restore Inner Health.....The touch that heals both body and soul.  A soothing massage can help you unwind, but that's not all. Explore the possible health benefits and what to expect. Massage can be a powerful tool to help you take charge of your health and well-being. See if it's right for you. There are many different types of massage, including Remedial, Relaxation, Sports, Trigger Point, Myofascial Release and more.
Massage Therapy
Servicing area
Warwick QLD & surrounds
---
Focus areas
Wellness
Alternative medicine
Lifestyle
Optimal health
Pain relief
Shoulder pain
---
---
A soothing massage can help you unwind, but that's not all. Explore the possible health benefits and what to expect.
Massage can be a powerful tool to help you take charge of your health and well-being. See if it's right for you. There are many different types of massage, including these common types:
Remedial & Deep Tissue Massage - Remedial massage is a deep massage done by skilled hands to create the conditions for the body's return to optimal health after injury. It is used to treat strains, sprains, broken bones, bruising, any injury where the skin is intact. Deep tissue massage removes blockages, damaged cells, scar tissue and adhesions left after injury, speeds up recovery and encourages more complete healing. Remedial Massage is also used for conditions created by lifestyle for example Repetitive Strain Injury and Back Pain.
Sports Massage - Sports massage is designed to help athletes prepare their bodies for optimal performance, recover after a big event, or function well during training. Sports massage is also good for people with injuries, chronic pain or restricted range of motion. Sports massage is a type of massage that stimulates circulation of blood and lymph fluids. Some sports massage movements use trigger point therapy to break down adhesions (knots in the muscles) and increase range of motion.
Trigger Point Therapy - Trigger point massage (also known as myotherapy) is specifically designed to alleviate the source of the pain through cycles of isolated pressure and release. In this type of massage the recipient actively participates through deep breathing as well as identifying the exact location and intensity of the discomfort. The result of trigger point massage is the elimination of toxins in the muscles and the release of energizing endorphins. A significant decrease in pain is often found after just one treatment.
Myofascial Therapy - Myofascial release is a form of soft tissue therapy intended for pain relief, increasing range of motion and balancing the body. Techniques include manual massage for stretching the fascia and releasing bonds between fascia, integument, muscles, and bones are applied. The fascia is manipulated, directly or indirectly, supposedly to allow the connective tissue fibres to reorganize themselves in a more flexible, functional fashion.
Swedish Massage - This is a gentle form of massage that uses long strokes, kneading, deep circular movements, vibration and tapping to help relax and energize you. Swedish massage is the foundation for other types of Western massage, including sports, deep tissue and aromatherapy.
Benefits
Massage is generally considered part of complementary and alternative medicine. It's increasingly being offered along with standard treatment for a wide range of medical conditions and situations. Some of the experienced benefits include:
• Helps relieve your stress and aids relaxation
• Promotes deeper and easier breathing
• Improves circulation of blood and movement of lymph fluids
• Reduces your blood pressure
• Promotes a relaxed state of mental alertness
• Helps relieve your mental stress
• Enhances capacity for your calm thinking and creativity
• Creates your body awareness
• Alleviates your discomfort during pregnancy
Some common conditions that can be successfully treated are:
What to expect
Therapeutic massage is an ancient healing art. It is a safe and effective treatment for those wanting to manage general tension and aches, stress and anxiety or emotional upset.
If you have a busy life and want to take time out you can benefit substantially from this therapy, which uses rhythmical, flowing strokes, and kneading techniques. Pressure varies according to client comfort and requirements. Deep tissue work may be part of your Restore Inner Health therapeutic massage session, if requested.
Increase the benefits with regular visits
Getting a massage or having a Neuro-stimulation treatment can do you a world of good. And getting either frequently can do even more. This is the beauty of bodywork. Taking part in this form of regularly scheduled self-care can play a huge part in how healthy you'll be and how youthful you'll remain with each passing year. Budgeting time and money for bodywork at consistent intervals is truly an investment in your health. And remember: just because massage feels like a pampering treat doesn't mean it is any less therapeutic. Consider bodywork appointments a necessary piece of your health and wellness plan, and work with your practitioner at Restore Inner Health to establish a treatment schedule that best meets your needs.
Restore Inner Health's Payment policy, cancellations and missed appointments
Full payment is required at your appointment. We accept cash, cheque, credit card and Eftpos payment, HICAPS available.
NEURO-STIMULATION Treatments: (To achieve a more rapid rate of healing)
Initial Consultation and treatment: $75 .
Standard Neuro Stimulation (SCENAR/Physiokey) Consultation: $75
MASSAGE Treatments:
Massage Treatment 1/2 hr: $55 .
Massage treatment 1hr: $75
Massage Treatment 1.5hr: $120
COMBINATION Treatment sessions:
(A great option for those more stubborn injuries/issues that will respond well to Neuro-Stimulation Therapy, but also allows time for the healing power of touch as well)
1 hr combination of Neuro-Stimulation therapy & massage therapy : $75
90 minute REBALANCE & RESTORE session:
Enjoy 90 minutes of Therapeutic, Restorative and Relaxing bliss.
A combination of Physiokey Therapy & Relaxation massage to address your pain, reduce stress and leave you feeling completely relaxed and restored! ..... $120
Remedial Massage
Connective Tissue Massage
Deep Tissue Massage
Myofascial Release Therapy
Swedish/Relaxation Massage
Sports Injury Therapy
Lymphatic Drainage
Trigger Point Therapy
Remedial, Sports, Relaxation, Lymphatic Drainage
Sports Injury Therapy
Lymphatic Drainage
SCENAR Therapy
Non-invasive, Bioadaptive impulse Therapy. Used to treat & alleviate acute and chronic painful conditions. Key technology enables constant skin and tissue resistance measurements, which individually adapts each therapy impulse to the respective body situa
We're open 4 days.
| | | | |
| --- | --- | --- | --- |
| Monday | 9:00 am | To | 5:00 pm |
| Tuesday | 9:00 am | To | 5:00 pm |
| Wednesday | 9:00 am | To | 5:00 pm |
| Thursday | 9:00 am | To | 5:00 pm |
Qualifications
Diploma In Remedial Massage Therapy
Advanced Certificate In Physiokey
Certificate In Physiokey For Sports Injury Management
Certificate In Physiokey Practitioner
Level 3 SCENAR Practitioner
Professional Membership
Massage & Myotherapy Australia