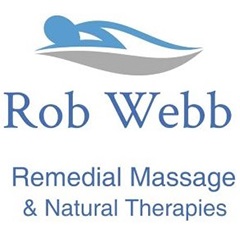 Rob Webb Remedial Massage
Receiving regular massage from Rob will improve your range of motion and eliminate pain.
Massage Therapist for Aches & Pains
Servicing area
Mandurah, Barragup & The Peel Region WA
---
Focus areas
Essential oils
Sciatica
Well-being
Physical health
Headaches
Wellness
---
---
About Rob Webb
Want to end your agony with back pain, improve your posture and live your life to the fullest every single day? Welcome to Rob Webb Remedial Massage. My name is Rob and I'm a massage therapist in Mandurah WA whose goal is help people achieve their best selves.
A severe back pain several years ago, which turned out to be ankylosing spondylitis, led me to discover the benefits of massage, anatomy biology and other alternative therapies to one's health and wellbeing.
Undergoing remedial therapy helped me see and understand its many healing benefits. So I spent four years studying and practicing this modality then put up my own clinic in Central Mandurah, where I offer a wide range of massage techniques.
I specialise in Trigger Point Therapy, Myofascial Release, Swedish Relaxation, Sports and Deep Tissue, but I've never stopped learning and adding new methods to my arsenal. This continuous learning process allows me to address each of my client's specific needs.
I work with people from all walks of life and different age groups — adults, children, elderly. As a massage therapist, I have a strong inclination towards treating headaches, migraines, chronic back pain, sciatica and arthritic pain. In addition, my zeal for improving people's posture, function, joint mobility, as well as providing them with ultra relaxation is inexplicable.
Nothing compares to the feeling I get every time a client achieves their personal goal, whether it's to get rid of pain, increase their range of motion and flexibility or improve their posture.
Aside from improving your physical health, you may receive rebates for my massage services as I am affiliated with major private health funds. Plus, you'll find me and my practice listed on the Australian Directory of Massage.
Book an appointment and allow me to heal your body and improve your overall health.
---
---