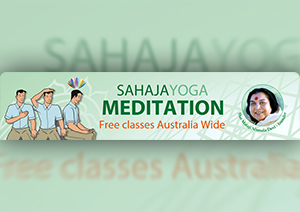 Sahaja Yoga Meditation
Here you'll learn how to experience the peace of true meditation. Free classes and workshops are available throughout Australia to help you discover the unique technique of Sahaja Yoga Meditation. "We have reached a stage of understanding the beauty of balance in life." Shri Mataji – founder
Sahaja Yoga Meditation
Focus areas
Chakras
Energy
Posture
Stress management
Well-being
Multicultural
---
---
ABOUT
"If you lead a good, healthy life, you have to exercise and meditate. If you meditate you become peaceful. With that peace, you'll be amazed, you'll have so much of energy." Shri Mataji – founder.
Nobel Peace Prize nominee
Shri Mataji was a Nobel Peace Prize nominee, recipient of the United Nations Peace Medal and was twice honoured by the United States Congress. She was internationally recognised for her contribution to humanity through a lifetime of work for peace and the wellbeing of mankind. She received awards and citations from the governments of many countries in recognition of her selfless efforts for social improvement.
'Shri Mataji's discovery brings genuine hope to humanity.'
Claes Nobel, (grandnephew of Alfred Nobel, Nobel Peace Prize Foundation) Chairman of the United Earth Organization.
In 1970, after studying the field of medicine and focusing on the scientific terminology of the anatomy and human physiology, she started Sahaja Yoga, which she insisted be shared with all, at no cost. In keeping with her principles, Sahaja Yoga meditation is now offered in over one hundred countries worldwide, free of charge.
International recognition
Shri Mataji dedicated her life to helping humanity realise its innate spiritual nature through an experience known as Self Realisation. In recognition of her lifetime's tremendous work of transforming humanity, through collective en masse Self Realisation, she has been publicly acclaimed and awarded honours by the Governments and leaders of many nations. Shri Mataji's core teaching is that within us all lies a transformative potential, which can be awakened through Self Relaisation and by doing so, we can bring peace and wellbeing to ourselves, our families, our social institutions, our nations and our world.
Meta Modern Era Book by Her Holiness Shri Mataji Nirmala Devi
A loving, compelling and powerful book that introduces a tangible spiritual breakthrough for the 21st century — spontaneous Self Realization through Sahaja Yoga meditation — which opens a new dimension in human awareness.
Shri Mataji's Australian visits (1981 to 2006)
After her first visit in 1981, Shri Mataji continued to visit Australia on many occasions, giving free public lectures to share her knowledge and teach the Australian public her simple method of Sahaja Yoga.
During these years, she gave over fifty public lectures around Australia, without charge. Over the years, many tens of thousands of people attended her talks.
Shri Mataji would stay for many hours after these lectures, to individually meet all the audience members who lined up seeking her guidance. Free follow-up meditation classes were also offered to those who came to her talks.
Community involvement
People who have been introduced to Shri Mataji's inspirational teachings and learnt the Sahaja Yoga meditation techniques are also involved in providing a wide range of community services such as:



Weekly classes, one day workshops and meditation courses




Corporate and organisational stress management




Personal development workshops within the Department of Corrective Services, gaols, remand centres and immigration detention centres




Stress management and personal development courses within many educational establishments




Clinical medical research




Cultural and artistic projects and performances in music, dance, theatre, literature, and art




Outreach programmes for Indigenous communities




Support for multicultural & local communities




Online facilities to provide meditation for remote areas



---
SERVICES
Free Classes & Workshops
Locations
Over 100 free classes held each week around Australia. Find your nearest class below.



Australian Capital Territory




New South Wales




Northern Territory




Queensland




South Australia




Tasmania




Victoria




Western Australia




World Wide classes




Workshops



About the meditation
The meditation is based on connecting with our inner chakras (energy centres) and balancing our subtle body. The tradition and aims of meditation are explained which is to be in the present with no mental thoughts of the past or future. Short guided meditations with affirmations are used to clear and balance the subtle body to enable the silence of meditation.
During the meditation, participants sit on a chair (with shoes removed to connect with the mother earth) with hands on their laps.
Learn and experience



Simple meditation techniques.




Guided meditations to help reduce stress and achieve the peace of true meditation.




Tips on how to help stay in balance during the day and how to meditate at home.



About the classes



Classes are suitable for both complete beginners and regular meditators.




Join in at anytime, even if you've not attended before. No booking required.




Chairs are provided. No physical exercises, postures or special clothing are required.




Evening and some daytime classes are available.




Class duration is 60 to 90 minutes per week.




All classes are free of charge.



---
For all enquiries contact us today!
---