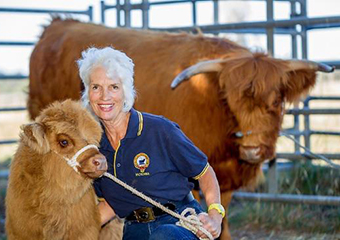 Bronwyn Stewart
Want to find out my availability, pricing or opening hours? Click on Send Me Details Now to get started.
Send Me Details Now
Clicking on the Send Me Details Now button opens an enquiry form where you can message BRONWYN STEWART directly
Naturopath for people and animals. Discover how you can feel better, have more energy, sleep well, reduce pain, lose weight or improve well being generally. I offer complimentary safe natural tried and true treatments and remedies especially for treating chronic or recurrent conditions affecting the health of yourself and even your animals. For experienced, professional help when dealing with matters of health and wellbeing on a physical, emotional, mental and spiritual level or advise to assist you with your personal growth, self-empowerment and general well being contacted Bronwyn.
Sea Crest Natural Health
Servicing area
FLINDERS, Victoria
---
Focus areas
Reproductive health
Male health
Herbalist
Lifestyle
Natural medicine
Skin problems
---
---
Welcome to Sea Crest Natural Health
I can help people achieve maximum vitality health and wellbeing. As a naturopath my aim is to support every part of your body, mind and spirit achieve maximum health so that you can function to peak ability. I am experienced and enjoy helping people of all ages.
My naturopathy qualifications are supported by general nursing training undertaken at the Alfred Hospital in Melbourne and I continue to work in an integrated way which compliments a range of medical treatments. This allows me to practice in a way which is evidence based and also means I have the ability to evaluate information and change treatment as appropriate and in response to new knowledge.
I have also gained post graduate qualifications in Botanical Medicine (Southern Cross University), Kinesiology (Australian School of Natural Medicine), Biosmystheropy Therapy (Australian College of Natural Medicine), Meditation instructor (Australian College of Natural Medicine) and had worked for many years at the Gawler Foundation.
For the past 25 years I worked in private practice as a naturopath, most recently at Armadale in Melbourne and currently at Flinders on the Mornington Pennisula, south east of Melbourne.
Services offered
As a gesture of goodwill, l invite everyone who is interested in using my professional services to contact me for a 20 minute discussion on their health issue of concern. This will allow both of us to confirm that I am the correct practitioner for you.
My experience has proven that when all organs are functioning fully the best possible outcomes are achieved for the vast majority of illnesses.
I can help you with:
Digestive health
Skin problems
Reproductive health including fertility
Endocrine - adrenal exhaustion
Allergy Testing
Respiratory conditions
Musculoskeletal system
Pain management
Immune system
Chronic and generalised anxiety

Consultations by appointment only.
Monday, Tuesday, Wednesday, Thursday, Friday and Saturday 9am to 5pm. Evening consultations can be arranged
Health fund rebates available.
BRONWYN STEWART: ND. ANPA. AKA. AMA. AAOH.
Naturopathy
As a naturopath, I am very well trained and experienced to assist clients and even their animals to better look after the whole body. This could be called mind/body medicine which also includes assistance on one's complete health journey.
The experience of wellness, personal power and energy come with balance of thoughts, feelings, emotions, nutrition, exercise to name just a few considerations.
With simple conditions, one may experience results instantaneously. With long term chronic complaints, the response is longer.
I do not intend to replace existing medical treatments, but may be through education, lifestyle changes, natural individually professionally prescribed tonic as a good compliment or support to the treatment in consultation with your doctor a better outcome can be achieved. There is much that can assist a client to experience better health. This form of treatment certainly has a place in the health care system.
People of all ages from pre-conception, pre-birth to the elderly may benefit from sensible natural therapy.
Some of the disorders that can be treated are anxiety & stress, headaches, gastric complaints, reproductive, respiratory, eyes, ears, throat, immune system, cardiovascular, urinary, fevers, fears, sore backs, PMS and menopause, male health and well being.
If you would like more information please do not hesitate to contact me.
IRIDOLOGY
The iris is like a fingerprint. It can show long term genetic patterns and is a blueprint of one's inheritance. The small markings in the eye, the colour of the iris and the sclera give strong indications of characteristics health, behaviour, relationships which can help to make better choices for health. The eyes are the window of the soul. Every pattern is beautiful, there is no better iris than another. It is unique and can better assist someone in living life to the full while strengthening any organ or system that may benefit from support for a short time.
HOMEOPATHY
This form of treatment is based on "like treats Like". Symptoms of illness are expressions of disharmony within the whole person or animal. The subtle effectiveness of the medicine is treated with energetic rather than the material impact on the mind and body. This form of medicine is delivered in extremely small doses and is measured with the vital force of the client. This is a truly safe and effective form of treatment that has proved its effectiveness over hundreds of years of usage. Homeopathy is used increasingly with Olympic teams and elite sportspeople where its use proves the competitive edge in health. Homeopathy is very popular in European countries as the main source of treatment.
KINIESOLOGY
This is a very effective form of muscle testing that can be used for allergy testing, medication dosages, pain relief, anxiety, nutrition and emotional issues.
COUNSELLING
I use a technique called FOCUS which seems most effective and gives people a much better understanding of their feelings and skills to help them move from that uncomfortable place. Each client chooses essences to help support them at this time which helps to make their journey easier. I use the focus technique with flower essences which seems to be very effective.
ALLERGY TESTING / Treatments.
Sometimes with VEGA or kinesiology.
HERBAL MEDICINE
Since the Medicines Act 1968, the herbal renaissance of the past for over four decades has raised the standing of the Consulting Medical Herbalist to that of a professional in private practice. The need has been felt for a comprehensive "A to Z" of diseases and corresponding treatments whether primary or supportive to general medicine. There is plenty of excellent scientific research available to support the ancient wisdom of herbalists.
Herbal tonics can be individualised for each person and precise dosage for the exact period time the tonic needs be taken can now be calculated. By using herbs organically grown in Australia I am confident of the results as I understand the growing conditions and manufacture. This enables me to provide safe effective treatments.
I am at present studying and Advanced Postgraduate Degree in Botanical Medicine at The Southern Cross University of N.S.W.
REFLEXOLOGY
Reflexology rebalances and energises the whole system. It can reduce tension. It helps the nervous, endocrine, circulation and pain relief.
Biomysiotherapy
Flower Essences
Aromatherapy
Nutrition
Weight Loss
Colour Therapy
Energy Healing
Trigger Point Therapy
ANIMAL THERAPY
All of the horses and cattle I have been to farms to treat have recovered fully in a short time after treatment and may need herbs or homeopathic medicine for a few weeks. For example, I have treated a horse for a back injury after the horse suffered an accident during a storm. The method is called Bio-Magnetic Synchronization which is using acupressure points on the horse.
Most often, I treat animals that have become anxious, head shaking, skin problems and behaviour problems.
Animals respond very well to kinesiology, flower essence and homeopathic medicine.
Qualifications
Bronwyn Stewart


Naturopathy
Nursing
Nutrition
Kinesiology
Herbalism
Homeopathy
Biomysotherapy
Acupressure

Adv Dip Nat A.N.P.A
Dip Aka A.K.A
Post Graduate Botanical Medicine - General Nursing
48 years in the industry
---