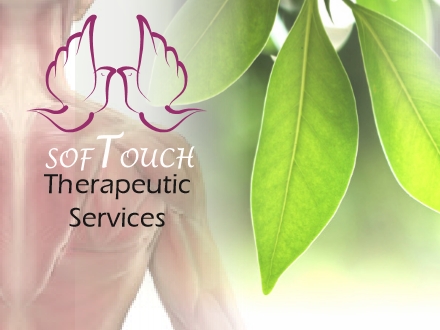 Softouch Therapeutic Services
Clicking on the Send Me Details Now button opens an enquiry form where you can message Elise & Kevin Chichian directly
Send Me Details Now
At Softouch, our therapists (male and female) specialise in assisting your body to recover from pains and aches by using Physiotherapy, Massage therapy techniques such as Swedish, Remedial, Deep Tissue and other styles to treat specific chronic or acute conditions.
Softouch Therapeutic Services
Servicing area
PUTNEY, New South Wales
---
Focus areas
Chronic health issues
Pregnancy support
Stroke
Essential oils
Stress Management
Aches & pains
---
Softouch Theraputic Services was established and has been in practice from the Greenacre clinic since 2001. The team at Softouch now including two Physiotherapiests are committed for your well being and would like to assist in diagnosis and treatment of acute or chronic condition such as back and neck pain, sports injury and general muscle tightness caused by postural unbalance.

Facilities at Softouch include a fully equipped private suite with the latest in comfort and style using the purest blend of essential oils, fresh towels, soft lighting and a variety of relaxation music. For the Corporate sector, we offer Seated Massage.

Treatments are by appointment only.
Physiotherapy duration are 30min and Massage Therapy durations are 30min, 45min, 60min, 90min & on request 120min.
Physiotherapy Treatment
Physiotherapists help people affected by injury, illness or disability through movement and exercise, manual therapy, education and advice. They maintain health for people of all ages, helping patients to manage pain and prevent disease.
SWEDISH MASSAGE
Soft stroke massage that concentrates on the muscle and connective tissue. This massage improves circulation, relaxation, and overall health, maintenance and well-being.

DEEP TISSUE MASSAGE
This massage utilizes slow strokes, direct pressure across the muscle with fingers, thumbs or elbows. You will feel it deeply through the muscle and the connective tissue to help release chronic aches and pains.

HOT STONE THERAPY
Also called Hot Rock Therapy, it is a type of massage that uses hot stones on various parts of the body such as the back, legs, shoulders, neck, palms of the hands and soles of the feet. Applications include the placing of hot stones over key points in the body to help soften stiff areas as well as using the Stones to create massage strokes in order to induce a deep, relaxing and healing treatment.
The heat of the stones warms the skin, aids the absorption of therapeutic oils, while at the same time preparing the musculature of the body for deep tissue work if necessary.

MYOFASCIAL RELEASE
This application of stretches and pressure to the fascia and muscles, relieves tension by lengthening the fascia, which allows muscles to return to their correct length and function. This technique is especially effective for reducing chronic pain, increasing range of motion and releasing postural restrictions.

PREGNANCY MASSAGE
Anatomical and hormonal changes put a lot of stress on a pregnant woman. This soothing massage can relieve physical and emotional tension, to help you sleep better and boost your energy.

CORPORATE SERVICES
ON-SITE WORKPLACE MASSAGE
We provide on-site workplace massage throughout Sydney. Utilising specially designed massage chairs we can provide massage in the office, workplace, conference or special event.
• Reduce the physical and mental effects of stress
• Treat workplace problems for prolonged sitting and repetition.
• Relieve headaches.
• Stimulate immune system.
• Revitalise and renew energy and drive.
• Decrease neck and back pain.
• Improve focus and concentration.
• Increase vitality.
• Boost staff morale and confidence.

***Monthly Special Offers Available***
call 0400424422 for more information.

GIFT Vouchers available.
---