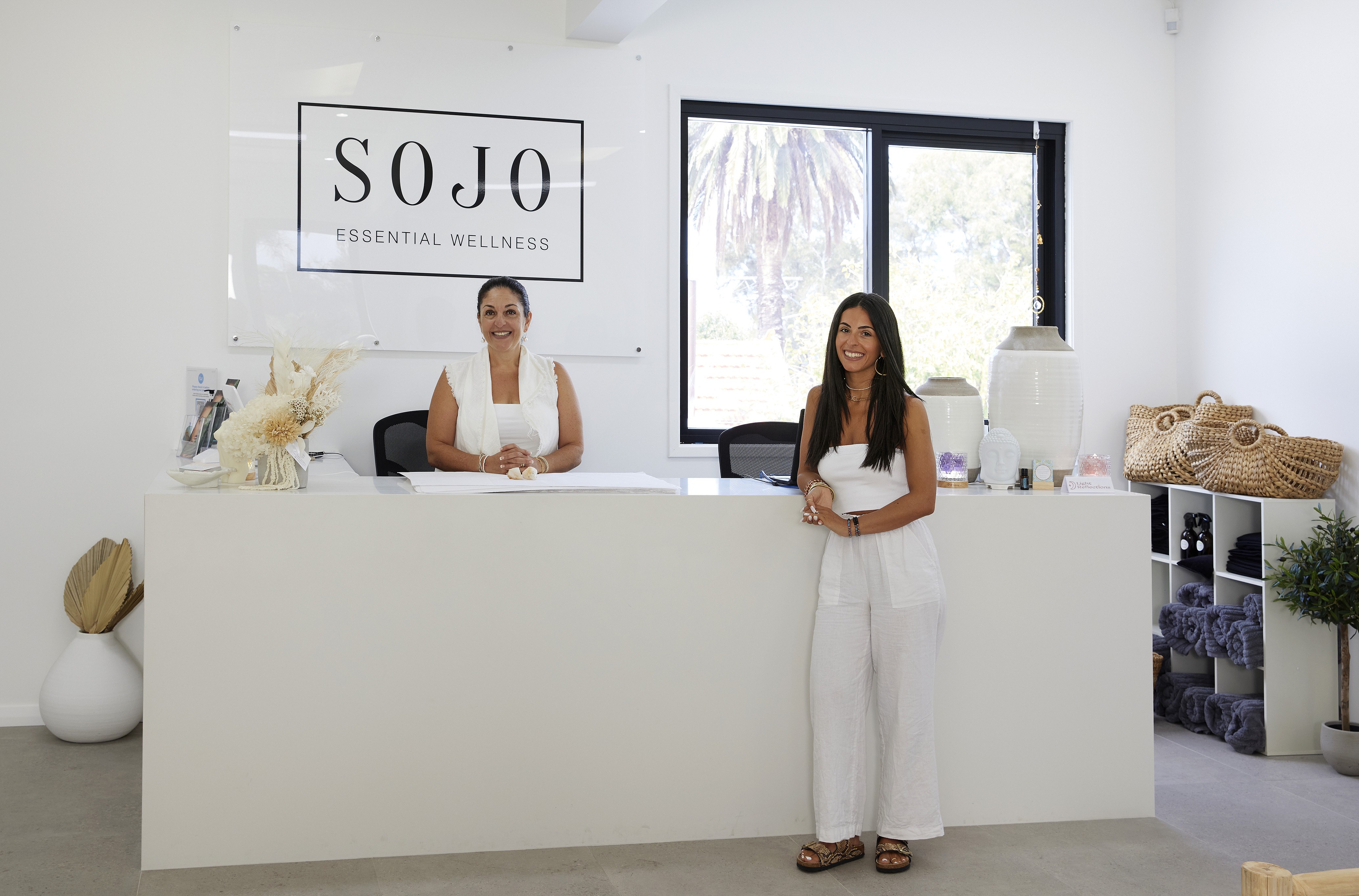 SOJO Essential Wellness Centre
Clicking on the Send Me Details Now button opens an enquiry form where you can message Sophia or Joanna directly
Send Me Details Now
Free your mind from all distractions so your body can repair, revitalise, and regenerate itself. Slip deeper into a relaxed and meditative state by experiencing the quiet darkness of a floatation tank. Book your float or enquire at SOJO Essential Wellness now!
Holistic Health Clinic
Focus areas
Mental health & wellbeing
Aromatouch technique
Floatation pods
Complementary
Colonics
Colon cleansing
---
---
Sophia and Joanna Hatziandreou founded SOJO Essential Wellness in 2018 with a passion for all things natural and a desire to share their holistic approach to health and wellness.
From essential oils and body care to skincare and lifestyle products, SOJO offers a wide range of handmade and ethically sourced products.
A variety of wellness services are also available, including infrared saunas, aroma touch therapy, floatation tanks, and more.
Services Offered
Floatation Tank
The world is full of stimuli, and over time, it takes a toll on our mind, body, and spirit.
Get away from the stress of everyday life, and the world's sights and sounds, by reclining in a floating tank.
You will float effortlessly inside the Epsom saltwater tank, weightless.
By soaking in warm water at skin temperature, you'll notice that your mind will calm down and drift into a state of relaxation and meditation.
You will float in your very own tank during your session. In addition, you will receive a complimentary drink such as smoothies, juices, or organic herbal teas.
Emerge from the tank feeling refreshed and relaxed after your session.
Colon Hydrotherapy
Maintaining a clean colon can contribute to your overall health. As part of a regular health regimen, colon hydrotherapy or colonics can also be helpful.
A colon hydrotherapy procedure can provide holistic care for the body by targeting emotional storage, the enteric nervous system, and the source of hydration.
Most people find colonic sessions comfortable. SOJO Essential Wellness uses the Angel of Water Open Hydrotherapy System.
Users can insert tubes, be in total control and pause sessions as needed.
Water is gently pumped into the colon to stimulate its natural peristaltic action, releasing softened waste. This should improve colon function and elimination.
During a session, a gown is always worn to protect your dignity.
Infrared Sauna
With an invisible range of light, infrared sauna therapy heats the body more efficiently and at lower temperatures than traditional saunas. Radiant light penetrates deep into the body and creates healing at a cellular level.
An infrared sauna session reduces joint pain and inflammation, rejuvenates and brightens skin, and refreshes and relaxes.
Aroma Touch Technique
Aroma Touch Technique utilises essential oils and human touch to empower and deepen physical and emotional healing.
Using specific oils and a human touch can provide multiple benefits. As a result of AromaTouch, trust is built, allowing the recipient to relax and promote self-healing.
Testimonials from Previous Clients of SOJO Essential Wellness
"The most beautiful health and wellness centre in Sydney! To having a relaxing infrared sauna to an even more relaxing flotation pod.. SOJO essential wellness is the place where you are treated from the inside out!! Can't thank Sophia and Joanna enough for their continuous guidance and knowledge pre, during and post treatments! 😊" - Elena Kalogeropoulos
"I decided to treat myself to the relaxation trio pack and what a treat it was!! Walking through the front door of SOJO perfectly set the scene for what my afternoon of self care was going to bring. Soothing music, beautiful scents and of course, the gorgeous mother daughter combo that are Sophia and Jojo! I started off with the flotation pod which was simply heavenly, moved on to the infrared sauna which was fantastic and finished up with the aroma touch massage...out of this world!! I am definitely going back for more and cannot thank the ladies enough for such a relaxing and rejuvenating afternoon. Do yourself a favour and head into SOJO:)" - Nicole Hraiki
Book a holistic treatment online and have a blissful day!
Experience a deeper level of relaxation than ever before in our dream pod. Have the option of being in complete silence in sensory deprivation, Relaxing spirit sounds or reprogram your mind to break bad habits with our mind mapping meditations. Float for
Beauty Therapy (Holistic)
Experience the heat in our Infrared ihealth sauna. Choose infrared to decrease inflammation and pain, improve sleep and balance hormones, for fast muscle recovery and to improve skin health and glow through cell regeneration. Expell heavy metals and unwan
---