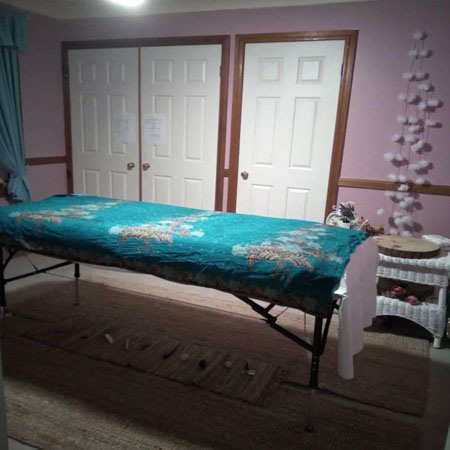 Soothe and Relax Massage
Clicking on the Send Me Details Now button opens an enquiry form where you can message Soothe and Relax Massage directly
Send Me Details Now
Blocked energy affects the mind and body because everything is connected. If your mind is restrained by stress, your muscles will tense, affecting you overall. You can achieve a state of relaxation through Reiki and Lomi Lomi massage. Contact Sharon today to schedule an appointment!
Reiki Healer & Lomi Lomi Massage Practitioner
Focus areas
Telehealth
Lomi lomi massage
Energy work
Energy blocks
Revitalizes energy
Body tension
---
---
Sharon, a Reiki healer and massage therapist, believes the best way to calm the nervous system is to remove yourself from daily stressors deliberately.
It is the nurturing nature of Lomi Lomi Massage and Reiki that create a feeling of sacredness and spirituality. You can achieve this state of relaxation with these two modalities. Through breath, this can add a greater sense of relaxation, and transformations can take place.
Services Offered
Lomi Lomi Massage
A deeply penetrating and graceful therapy that is often described as being swept away by ocean tides, Lomi Lomi Massage is a deeply penetrating and graceful therapy.
With its flowing and loving style, it encompasses the whole body, creating the feeling of being in a cocoon of bliss and serenity.
Using long and uninterrupted flowing strokes along your entire body, experienced massage therapists aim to combine the power of touch with empathy.
The goal is to achieve an integral bond between the mind and the body, and for your therapist to assist you in that process.
Reiki
Reiki is an energy therapy that promotes self-healing in the body.
You may experience certain sensations as Reiki flows between your body and the practitioner. Some people feel sleepy frequently, while others can calm pent-up tension and stress.
It is possible to feel very subtle sensations, and some people may not notice any changes at first, but with continued sessions, you may notice the subtle shifts and others may notice nothing beyond a tactile sensation of hands to body contact.
Whether you feel any effect from Reiki, it continues to work.
Spiritual Embodiment
Embodying something means making thought, belief, quality, or feeling tangible. A manifestation of intangible abstract equality right in front of you that you can feel, touch, and relate to.
Practising connecting with our bodily sensations allows us to identify them by type and location in the body. After that connection is established, you can consciously connect with the deeper unconscious layers of memories, emotions, and energetic currents to work with them.
Understanding the body objectively is the ideal starting point for embracing all the nuances and subtleties of lived experience.
Testimonials from Sharon's Previous Clients
"The Lomi Lomi massage and Reiki for me was a holistic experience that created a connection between my mind, body, emotions and spirit. The style was unlike any other massage I'd had before. The fluidity of motion with just enough pressure made me melt into the table. Sharon provides a comfortable and beautiful safe space. Mahalo i? 'oe x" - Therese Ives
"Sharon gives a very good lomi lomi massage, made me feel very comfortable and relaxed, I look forward to my next massage with Sharon" - Dale Johnson
Contact Sharon today to schedule a consultation!
1 hour massage ( Reiki given upon request)
1hr
Want to experience time out of your busy life and explore new ways to relax? Dip into the world of Lomi Lomi Massage and Reiki for therapeutic ways to relax. Reiki comes through the hands while massage is in progress
1.5 hour Massage ( Reiki given upon request)
1hr 30min
Come experience a time out away from the hustle. Give yourself the relaxation- through long flowing movements which is Lomi Lomi massage- to recharge. Effective healing to exhausted bodies and souls mixed with Reiki energy healing. Please indicate if you
Qualifications
Certificate In Reiki 1 & 2
Professional Membership
IICT - International Institute For Complementary Therapists
---