Find a Yoga Teacher in your area

Member since 2015
SOUKYA Health and "Well" Being
Servicing area: Ferny Hills & North Brisbane
Chronic health issues
Digestive disorders
Aches & pains
...
Want to find out my availability, pricing or opening hours? Click on Send Me Details Now to get started.
Clicking on the Send Me Details Now button opens an enquiry form where you can message Vanessa Searle directly.
Specialising in Chronic and Muscular Pain.

Remedial Therapeutic Massage - Manual Soft Tissue Therapy including Myofascial Release Therapy, Deep Muscle/Connective Tissue, Trigger Point Therapy, Hyperton-X (Sports Kinesiology), Kinesiology Assessment and correction, Ortho-bionomy. Also available, Relaxation/Swedish, Pregnancy and Infant massage.
SOUKYA Health & "Well" Being - Therapeutic Massage
---

Remedial Massage - What can it include?

Assessment and Treatment plan


Myofascial Release Therapy


Deep muscle/ connective tissue massage


Trigger point Therapy


Kinesiology muscle assessment and/or correction for more permanent results


Sports Kinesiology


Ortho-Bionomy


Dry Needling



---




Assessment and Treatment plan



Fundamental to remedial massage is a short assessment and treatment plan. During the initial appointment information will be gathered relating to your condition in order to attempt to understand what is happening.

Assessment is done based on the information received from you, the client or other health practitioners you may have seen, and through visually assessing posture and muscle testing for integrity.

Initial appointments are usually 60mins however, 90mins is recommended for a more comprehensive session and will include Kinesiology muscle assessment and correction if needed.



---




What is Myofascial Release Therapy?



A form of connective tissue massage that uses a particular depth of pressure to sufficiently bring back movement to the superficial fascia (breathable covering) on the top of the muscle layer. Fascia surrounds muscle, bone, nerve, artery, veins and internal organs, and is actually one continuous structure that stretches from head to toe.

When compromised, it can shorten and thicken and movement of the muscles become restricted and joints become less mobile, causing a reduction in blood flow, pain, fatigue and adhesion's (knots) in the muscle tissue.

When healthy the fascia is relaxed and wavy. Working to relax the fascia around the muscle helps it to stretch and move without restriction, increasing range of movement, improving flexibility and stability within the body system.

Imagine wearing extremely tight clothes and it rubbing or sticking to your skin, resisting movement of the body and effecting it's function.



---




What is Deep muscle/connective tissue Massage?



Designed to help reduce pain and discomfort and relieve chronic patterns of tension in the body. Deep tissue addresses pain conditions associated with soft tissue in a particular area of the body using slow strokes and deep pressure across the grain of the muscles, tendons, ligaments, and fascia.



---




Trigger point therapy- How can it help?



Often muscle pain is caused by a contraction of small muscle fibres that have become aggravated by stress of some sort. This hyper irritability within the muscle is caused by a shortening of the fibres is usually located near motor nerve points that effect the entire muscle and can cause referred pain, which is often very painful. Concentrated finger pressure is applied to these trigger points to help relax and lengthen the contracted fibres.



---




Hyperton-x/Sports Kinesiology



A form of Kinesiology that uses muscle testing to find out how the muscles are functioning and whether they are in an over-protective state (hypertonic) and if so releasing them. Pain, weakness and restricted range of motion can often be caused by emotional stress, over-use, continuous repetitive use or exertion of a group of muscles, sitting for long periods in front of a computer and unexpected movement that is too quick causing neural disorganisation, to name a few. Hyperton-X is used during a treatment to help bring balance and integrity back into muscles that are being treated.

During a full Hyperton-X treatment 16 muscles will be checked for integrity and released. The effect not only reduces imbalance but also works on reducing fatigue, increasing flexibility, improving mind/ body integration by increasing cerebral spinal flow and therefore working on nervous system and the endocrine system. In addition, Hyperton-X can help with mental confusion, lack of co-ordination, poor memory and comprehension, reading, writing and maths skills and other learning problems.

If you would like further information regarding Hyperton-X as a separate treatment, please ask.



---




Kinesiology Assessment and Correction



Often people have chronic conditions that need to be treated for a more permanent result and to bring greater pain relief. Kinesiology is a modality used to test individual muscles relating to the area of pain for specific stress and integrity. Each muscles is corrected using specific PKP techniques that bring about balance, not only to that muscle but to the body as a whole.

Problem areas may include but are not limited to the lower back and hips, neck and shoulder, wrists including carpel tunnel, knees, ankles and and more.

For more information on how this modality can bring relief to painful sites or chronic conditions, please contact me on 0411 331 884.



---




Ortho-bionomy



Occasionally we need something a little different, a little less rigorous. This technique has it's background in osteopathy and allows the body to self-correct. The method is non-invasive, is super relaxing and releases muscle tension by allowing the body to move into preferred positions away from pain and into a place of comfort. This then impacts the central nervous system by providing the body with the type of stimulus (and supported feeling) it needs to release and self-correct, self- regulate and self-organise. Don't hesitate to ask me more about this amazing and gently technique.




---




Aromatherapy Massage



With the use of particular essential oils, extracted from aromatic plants, stress and tensions, whether emotional or physical can be released. When we inhale, certain chemicals in the oils impact our olfactory centre, which is interrelated with the limbic system and concerned with memory and emotion. This is turn can greatly benefit and influence on our mood. Essential oils can help to regulate our emotions, reducing anxiety, relieve headaches and muscle aches and pains, improve digestive disorders, relieve insomnia and help a person totally relax, just to name a few things!



---




Pregnancy and Infant massage



A general massage to help relax and de-stress a tired pregnant body. Focus is on areas of tension in the upper body, whilst maintaining comfortable positions suited to the stages of pregnancy.

Infants benefit greatly from massage and it is important for parents to learn techniques suited for this purpose. The session will be a lesson of love and support for both mother and baby, teaching the techniques to the parent so that they may learn the art of communication through touch, which helps to remove tension and stress for both.



---




Swedish or Relaxation massage



A general massage of the full body, combining techniques to aid in improving blood and lymph circulation, decreasing stress and tension, improving superficial layers of connective tissue, and decreasing blood pressure to name a few, allowing the body to find its natural state of balance (homeostasis) and producing an overall state of deep relaxation.




---




How much does a treatment cost? AND How many treatments will I need?



These are questions most people need answering before they seek out any form of therapy and many places don't reveal this until after the initial phone call. I believe it is more beneficial for you to make this decision based on you're needs and knowing can really help make that decision.

I always ask my clients "how much do they value their health, now and in the future"? This is a good way to determine how much you are willing to put towards you're health, financially. If we chose not to value our health as much as other things, then we may find our experience with pain differs. Let things go on for too long and we need to spend more to right the problems we have with our health.

So here are my costs. I find most people with chronic pain will need between 2-4 treatments to re balance the body's muscles and then a maintenance program may be beneficial. After the initial treatment we will discuss you're needs and the number of treatments you may need.

For maintenance, it's entirely up to you. Usually a treatment every 3-5 weeks will bring great benefit.

In addition to the above, if results are not being met fast enough, a full Kinesiology session may be in order to go deeper into the issue to find out the cause. Further information is available on my Kinesiology page.



Remedial Massage 90mins $130

Fundamental to remedial massage is a short assessment. During the initial appointment information will be gathered relating to your condition in order to attempt to understand what is happening.

Includes short structural assessment which may include:

myo-fascial release, trigger point release, deep tissue, muscle compression, joint mobilisation, kinesiology assessment and hyperton-x.

Remedial Massage 60mins $90

As per 90min session, 60mins

includes a short structural assessment which may include:

myo-fascial release, trigger point release, deep tissue, muscle compression, and joint mobilisation.

Initial appointments are usually 60mins however, 90mins is recommended for a more comprehensive session and may include Kinesiology muscle assessment.

Include 30min Kinesiology $50

This is a great addition when you have chronic pain that doesn't seem to want to leave or if you are new to kinesiology and would like to see how it works. If you have been suffering from pain or limited movement a full 60min Kinesiology session may be advised.

Hyperton-X 60mins $120

Works to release over (hyper) tight (tonic) muscles that can be identified as restricted, tight and sore. Improves flexibility and power, decreases neural disorganisation and difficulty with mental thinking, therefor improving neural communication, enhances physical and mental performance, reduces pain, and emotional stress.

Relaxation Massage 60 mins $75

Relaxation Massage 90mins $110

Exactly that, a way to wind down, relax, recharge, soothe the nervous system, release stress, reduce depression, support the immune system, improve circulation and function to organs, and who doesn't need that, plus, it feels amazing.

Health fund rebates available on all Health funds for Remedial except Medibank and HCF


For best results that are most beneficial 90mins is most suitable.



---

For more information about the best services for your needs or to organise an appointment - give me a call!




---



Qualification details
Bachelor of Arts in Social and Community Studies and Health Science
Diploma of Remedial Massage
Certificate of Kinesiology
Diploma of Kinesiology
Certified Emotion Code Practitioner
Hyperton-X Certificate
Dry Needling Certificate for Remedial Therapists
Level II Certificate of Yoga Teacher Training
Ortho-Bionomy Phase 4 & 5
Registered member of Massage and Myotherapy Australia
Registered Specialist Professional member of the Australian Institute for Kinesiologists
Blue Card Holder
---
See Also...
---
Service categories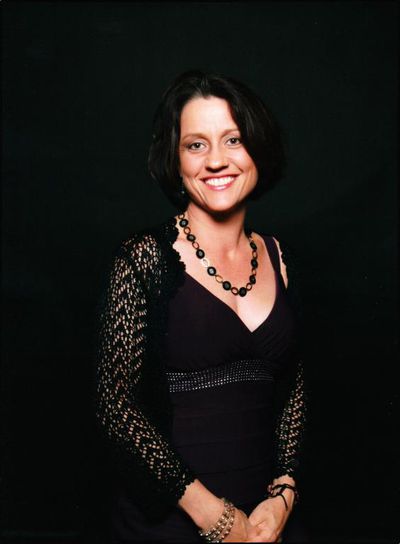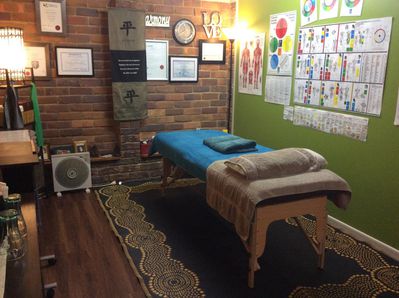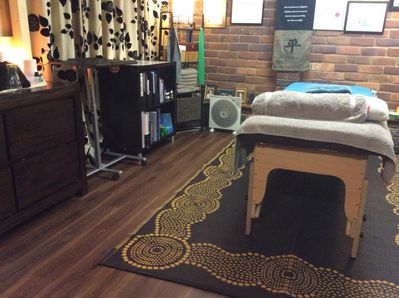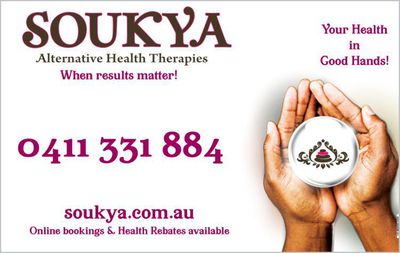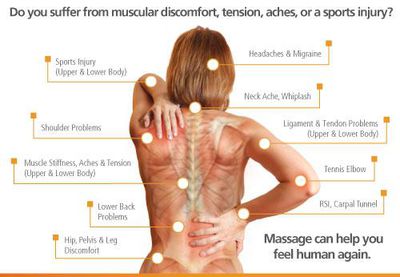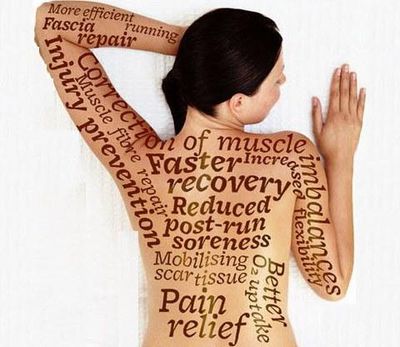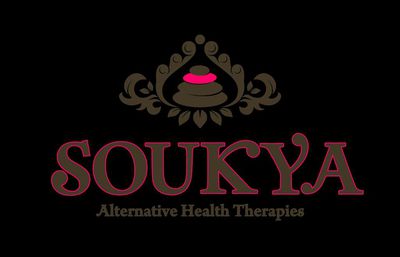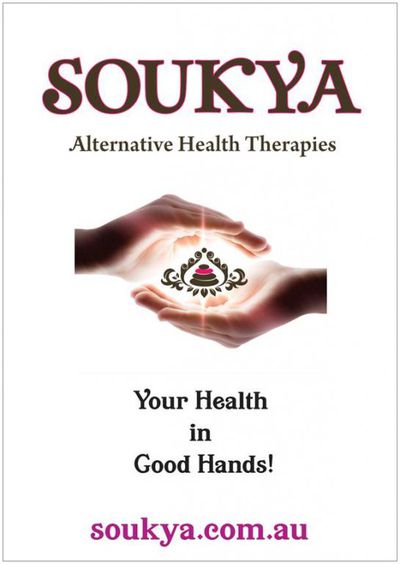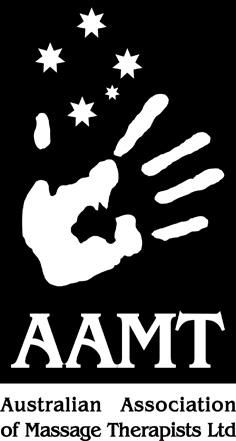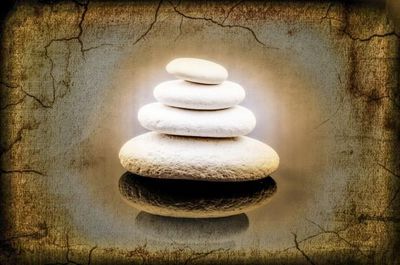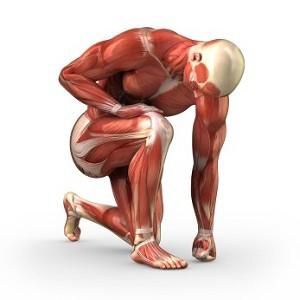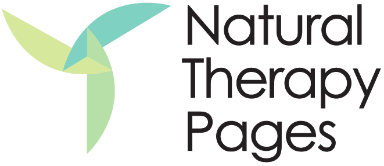 SOUKYA Health and "Well" Being