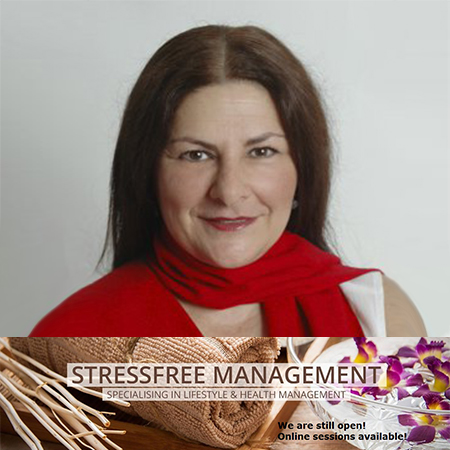 Stressfree Management® - Jenetta Haim
Clicking on the Send Me Details Now button opens an enquiry form where you can message Jenetta Haim directly
Send Me Details Now
Do you often find you dont have someone to talk to or understand what you are going through? Do you find you have a lot of negative thoughts and feelings? Do you find it hard to trust and open up to others?
Stressfree Management - Counselling
Servicing area
Greystanes, New South Wales
---
Focus areas
Supervision
Tinnitus
Arthritis
Heart disease
Menopause
Bullying
---
---
10% off your first session when you mention Natural Therapy Pages
---
Stressfree Management Counselling, Sydney West can assist you with all these issues. We can help you have a more positive outlook on life and assist with managing trauma, bullying, panic attacks, and depression, anxiety or relationship issues through our proven techniques. We can teach you how to overcome obstacles and challenges so your life will be more balanced.
---
What happens in Stressfree Management Counselling session?
We will tailor our assistance to suit your needs so the experience will be different for everyone. You will progress at your own pace in line with your journey through life with sessions that assist you to heal on a deep personal level. Some people may need our Reiki therapy Sydney West services while others would do better with NLP or hypnotherapy, Sydney West to deal with changing their negative patterns. Others may need assistance with nutritional naturopathy, Sydney West just to name a few of the many ways we can help. We will combine counselling with whatever you need to assist your healing.

We are able to provide you with one on one sessions to begin healing you on all levels. You will receive all the tools you need to face lifes challenges. Check out our website for more information on www.stressfreemanagement.com.au.
---
What happens in Stressfree Managements Courses?
As each person is unique, the solutions we find for each person are unique. Thus the experience of counselling at Stressfree Management in Sydney varies for each patient. Depending on your individual goals and obstacles, you will move through the process of this in your own way.

Your journey could involve intense sessions or other techniques to assist in tapping into the healing process youll need to overcome obstacles. Stressfree Management offers personalised counselling in Sydney to ensure you are able to find methods to empower you to overcome your obstacles and more. Our goal is to deliver effective solutions to assist in coping with frustrations, emotional issues, and other problems many of us encounter in life.

For some people, we believe that reiki therapy, Sydney, will help you along the healing path. Some people that suffer from certain addictions and ailments may benefit from using hypnotherapy, Sydney, as a way to deal with subconscious inner battles. While some people with other ailments may benefit the greatest from nutritional naturopathy, Sydney. But those are just some of our techniques. Rest assured, that whatever the case youre facing, well be able to talk through what needs you are facing and the various benefits of the various techniques.
Overcome Frustrations and Begin the Healing Process
Now that youve found Stressfree Management, the healing process can begin. Our team of professional therapists are here to provide you with one on one attention to jump-start your path to emotional health. We give you the specialised attention youll need to face lifes biggest challenges. When youre ready to begin the healing process, contact the Stressfree Management team. We are here to assist with hypnotherapy, naturopathy, and counselling in Sydney. We also offer many other modalities. Explore our website further to find out about these.
---
Reiki levels 1, II, III and Reiki Master courses of Usui Reiki with Certification at the end of the course which will hold worldwide. Cost of courses vary depending on which one you do. Call for more information.
Meditation and mindfulness courses
1hr 30min
Beginners to advanced courses in meditation and mindfulness. Theory and practice. Certificate at end of course. Cost of courses varies depending on level and type. Call now for more info
We're open 5 days.
| | | | |
| --- | --- | --- | --- |
| Tuesday | 10:00 am | To | 8:30 pm |
| Wednesday | 10:00 am | To | 8:30 pm |
| Thursday | 10:00 am | To | 8:30 pm |
| Friday | 10:00 am | To | 8:30 pm |
| Saturday | 10:00 am | To | 5:00 pm |
Qualifications
Reiki Master
NLP Practitioner
Hypnotherapist
Naturopath
Nutritionist
Theta Healing
Reiki Teacher
Professional Membership
ASCH - The Australian Society of Clinical Hypnotherapists
ACA - Australian Counselling Association
ATMS - Australian Traditional Medicine Society
Complementary Medicine Association
ABNLP - NLP Association of Australia
HCA - Hypnotherapy Council of Australia
Reiki Australia
AHA - Australian Hypnotherapists Association
Australian Board of NLP
AUSTRALIAN NATIONAL HYPNOTHERAPY REGISTER
---