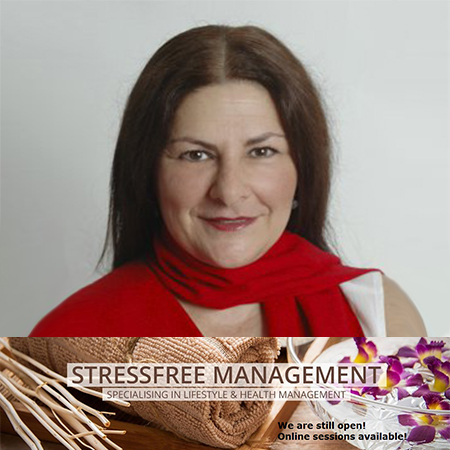 Stressfree Management® - Jenetta Haim
Want to find out my availability, pricing or opening hours? Click on Send Me Details Now to get started.
Send Me Details Now
Clicking on the Send Me Details Now button opens an enquiry form where you can message Jenetta Haim directly
Do you have an internal conflict between the life you want and the addictions and other negative patterns that seem to control you?   We can help that change.
Stressfree Management - Hypnotherapy
Servicing area
Greystanes, New South Wales
---
Focus areas
Supervision
Tinnitus
Arthritis
Heart disease
Menopause
Bullying
---
---
10% off your first session when you mention Natural Therapy Pages
---
Through our hypnotherapy, counselling and NLP sessions we very quickly help you develop new positive pattern and teach you how to implement that into your life.
Change is difficult sometimes because despite our best efforts our subconscious mind may guide us in an opposite direction to what we want to do in life. This is because a pattern has developed psychologically and energetically and if this pattern is not changed, despite your best efforts, you will still be driven negatively and sabotage yourself. We can change all that and teach you skills you will use forever.

A great example of this is when you go on a diet and still buy the hot chips and chocolate pushing away what you know is good for you (not to eat them so much) over to another day. Of course that day never seems to come. It could be anything such as addiction to cigarettes, gambling, spending too much money, working too hard, trauma from past events that occurred....the list is endless. All this can be changed or removed. We help you get in touch with your underlying thought and goals and teach you how to work towards them.

Hypnotherapy uses processes which go back centuries. We help our clients come to a point where your brain is not quite asleep or awake but comfortable and it is in this state that you connect with your sub conscious mind and open up to change deep issues. This promotes positive thinking, healing and enables you to change your life.
---
How does Hypnotherapy feel?
When you are in hypnosis you are sitting listening to the practitioner. At least that is what it feels like. You will be conscious of things around you like a clock ticking or a machine running. You hear what the practitioner says but not what is intended for your unconscious mind. This lets the practitioner work with your negative feelings and thoughts and changes them in a positive way to assist with your complete wellbeing. Often you will finish the session feeling more energised, relaxed and refreshed so it becomes a pleasant and feel good experience.


---
Common Misconceptions about Hypnotherapy
Many people think hypnotherapy is something that the practitioner does and controls. This is a misconception to some extent as it is YOU that works with the practitioner with your subconscious mind and feelings to create the positive situation you want.

So you need to be honest and open with the practitioner and let them know how you feel and think. The more you can open up the better the therapy will be and the better you will feel for being able to speak to someone in a confidential setting about issues that may have plagued you for some time. Also be honest in your feedback when you come for your next session as every person is different and your sessions need to be tailored to your needs specifically.


---
Medical evidence for Hypnotherapy
If you search on Google you will find many studies have been done regarding the proof that Hypnotherapy works. It is reported by many that it helps with pain, anxiety, blood pressure, panic attacks, depression, smoking, weight loss, fear and many more issues.
---
How does it work?
The hypnoidal point you experience in this will still mean that you are conscious of what is going on around you. You are still aware of the practitioner talking to you, with the exception that those words are intended for your unconscious brain. In this state, the therapist seeks to work with the way you feel about certain things of your choosing. Negative suggestions within the mind are supplanted with positive ones that contribute more positively to your overall well-being. Because these positive thoughts are introduced, of course youre likely to emerge from the session feeling very refreshed and pleasant, meaning that most clients of our hypnotherapy, Sydney, find the experience to be rewarding and pleasant.
Does it work?
A common misconception is that this is something that is done on you. Its not. Hypnotherapy is something that is done with you. Because this process heavily involves you, it also means that it depends on you too.

This means that the session relies on the client being completely open and honest. During the session, talk with our Stressfree Management practitioners to tell them how you are feeling, including not only what is bothering you but also what results you are encountering. If this process is done more fully, then this will help the practitioner to know what further action can be taken to get the results you are looking for.
Is there medical proof for hypnotherapy in Sydney?
There have been many notable studies and published articles in medical journals that back the efficacy of Hypnotherapy. An article in the April 29, 2000 issue of The Lancet in America reported on the effects that this treatment had on ailments like pain, anxiety and blood pressure. Sydney patients have found success by turning to the experts at Stressfree Management for assistance in healing from the challenges of life. We can assist with smoking, losing weight, overcoming fears, anxiety, and more. To experience the healing power of hypnotherapy in Sydney, contact Stressfree Management on 0414680713 now.
---
Give us a call now to find out how we can help you best on 0414680713, or to book your first consultation.

Reiki levels 1, II, III and Reiki Master courses of Usui Reiki with Certification at the end of the course which will hold worldwide. Cost of courses vary depending on which one you do. Call for more information.
Meditation and mindfulness courses
1hr 30min
Beginners to advanced courses in meditation and mindfulness. Theory and practice. Certificate at end of course. Cost of courses varies depending on level and type. Call now for more info
Qualifications
NLP Practitioner
Hypnotherapist
Counselling
Energy Healing
Naturopath
Nutritionist
Theta Healing
Stress Management
Reiki Master/teacher/practitioner
Meditation & Mindfulness
Professional Membership
ASCH - The Australian Society Of Clinical Hypnotherapists
ACA - Australian Counselling Association
ATMS - Australian Traditional Medicine Society
Complementary Medicine Association
ABNLP - NLP Association Of Australia
HCA - Hypnotherapy Council Of Australia
Reiki Australia
Australian Hypnotherapists' Association
Australian Board Of NLP
AUSTRALIAN NATIONAL HYPNOTHERAPY REGISTER
---