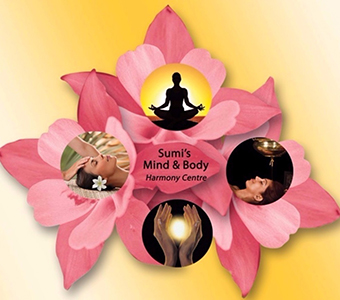 Sumi's Mind & Body
Yoga - Meditation - Heailng - Prayer. No matter what type of Spiritual Healing Treatment you're after, We here at Sumi's Mind & Body are here to help
Sumis Mind & Body - Yoga, Meditation & Healing
Focus areas
Dementia
Arthritis
Heart disease
Hypertension
Mental health
Obesity
---
---
What Is Yoga Therapy?

Yoga Therapy includes loosening exercises, asanas, pranayam, mudras, yoga nidra (deep relaxation) and meditation. These are very powerful and successful methods of preventing and curing diseases. Nature cure and yoga therapy are the two wheels of the cart on the road to a healthier life.


---
Yoga Techniques Used

Yogasanas includes gentle stretching and toning exercises. Each asana massages, stimulate and relaxes the internal organs, glands and toning the nerves throughout the body. It improves our physical, mental and spiritual health and thus cures many diseases

Pranayam is a serried of breathing techniques which stimulate and increase the vital energy in the nadis (energy pathways). It purifies them and induces physical mental health. It cleans and energises aura (energy body) and all the chakras

Yoga Nidra is a deep relaxation technique, where we learn to consciously relax. It is a state of dynamic psychic sleep with inner awareness. It releases mental, muscular and emotional tension.

Yogic Shatkarma -usually Saturday or Sunday are the days when yogic purificatory practices are practiced at ANCC for excreting toxic wastes accumulated in various parts of body. Neti for cleansing the nasal passage. Shankhprakshalana for cleansing the whole of digestive track, that is very much helpful in most disease related to digestive system. Trataka is also done on this day.


---
Yoga Classes

Yoga is a system of exercise for physical, mental and spiritual well being. The first written description was attributed by Pantanjali and was found in the yoga sutras. Pantanjali stated eight stages of yoga, the yama (universal moral commandments), niyama (self-purification through discipline), asana (posture), pranayama (breath-control), pratyahara (withdrawal of mind from external objects), dharana (concentration), dhyana (meditation) and Samadhi (state of super-consciousness).


---

Why Try A Yoga Class?

Yoga therapy can be highly successful for:

Arthritis
Migraine & Headaches
Asthma or Lung disorders
High or Low blood pressure
Digestive
Urinary System
Obesity
Stress Management
Spiritual Growth
Anxiety
Depression
Grief & Bereavement
Trauma & PTSD
Caregiver Support
Self-Esteem
Anger Management
Eating Disorders
Addictions
Sexual Identity
Parenting/Family issues
Social/Personal Relationships
It can also help children develop their memory and increase their learning faculties. Regularity and guidance of a trained professional, is the most important factor for success.


---

Class Times

Monday
Morning: 10:30am - 12pm
Mums and Bubs: 11:30am - 12:30pm
Afternoon: 6:30pm - 7:30pm

Tuesday
Morning: 9:30am - 11:00am

Saturday:
Morning: 7:15am - 8:45am

Pre-natal and post-natal classes are available


---

Prices

1 hour $10
1.5 hours $15
Private Classes (Personalize your yoga according to your Mind and body needs) $50 / per hours


---

Meditation Classes

Meditation is a safe and simple way to balance a persons physical, emotional and mental states. The concept of meditation works on the principle that when the mind is calm and focussed on the present, it is neither reacting to memories from the past nor being pre-occupied with plans for the future, two major sources of chronic stress known to impact health.

Long-term benefits include greater equanimity and acceptance of lifes ups and downs and a more alert and focused mind. Vipassana Meditation is one of them, which is highly recommended. To find out more about it, you can visit www.dhamma.org


---

Class Time
Mediation Class Saturday: 6:30am-7:15am


---

Prices

1 hour Runs on Donations
---

Prayer

As you practice this technique, you will automatically become less and less self-centred and more and more selfless. We actually spend hours and hours every day subconsciously praying to fulfil our desires and ego trips. As this suffering-causing habit lessens, we become more and more ready to listen silently as God whispers lovingly to us. They help to balance the endocrine system.

Meditation and prayer also calms the mind, enhancing the effectiveness of other treatments.


---
For more information about the best services for your needs or to organise an appointment - just give us a call!
---
---