Find a Nutritionist in your area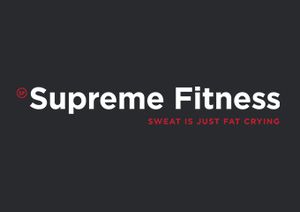 Member since 2018
Supreme Fitness
Cancer management
Lifestyle
Coaching program
...
This practitioner is currently unavailable.
AMAZING OUTDOOR FITNESS RESULTS
Supreme Fitness
---
WHY SUPREME FITNESS WILL WORK FOR YOU
Since 2007, we've helped over 600 local people achieve their health and fitness goals with our complete program. Through Personal Training, Boot Camp, Small Group Training and Nutrition Coaching we can help you become the best version of yourself.
Located outdoors on the stunning New Farm Park soccer oval, you can enjoy training one of the best spots in Brisbane. Our classes are always challenging not torture, combining Circuits, Boxing and Strength sessions to give you a ton of variety. Add to that the fun of our legendary games such as Ultimate Frisbee, Swissball Basketball and Noodle Whipping you'll be loving life again in no time.
A nice relaxing cool down is everyones favorite time especially now we have all the stretching aid you'll need to keep you off the physio table. If you're looking to become fitter, healthier, stronger, happier and the best version of yourself then we'd love you to join us!



BURN FAT 24/7




Build muscle, tone up, reach a healthy body fat % and turn yourself into a fat burning machine






REDUCE STRESS, BOOST YOUR SELF-CONFIDENCE!




Enjoy high self esteem, mental clarity, focus and strength






REACH YOUR GOAL WEIGHT




Get fit 'n' toned so you look great your bathing suit and your birthday suit ;)






BOOST YOUR ENERGY LEVELS




Gain 3 – 4 times more energy with our effective workouts! You'll soon begin to feel like your energetic old self



---
HOW WE CAN HELP YOU
SMALL GROUP TRAINING
Train with 2-5 of your friends or family at a time that works for you. Just like Personal Training but you get to split the cost, choose what type of training you want to do and train with people you like! Our packages range from $300-$500 per person/ per month.
LIFESTYLE COACHING
Are you still interested in losing weight, burning fat, gaining energy, reducing stress and getting fit?
Our Supreme Lifestyle Training is for one. It combines our outdoor Small Group Training with daily coaching online to get you looking and feeling better than ever.
This program can help you:
lose

fat so that they can fit into their old pair of jeans again!




feel energetic

so they can actually enjoy exercise again!




run

a fun run personal best and feel super proud of themselves

!



Packages range from $250-$800 per month (and up) depending on your goals, motivation and level of commitment.
BOOT CAMP
Choose from 5 weekly classes including Strength, Boxing and our new Fitness Supreme X! Feed off the energy of the group and meet like minded people under the lights of the stunning New Farm Park soccer oval lights! Our membership packages range from $175-$350 per month.
NUTRITION ONLINE
The world's best online Nutrition Coaching program, powered by Precision Nutrition Pro Coach, will teach you how to build the habits you need to change your body, achieve optimal health, boost your energy levels and maintain it for life, all for $147 per month!
Whatever you want to do, PN Pro Coach can help, including:
Have 3 – 4 times more energy increase in energy so you feel great and perform at your peak!


Get and keep your ideal weight...FOR LIFE – so you only have to lose weight once


Get mental clarity so can concentrate at work all day long


Discover simple ways to make the right eating choices at home and when eating out (without dieting)


Dramatically decrease stress so you can enjoy your life more and improve the quality of your sleep



boost your Immune system so that you don't get sick every winter




decrease your

chances of getting diabetes, cancer and cardiovascular disease

so you can live a long, healthy life



Delivered with daily lessons to your laptop, tablet or your mobile, you'll have access coach Chris every step of the way to help you reach your ultimate health and weight loss goals.
---
MEET YOUR TRAINER
COACH CHRIS TUCK- FORMALLY KNOW AS THE PARKRUN WARM UP GUY
OWNER
I've always been pretty fit and healthy, enjoying an active lifestyle of running, swimming, bike riding, table tennis, soccer and golf. I was also fortunate enough to be a ballboy at the Australian Open in Melbourne, looking after such stars as Andre Agassi, Boris Becker, Pete Sampras and Goran Ivanisevic. One night I was on centre court for a Pat Rafter match, who was playing some unknown ...
Monday - Thursday 7:00am - 7:00pm
Friday - 7:00am - 12:00pm
Saturday 7:00am - 12:00pm
OPENING HOURS

Monday - Thursday 7:00am - 7:00pm
Friday - 7:00am - 12:00pm
Saturday - 7:00am - 12:00pm
---
Service categories