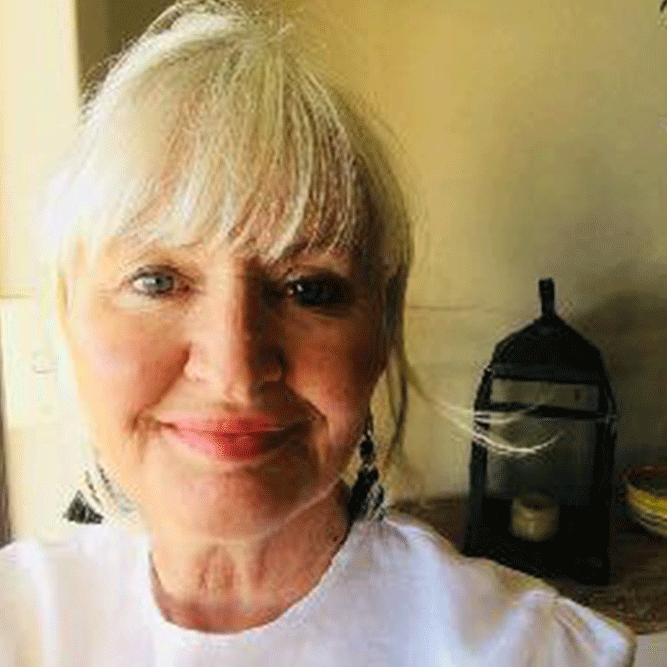 Want to find out my availability, pricing or opening hours? Click on Send Me Details Now to get started.
Send Me Details Now
Clicking on the Send Me Details Now button opens an enquiry form where you can message Susan James directly
Trauma Clearing | Channelled Guidance I Energy Healing Counselling & Leadership Mentoring | Shamanic Ceremony
Sacred Sound Healer, Psychotherapist, Genome Healing Practitioner & Contemporary Shaman
Servicing area
Servicing Perth Metro area & Skype & FaceTime consultations
---
Focus areas
Healing art
Embodiment
Energy clearing
Love
Joy
Intuitive energy healing
---
---
I love the work I share with people and continue to be in awe of the amazing beings we are.
My focus is to honour and be present to the intelligence of your whole being…seeing, feeling and hearing what you are experiencing and what is needed for self understanding, transformation and deep and lasting healing.
I work exclusively with transformative healing practices that offer an experiential healing effect in each session.
As a spiritual healer I am a channel between the physical and spiritual realms of reality, through which guidance, direct energy transmission and deep healing is received for you.
I am also an experienced psychotherapist providing a safe and grounded therapeutic space and skilled and wise counselling. I also leadership mentoring.
As a Genome Healing Practitioner I work directly with the cellular energies and memories within the body, clearing past and present trauma and unhealthy patterns and beliefs effortlessly… yes effortlessly.
As a contemporary shaman I work in co-creation with sacred time & space providing transformative healing ceremonies for people, property and the Earth.
Sessions: (Fremantle, WA), / Zoom / FaceTime / Distance
Enquiries welcome: 0408096968
---
SUSAN JAMES
Susan's fascination, expertise and passion remains after more than 30 years of working in this field, in helping people to gain new insights and perspectives, which lead them into greater self-understanding, compassion and Love and bring them greater clarity, peace and meaning in their life and relationships.
While her processes are simple and effortless they are grounded in a sound and profound understanding and practice of Psychotherapy, the healing arts, wisdom traditions of land-based cultures and multi-dimensional states of consciousness.
She offers almost half a lifetime of learning, experience, teaching and healing work with others as a Psychotherapist & counsellor, shamanic and intuitive energy practitioner, meditator and medium.
At the core of all these practices and traditions is the essential element of Stillness. It is Susan's unique embodiment of this in her work with others that enables them to access and experience this within themselves. In this stillness, truth and wisdom are realised.
She works with individuals, partners (in personal and professional relationships), and communities.
Communities are groups of people who are drawn together in relationship with one another and are motivated to relate well together for personal wellbeing, meaning and fulfilment. Whether that is through work, family, play, interests or aspirations.
My Professional Journey
My work with others today is a synthesis of everything that I have practiced, learnt, experienced, taught and witnessed throughout a thirty year career in helping people know and understand themselves, and find more useful and wise ways of Being, so that they are more content, inspired and loving.
My degree in Psychology opened my mind to the endless ways we as human beings are being continuously influenced in what we believe, how we act and the life we begin to unconsciously create as a means to become what we think will bring us confidence, happiness, acceptance and love.
And what happens to us as we slowly begin to realise that we are living a life that has nothing to do with who we really are in our heart and soul and how differently and profoundly this would influence the way we thought, felt, related and lived, if we were.
Through working with people as a counsellor for many years I began to witness the intelligence of the mind, the body, the heart and the soul or spirit of people which came forward when they felt held in a safe place and every part of them was honoured and respected in their sessions. This initiated a twenty five year exploration of ways of working with the whole person, encompassing, honouring and listening to all aspects of the Self.
It led me into body-centred, person-centred and spiritual centred approaches in counselling and across the whole spectrum of healing states.
Including, the study of death and dying and an exploration of different traditions of healing and states consciousness;
Buddhist philosophy and practices of meditation, mindfulness, impermanence, Big MIND and the experience of openness and insight and endless spaciousness that comes from the state of "being with" and embracing whatever is in the present moment.
The study of relationships and the energetics of personalities of the Self and a deep understanding of how this is constantly operating in relationships and influencing how we act and react.
It also led me to the study of "what we don't know' from an intellectual perspective. The writings of traditional spiritual healers working in psychology, counselling and healing in the contemporary world and a spiritual healing journey and awakening while in retreat with one of my teachers in Montana USA.
This was followed by an initiation into shamanic practice through vision questing, sacred ceremony and personal retreat over a period of 8 years.
I experienced the consciousness of both form and the formless, the physical and the spiritual," heaven and earth", the known and the mystery, and being energetically "held" in this space of wholeness- the consciousness of Oneness.
I developed a keen interest in energetic states and energy healing, and the transformative power of ceremony and ritual when working with individuals and groups.

My global focus is on collaborating with other healers, leaders and elders to share wisdom and understandings and co-create powerful healing ceremonies for communities throughout the world. Being part of the co-creation of a critical mass of conscious, compassionate intent toward a tipping point into the experience of Oneness for humanity.
---
TESTIMONIALS
I gratefully share these client's experiences as they describe beautifully the essence of the healing practices I offer.
"Susan anchored me back to myself during a very traumatic time and as a result I was able to find freedom and navigate onward in ways unimaginable to me.
Her work has had a most profound and lasting effect. It is both subtle and powerful- the change for me happened not by a dramatic light bulb moment the mind but instead by a natural, true and lasting internal shift. I consider myself deeply fortunate to have experienced Susan's work as it is lasting and profound…it is life changing." -T Mijak
"PS… The work at the last appointment is still working…on it's own…like a clock that doesn't need winding…the weight is gone and it feels really really good Susan, again, thank you." -T Mijak
"Sooo beautiful… " T M (Genome Healing )
"You are a gifted healer… I remember being awestruck by your sacred sound healing …it went straight to my heart." -G Robertson, (healer & author).

"Susan has done some amazing work with us. She led a drumming-healing workshop at our rural property, helped with the last week of my mother's passing with a very sensitive ceremony honouring my mother's life and assisting with her transition.
She also performed a personal healing session for us both.
Susan works with sensitivity, honour and a strong and profound energetic presence. Her work is giving much needed healing to the earth and she is helping people on their journeys.
Her understanding is deep and she brings an intelligence and focus to her work. Susan is in touch with the mystery and we feel privilege to know her.
We would recommend Susan's work to anyone who requires contact with the subtle energies, the earth spirit and universal intelligence." (Personal healing sessions, transformative ceremony, shamanic journeying).
"My life has been one of much trauma and struggle, from childhood. I used conventional therapies for many years in dealing with my past. I've come a long way over the years but was still triggered by certain events and could easily become anxious, stressed and fearful, which for me often presented as anger.
Peace was what I was searching for most. I was tired of my own story.
I have had several shamanic healing sessions with Susan when she was living inI Tasmania, all of which were beautifully done with grace, poise and dignity.
She honours the light of the soul spirit within.
I recently found myself caught in a nervous agitated state that I couldn't escape. I called Susan and she suggested a Genome Healing session over the phone as she now lives in WA. I hadn't ever had a Genome healing before.
Of all the energy/spiritual/holistic practices I have ever experienced, over many years, this was the most amazing experience I have had. By the end of the session I felt lighter, softer, and honestly couldn't remember what I had been upset about…ever!
I felt a peacefulness inside that was unlike anything I have ever felt. I've had a smile on my face, a spring in my step and a feeling of complete contentment ever since.
The beauty of Genome trauma healing is that you don't have to go into the storey to heal it, Susan works through the body's energies, cuts ties to past trauma and like magic you feel amazing. I highly recommend anyone searching for inner peace, balance and alignment to give her a call, she truly works. Since the healing whenever I find myself thinking of something negative from the past it's like a magic wand waves over me and it's gone, like it never existed. Susan is a gifted healer sent from above." -A Lane (Genome Healing session)
And some more kind words from others…
"…you are a national treasure" -Shamanic Energy Clearing
"thank you for giving me hope" -Counselling Journey.
"…you have a beautiful gift" -Personal Healing
"….. I can see why you're good at your job, you have a unique ability to grasp the whole picture and all contributing aspects of my situation clearly and immediately" -Leadership Mentoring
"… you have been mentor, confidante and teacher to me and I will miss you greatly". -leadership Mentoring
"…even as you were talking about your work to me I felt transported to another place" -Professional Colleague
---