Want to find out my availability, pricing or opening hours? Click on Send Me Details Now to get started.
Send Me Details Now
Clicking on the Send Me Details Now button opens an enquiry form where you can message Suzy Reading directly
Together we will address your emotional, mental and physical wellbeing to bring the change you desire. Free initial 30 minute consultation. Time for Project YOU Suzy is a qualified psychologist, yoga teacher and personal trainer with an award-winning background in elite sport. She competed as a figure skater for 13 years at a national level in Australia before establishing a thriving boutique personal wellbeing business in the heart of Central London in 2002. Suzy ran this business for over 6 years, working with a wide variety of clients to achieve good health, confidence and positive self image. Suzy relocated back home to Sydney in 2009 where she continues to deliver positive results for clients: mind and body. Suzy is available for private sessions in your own home (Northern Beaches, Upper and Lower North Shore) or at her consulting room in Cammeray. ENQUIRE NOW AND RECEIVE A FREE 30 MIN CONSULTATION.
Suzy Reading - Yoga, Psychology, Fitness
Servicing area
Mosman, New South Wales
---
Focus areas
Well-being
Lifestyle
Nurturing
Love
Physical health
Stress management
---

I am interested in much more than just an absence of ill-health, I am interested in helping you achieve a state of flourishing. In partnership with you I will help you transform any aspect of your life that you'd like to see blossom - your relationship with yourself and loved ones, your home life, your work life, your physical health, your play time. I draw on my skills as a psychologist, yoga teacher and personal trainer to help you create lasting, positive change.

☼ Yoga


Yoga suitable for any level of fitness, experience or age, designed to meet your individual needs from the Viniyoga tradition. I can incorporate yoga postures, breath work, relaxation and meditation techniques depending on what you enjoy and the results you are seeking.


Restorative Yoga for stress relief, recovery from illness or fatigue


Pre and Postnatal Yoga


Mother and Baby Yoga


☼ Psychology
Motivation and facilitation of life changes


Stress management and relaxation


Self talk, mindfulness techniques and developing a positive mental attitude
☼Personal Training
cardio and resistance training


yoga / pilates inspired bodyweight work and core training using the swiss ball and bosu ball
☼ I can help you to achieve:
more joy and freedom in your daily life


transformation of any aspect of your life - self esteem, career, relationships, health and wellbeing, purpose and meaning


support and nurturing through change or a challenging period in your life


relaxation, energy boosting and stress relief


sustainable changes to your physical health - fitness, fat loss, flexibility, postural development
---
Mobile: 0412 584 054
Website: www.suzyreading.com
LinkedIn Website: au.linkedin.com/in/suzyreading

---


☼ Testimonials


--Anoushka
---

"Suzy has had a big impact on my life this year. I initially went to her because I was at the point where I needed more out of my fitness program with a primary focus on yoga and well-being. Suzy has given me so much more than this over the past 7 months. She has worked with me on a weekly basis to develop my yoga practice, giving me areas to work on when I'm not with her. She has also provided me with techniques to make room in my life to focus on well-being, relaxation, and gain clarity of thought at a time that has been quite challenging personally. Suzy is a tremendous support and I can't recommend her highly enough"

--Charlie
---

" Before I met Suzy I was quite daunted by the prospect of having a personal trainer however Suzy listened to what I wanted and worked out a plan that suited me — a plan that was completely achievable and also a lot of fun. She gave me so much support and encouragement during the time we worked together that she became much more than a personal trainer — more like a partner! Through training with Suzie, I now have a routine that works with my lifestyle, is easy to keep up and has enabled me to build up a good level of fitness (along with losing weight). Now, I really enjoy keeping fit and maintaining a healthy lifestyle and I have to say it's all thanks to Suzy. I would have no hesitation in recommending Suzy to anyone but especially for people who, like I was, are not confident in their level of fitness and would like someone who will provide an encouraging and supportive yet challenging environment."

--Angelle
---

"I have seen results – major ones. I have lost 3st and 5lbs, or 20 something kilos. The interesting thing is that the scale is not really where it shows. I am wearing clothes at least three times smaller. My shape has changed and is continuing to change. I'm amazed at how quickly my body responded to our training sessions, my own workouts, and my eating regime. The muscle definition in my legs and even bum is amazing! I feel my upper body is changing as well and is much more toned. And now even my stomach area is responding. I feel stronger, healthier, and younger. I am definitely kinder towards my body. I am much more in tune with what my body needs. I really look at our time together as a priority. You need to know that this has been a life changing experience for me. I am quite independent and don't often ask for help. But I did and do need help getting fit and you have been amazing. Thanks for your support, guidance and nurturing."


--John
---

"I find I am more bodily aware and will notice when I slump into 'bad' posture, and know how to correct it."


--Fran
---

"The thing I enjoy in our sessions is that Suzy is more than just 'doing her job'. She is very sensitive to an individual's personal requirements, understanding their personality types and motivating them accordingly. I respect her determination and positivity which is very infectious. Altogether it's a very valuable and worthwhile experience for me."



--Trista
---

"I think I've discovered muscles I never knew existed! I feel great!"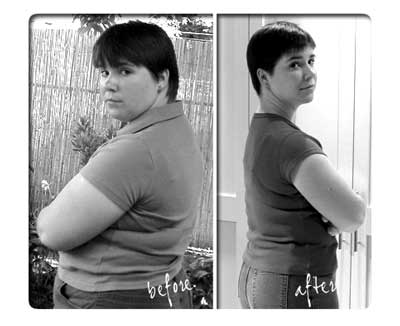 --Cary
---

Before: 95kg, Dress size 20
After: 72.5kg, Dress size 14

Cary lost 22.5kg in bodyweight and 3 whole dress sizes

Working out with Suzy is a team effort. Suzy provides the structure, encouragement and motivation – I produce the sweat! Suzy has designed a variety of different programs for me over the 12 months we have been working together – continuously moving the goal posts, keeping me interested and challenging different elements of my fitness. I have developed new found self-confidence, solid exercise technique, cardiovascular endurance with the ability to actually run (it's a real buzz being able to run!). My strength, flexibility, balance and spatial awareness have also improved. Our yoga practice together has provided me with an oasis of calm when I have most needed it!

---