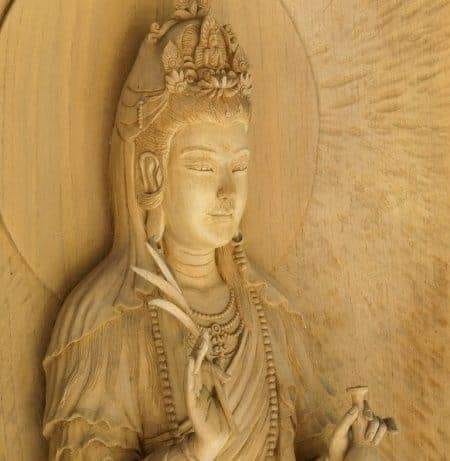 Tao Healing Services
Want to find out my availability, pricing or opening hours? Click on Send Me Details Now to get started.
Send Me Details Now
Clicking on the Send Me Details Now button opens an enquiry form where you can message Tao Healing Services directly
This blessing offers Guan Yin's love, compassion and light through a sacred mantra. 
Guan Yin Mantra
Focus areas
Values
Life purpose
Physical pain
Mental health
Love
Sinus
---
I became a Guan Yin Lineage Holder in 2019, which has given me profound joy in life. It is an honor to offer the love, light and profound blessings of the Greatest Compassion mantra as well as through Guan Yin, the Bodhisattva of Compassion, for any aspects of life.
When you receive a Guan Yin Lineage Blessing from a Guan Yin Lineage Holder for any aspect of life, I connect to the blessing power of Guan Yin's 1,000 hands and 1,000 eyes to channel her greatest compassion via a crown chakra blessing. The blessing when activated allows the clearing of up to 84,000 blockages in the soul, heart, mind and body.
What you can expect
The Guan Yin Lineage Holder Crown Chakra blessings are available in person or remotely.
The standard session fees apply, plus an additional $130 for one condition.
I also offer a Guan Yin Mantra blessing for 30-days requested for one condition $300.
TESTIMONIAL
En-En helped me with Guan Yin Lineage blessings and support with a new courtship I was in suddenly ended. I was dealing with a lot of grief and uncertainty. I needed help with my fight or flight response and to help with the sadness and abandonment that got triggered from other past events.
En-En was loving, patient, clear, grounded, and compassionate. We spent some time each session discussing progress since the last session. En-En listened clearly and was collaborative, while honing in on the area of focus for each session. While she offered the blessing, I also traced Tao Calligraphy and did forgiveness practice.
I shed a lot of tears in these sessions and felt the grief start to lift some. I felt more able to genuinely have forgiveness for this man, and I made progress in forgiving myself, too. I was able to have a more quiet and peaceful heart, to feel and see the truth beyond all of the details, and to reconnect with love. I felt more in touch with compassion for myself, for this man, and for anyone going through a similar situation. I felt more light inside of me, and I made progress in moving through stages of letting go more easily because of the Guan Yin lineage blessings.
Even now, a couple of months after receiving the blessings, I am still healing and letting go on deeper levels. En-En's Guan Yin lineage blessings gently and powerfully laid groundwork for my continued healing from a higher consciousness.
Christina, Hudson Valley, New York, USA
Services
1 hour personal consultation with Tao Hands Blessing
1hr
Energy Healing Online
Meditation Online
Spiritual Healing Online
Reiki Online
This can be for any area of your life, health, relationship, stress relief, balance the emotional body for balancing depression, grief, sadness, anxiety, fear, worry; balance the mental body, balance the 7 soul houses and finances. Tao hands are source ha
---