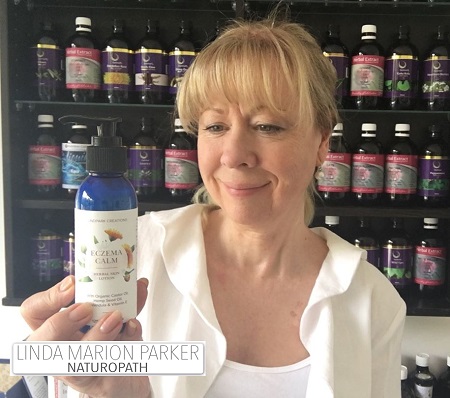 TheSkinNaturopath
Clicking on the Send Me Details Now button opens an enquiry form where you can message Linda Parker N.D. Dip Bot Med directly
Send Me Details Now
Want a holistic approach from an experienced practitioner - to achieve clear skin?  Eczema - Dermatitis - Acne - Psoriasis - Impetigo - Hives - Alopecia - Candida (any skin condition) can be treated holistically and efficiently in the most gentle way.  
Testimonials
Servicing area
Mornington, Melbourne, Canberra, Sydney, Brisbane, Hobart, Mt Martha
---
Focus areas
Natural medicine
Lifestyle
Herbalist
Hormones
Nails
Libido
---
---
Eczema Cured After +35 Years
"After 35+ years suffering from Eczema and skin disorders, multiple courses of gut killing antibiotics, countless dead ends with GP's and so-called skin specialists (who simply told me to put up with my conditions) I was at the end of my patience and tolerance.

I had tried to find answers on the internet for nearly 3 years, visited skin clinics and researched information on health, food and the gut in over 300 hours of podcasts. Even after all that, my skin was dry, I left blood on my sheets at night, I couldn't wear certain clothes, and always had a massive complex about it being noticed. In the end, my eczema had moved to my forehead and hands and was there to stay. This for me was a non-negotiable item and I needed to get it done once and for all.

I thought I was getting close to figuring it out for myself with stopping some foods here and there, trying to understand FODMAPS, dairy-free, nuts, coffee etc, etc, but looking back now I was under-gunned and nowhere close to fixing it.

I finally sought out some help and Linda popped up in my local area. I approached her for some advice and what I got back was life-changing.

Linda was able to provide me with sound guidance, information and care. A great combination! It was clear from the start that Linda cared and is deeply driven to help people just like me and I was in great hands.

Linda listened to me, gathered evidence-based information and mapped out the plan for me to control myself and my skin. I was able to own the outcomes and not look to blame others, get more frustrated and wander along hoping some miracle would happen to solve my skin issues.

My part in this epic (and this is important to anyone reading) was to do as I was asked to do. I say this with much love to anyone looking to help themselves, but I stuck hard and fast to what I learned from Linda and it paid off tenfold.

Over a period of approx 2 months, everything got much, MUCH BETTER. My skin was healing each week and I was feeling even better than ever! The horrible parts of my eczema were getting less and less and since following MY tailored suggested food list for 4 months now, I couldn't be healthier or happier.

My forehead cleared up completely and has not returned. My hands are almost back to normal and way more resilient and overall my skin has stopped being dry, itchy and stays on my body rather than on everything else. I am on my way to a much better life.

I have recommended several people towards Linda as her service is that good. I think it even lends itself to general health and not just skin issues.

I have learned that each of us is a custom body, and there is NO generic way to treat your own issues. If you want evidence, information and a path to health, seek out Linda right now. Please though, remember your role in this, you need to own your choices and accept those outcomes.

With Linda's excellent guidance, you will be back in control, feeling amazing, off antibiotics and in a matter of months, passing on your story to others.

You will stop itching, cease being self-conscious and start living a better life.

Thank you so much Linda, I couldn't be happier with the outcome."
- Malcolm Duckett. Mount Martha
Molluscum Contagiosum - Baby Skin Rash
"My 14 month old son developed a red pimply rash on his knee that spread rapidly. I took him to the doctor, who diagnosed the virus Molluscum Contagiosum.

The doctor advised that there was no treatment available for Molluscum, however that it was self-limiting and should heal itself within 18 months to 2 years (!!). He also advised that the virus is particularly contagious and therefore I would need to be very careful that the rash didn't spread further on my son's body, and also to the rest of our family.

I was very unhappy with the diagnosis and lack of treatment, so I took my son to another doctor for a second opinion & was told the same thing.

Within a month the rash was almost the size of my hand, and nothing I did seemed to have any effect on it at all.

Then we saw Linda. Linda's approach was very kind, and very thorough.

Linda was unsurprised about the doctors' response, and was confident that she could assist with Logan's rash. She recommended a three-way approach, prescribing some vitamin supplements, a herbal topical cream (which she mixed herself), and some simple food restrictions.

To my surprise, delight (and disbelief!) the angry-looking rash disappeared within approximately two weeks. The skin is now completely back to normal.

I can't thank Linda enough. She will certainly be my first port of call in the future.

Linda's natural remedies were able to assist so effectively, while the doctors could suggest no treatment at all. And I'd much prefer to use gentle natural remedies on my baby."
- Jayne Law, Solicitor

Severe Rosacea

"Linda Parker is a Naturopath and she saved my life!!! Yes, she cured my chronic skin condition.

For seven years, I was suffering with a skin condition known as "Rosacea".

Before Linda, my family doctor treated me with various medications.

She prescribed the pill, antibiotics and various others but nothing really worked.

I clearly recall taking a total of 6-8 antibiotics each day for a long period of time…

(Little did I know that the medication was actually "feeding the problem" not helping it!!!!).

Becoming increasingly frustrated not to mention my self esteem and social life taking a big bashing; I requested a referral to a Skin Specialist.

(This was the start to a long journey that got me no where!!!)

In fact, I have since seen a total of 3 different Skin Specialists!!!

However, my hope soon turned to despair!!!

(I soon realized there wasn't going to be a cure for my condition, as they were all prescribing the same medication that is the pill and or antibiotics!!!!).

"Been there done that"!!!!

However, the last Skin Specialist suggested I try something different!!!!

That was very encouraging but my hope soon faded again when I heard her mention "Roaccutane"

I had read about this medication through my extensive research and under no circumstances, was I prepared to try it!!

This medication has severe side effects and I do not recommend it to anyone.

The Skin Specialists encouragement and persuasion did nothing to convince me to try Roaccutane. Once again, I wasted my time.

Some time later, I came across Linda Parker's business card in an organic juice store that I frequently attended.

Her business card mentioned how she specialised in skin conditions and the word "Rosacea" was clearly listed. Well, that was all it took, I was so excited!!

I was on the phone making my first appointment.

I meet Linda for the first time in October 2004. I was welcomed and made to feel at ease. She was very informative and offered me her guidance. Linda prescribed the relevant supplements for my condition and recommended I make some life style changes.

I therefore, changed my diet, drank lots of water, exercised whilst taking the supplements and that's all it took!!! I mean it wasn't an overnight cure but the point is it eventually happened!!! After years of suffering I was finally cured.

I continued seeing Linda for approximately 3 months. My skin condition was improving and with that my confidence levels increased making me a much happier person. I finally found the right treatment and I thank Linda for that.

So please don't suffer in silence and don't bother with Western medicine, if you suffer with Rosacea, contact Linda, she is a wealth of information.

I thank Linda for putting the time into researching the many aspects that contribute to skin diseases. You are a source of hope to all in need."
- Angela Cuppari, Melbourne, VIC, Australia

Alopecia Areata / Hair Loss in Young Violinist

"I was at my wits end when I first contacted Linda in 2011.

I had been suffering with the immune disorder 'alopecia' and had seen countless doctors and dermatologists and even specialists to try and find out what was causing my hair loss.

I had several other health problems as well which I thought were completely separate to the Alopecia.

Losing my hair at the age of 28 was one of the most traumatic ordeals I have had to deal with.

By the time I saw Linda for my first appointment I had lost so much hair that I was already wearing a wig.

My first appointment with Linda felt like a breath of fresh air. She was someone who listened to me, and wanted to find the cause of my symptoms, not just to treat them.

I was on so much medication after seeing the hair specialist, that my body had become completely imbalanced.

Steroids had made my heart race and made me feel sick and tired and I had constant stomach pains which had been going on for 4 years previously, something the GP's continually told me was IBS.

I also had bad anxiety and chest discomfort and generally felt fatigued and not myself. All of my symptoms were noted in a questionnaire that Linda asked me to fill in.

Linda was focused on getting my body back to normal without the use of medication and their terrible side effects. I had blood tests, urine samples, hair analysis, hormone tests, iridology, and Allergy testing.

Linda left no stone unturned.

I finally felt that I was going to get somewhere with this treatment. Linda had me practicing yoga to keep my anxiety levels down and it allowed me to think positively about the journey I was on and to try and get rid of any negative thoughts that would interfere with the healing process.

This was very helpful and I incorporated this into my daily routine alongside frequent walking and guided meditation.

After seeing Linda every couple of weeks, we had changed my diet making sure I was eating healthy foods. I cut down on sugar, ate more raw foods and concentrated on eating foods that were high in protein and anti- oxidants to assist with my hair growth.

I was eating and drinking foods that would rid my body of unwanted toxins and bacteria. I was on a mix of vitamins and minerals that were tailored for me and most importantly I discovered that I had an intolerance to cow's milk which was a complete surprise. I now knew the reason for my constant stomach pain.

This combined with other stresses and anxiety at the time wasn't helping my body to absorb vital vitamins and minerals that I needed to stay healthy. I cut the milk out from my diet which was a very difficult task at first, not realising that this was in so many foods that I had been eating.

After several weeks I was feeling so much better and then I noticed the first signs of new hair growth, I was over the moon!

I felt like my life was being given back to me! I couldn't believe it, my body was beginning to heal itself!

My mind set had changed, my diet had changed and I started to feel more energetic.

Linda was with me 100 percent of the way for support and guidance. I was so lucky to have found her.

With continued appointments my hair grew and I almost have all my hair back now, my body and mind feels healthy and I couldn't thank Linda enough for all her hard work and support!

She has taught me how to look after and respect my body!

Thank you so much Linda! X"
- Jennifer Boyd, Mornington, VIC, Australia

Rosacea Treatment

"I can highly recommend Linda Parker's Skin Program alternative natural treatment for the treatment of Rosacea.

Before starting my treatment with Linda, I was very distressed about the condition of my skin and the increasing redness I was experiencing as a result of the Rosacea.

Linda's Skin Program treatment plan of diet, herbs and other activities was very beneficial in treating this frustrating skin condition and I have experienced a significant improvement."
- L Dunn, Sydney

Skin Rash on Child's Bottom

"My daughter had a continuous rash on her bottom which no doctor could explain.

With Linda's expertise and help, (her herbal cream mixture and dietary advice) her rash has now completely cleared up and has not reoccurred.

This is one testament of how well experienced Linda is at not only treating the symptoms but getting to the root of the problem and solving it …naturally.

I have tried so many naturopaths and doctors with nowhere near the same result."
- J Black, Sydney

Candida Itch Exacerbating!

"It all started again the week before Christmas. The stress of training 2 new staff and the approach of Christmas didn't help. I always dreaded this moment. I had been free from a bad candida infestation (thrush) for 11 years but the last time, just before completing my university degree had left a lasting impression.

Straight away I went to the chemist and bought Canesten cream and I started on the road to 10 weeks of hell. Which at the end of this time I can report that I had seen my doctor twice and a gynaecologist plus the top draw of my bedside table was full to the brim with empty packets of creams, applicators and tablet bottles.

By the tenth week, I was at my wits end. I was screaming inside. My husband wondered who he was married to I'm sure. I was tearful and frustrated and so…so…itchy!

It came to a head when I was standing on the platform at Wynard Station, waiting to catch my train home and I thought how easy it would be to just step in front of a train and end it all!

What a horrible thought. I had never ever thought like this before and I hope never to again.

I was determined right then to try something different. I went to the Sydney Yellow Pages and looked up Naturopaths and Linda's advertisement stood out. I picked up the phone and made an appointment…it couldn't hurt, after all I had tried all the conventional methods.

You could say Linda saved my life – Her Skin Program was hard at first – I had to go through another 2 weeks of hell while the candida fought to stay alive as Linda controlled it.

Linda was like a breath of fresh air, after the unsympathetic male doctors.

The first thing that horrified her was that neither doctor nor gynaecologist had told me to remove sugar and yeast from my diet. These products feed the candida and it was these products that I loved the most….but I was being my own worst enemy.

With Linda's support and knowledge throughThe Skin Program, I got through and I can now say that I am cured.

Linda is a wonderful Naturopath and Herbalist and I do not hesitate in recommending her Skin Program to you."
- J Ebbott, Sydney

Eczema Patches on Hands and Feet

"When I first saw Linda I had eczema patches on my right hand, both feet and was low in energy.

I had tried to rid myself of eczema for many months with no success.

After only 8 weeks, on Linda's Skin Program, my eczema completely disappeared. My energy levels have also increased and I feel so much healthier than before.

The elimination diet that Linda recommended was not the easiest at times, but it was definitely worth the hard work.

I am so happy with the results and would recommend Linda's Skin Program to anyone with health issues."
- A Haw, Sydney
Free Phone Appointment - New Patients
15min
Iridology
Reiki
Allergy Testing / Treatments
Ear Candling
Women's Health
Natural Skin Care
Natural Eczema Treatments
Acne Remedy
Fungal Infections
Allergy Testing / Treatments
Naturopathy
Try before you buy!....Ask me your most important questions and I will tell you if I can help you or not.
Iridology
Reiki
Allergy Testing / Treatments
Beauty Therapy (Holistic)
Ear Candling
Weight Loss
Women's Health
Organic Skin Care
Allergy Remedies
Natural Skin Care
Herbal Tea
Herbal Remedies
Immune Boost
Natural Eczema Treatments
Tinea Treatment
Acne Remedy
Short follow-up consults for existing patients. Also for patients who have acute issues or just want a small checkup. Skin assessment and symptom discussion. Treatment plan updated along with supplement/herbal medicine prescription. Next steps advised acc
Qualifications
Diploma In Remedial Massage Therapy
Counsellor
Diploma of Homoeopathy
Fertility Counsellor
Ear Candling
Diploma In Nutrition
Diploma In Botanical Medicine
Advanced Diploma In Naturopathy
---